Puerto Rico Considers Online Gaming and Sports Betting
By
April 30th, 2019 | Last updated on November 5th, 2019
Home
»
Poker News
»
Puerto Rico Considers Online Gaming and Sports Betting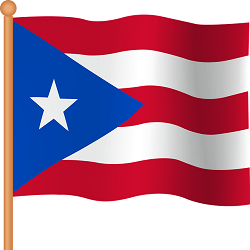 When the Commonwealth of Puerto Rico was hit by Hurricane Maria in September 2017, it caused widespread destruction across the island nation. Approximately 3,000 people were killed as a result of the natural disaster, and billions of dollars in damage left the island in financial, agricultural, and infrastructural desperation. More than a year and a half later, the United States territory has yet to receive the assistance required to recover.
The Caribbean island's government has been working to find solutions that will increase revenue and provide the financial boost needed to help the people of Puerto Rico recover.
The Legislative Assembly of Puerto Rico has been working with Governor Ricardo Rossello to develop solutions that could lead to some recovery and long-term growth.
Online gambling is one of those potential solutions.
Online Betting Bill
The assembly has been considering legalized sports betting since late 2018 when Nestor Alonso Vega introduced a bill to that effect. But the move came relatively late in the year, and the full legislature did not pass the bills, rendering them void.
Lawmakers stepped up again in 2019, this time to legalize online casino gambling and sports betting. It is unclear if online poker will be included, as there is no significant live poker scene in Puerto Rico, but casinos may want to keep that option open.
Puerto Rico governor announces introduction of bill to legalize sports betting: https://t.co/KEtfw63E1K

— Daniel Wallach (@WALLACHLEGAL) April 2, 2019
The legislation was officially introduced by Governor Rossello with the primary goal of regulating sports betting for residents and visitors. The bill also proposes a reorganization of public policy to support more forms of gambling.
The Puerto Rico Gambling Commission would be established with seven members from the public and private sectors with the goal of overseeing all gaming for the group of islands and issuing licenses to any operators approved to offer online gaming.
Sports betting will be taxed at 6% for land-based operators and 11% for online operators, some of which will be used to address problem gambling and responsible gambling programs.
Rossello noted, "Our administration is committed to new and creative ways to improve the lives of all Puerto Ricans, especially as we continue our reconstruction in the aftermath of Hurricane Maria. This legislation, made possible by a Supreme Court decision last year, will make Puerto Rico an attractive place to visit, which will greatly benefit our tourism industry."
Supportive Studies
The Chamber of Commerce of Puerto Rico commissioned a study from The Innovation Group to assess the potential impact of sports betting on the nation's casinos, racetracks, galleries, horse agencies, and online games. The results showed potential revenue for the government as follows:
–2020 revenue = $29 million

–2021 revenue = $51 million

–2022 revenue = $68 million

–2023 revenue = $77 million

–2024 revenue = $87 million
The government also commissioned a study from the Spectrum Gaming Group. It included sports bets at land-based facilities and online, which settled on numbers between $44 million and $62 million in revenue on an annual basis.
Puerto Rico Gov. introduces sports betting legislation after report by Spectrum Gaming Group.https://t.co/29ogp54FcL

— SpectrumGamingGroup (@SpectrumGamingG) April 4, 2019
Most recently, the Puerto Rico Hotel & Tourism Association commissioned a study by Global Market Advisors to research sports betting and online gambling. It looked at everything from the economic impact, varying legislative options, regulatory needs, geo-fencing and payment processing for online betting, and consumer protections, all with the goal of helping to form the ideal market setup.
Puerto Rico has the opportunity to be a leader in the United States as it looks to enter the sports betting and online gaming market, but… https://t.co/xit3NMqlan

— PRHTA (@prhta) April 24, 2019
The final "Sports Betting and Online Gambling Market Assessment" report laid out two situations, one with only land-based sports betting that would generate $5.4 million in the first year, and another land-based but with a mobile option that would bring in $7.4 million in revenue per year by 2022.
As for the online betting market, Puerto Rico could expect $23.4 million.
While the latest study from Global Market Advisors differed greatly from the two previous studies, it did demonstrate that the inclusion of online wagering is necessary to generate the maximum amount of revenue from an industry that is growing in various parts of the United States. It is also going to be necessary to keep the tax rates at the present proposed numbers – or even lower – to create a competitive market.
One thing garnered from discussions and studies was clear: Millions of dollars – no matter how many – would be welcomed into the government's coffers.
Related Articles