PokerStars Replaces Split Hold'em with Showtime
By
May 24th, 2018 | Last updated on October 19th, 2018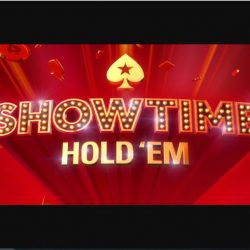 Showtime shows it if you fold it
Poker players love a challenge. The game of Hold'em presents a challenge inherent in its intricacies, as do the many variations of poker. But when a team of developers can create a twist on the game that simply builds more levels of analysis into the traditional game, why not give it to the players and see what happens?
PokerStars did this less than two months ago with a game called Split Hold'em. It was a version of the "run it twice" concept that produced two sets of community cards. It was popular to an extent, but the game may not have delivered the intrigue that the site hoped it would.
Enter Showtime Hold'em.
Introducing Showtime Hold'em on @PokerStars. https://t.co/b0VmUMDM76 pic.twitter.com/Tjva50NRh9

— PokerStarsBlog (@PokerStarsBlog) May 24, 2018
For a Limited Time Only
As was the idea with Split Hold'em, the new Showtime Hold'em game is going to be available to all players for a limited time only.
Showtime Hold'em uses the same Texas Hold'em concept but adds one key element: When a player folds during a hand, their cards will be turned up for all players to see. Essentially, it changes the calculation of the odds of potential outs, as the face-up cards provide more information than is typically available during a hand.
Showtime Hold'em: How good a player would you be if you could see your opponent's cards?*: https://t.co/7M5x7HCj4y pic.twitter.com/ecqlJE1xzn

— PokerStarsBlog (@PokerStarsBlog) May 23, 2018
The announcement came from PokerStars Ring Game Manager Dan Price, who also revealed that there will be a Showtime Hold'em Twitch Invitational tournament. While details are not yet available, he did say that the event will feature PokerStars ambassadors playing the new game on a Twitch livestream.
To get a feel for how the Team Pros are getting to know the new game, this video features Lex Veldhuis, Fintan Hand, and Ben Spragg trying it for the first time when recently in Monte Carlo.
The purpose of the game is to give players a twist on the traditional game, a way to experiment with strategy and odds to bring a new component to the cash game competition.
Per PokerStars Director of Poker Innovation and Operations Severin Rasset, "It is a real pleasure to offer this second temporary variant to our players. The possibility to see all folded cards will introduce some fascinating strategic adjustments to the traditional and well-loved NL Hold'em game."
Yep, it was a short term run to gauge interest. Same with Showtime. If players really like a game, they may come back long-term. But in the short term, it's ideas being thrown out, "how do you feel about this?"

— Chris J Finlay (@chrisjfinlay) May 24, 2018
Seat Me Still Required
As happened with Split Hold'em, all Showtime Hold'em tables will be filled using the Seat Me system. Players simply choose the game and stake, and they will be automatically seated.
PokerStars has determined that the system reduces the ability to bumhunt, which is a way that experienced players prey on newer competitors, and it prevents them from using seating scripts. It keeps the seating as random and fair as possible.
Anyone is welcome to play Showtime Hold'em, as games begin at the $0.02/$0.04 level with a $2 buy-in. For those new to the Seat Me system or who want to watch the game before diving in, they can click the "observe" button to see the games being played.
Related Articles