PokerStars NJSCOOP to Begin May 4 for New Jersey Players
By
April 21st, 2019 | Last updated on April 21st, 2019
Home
»
Poker News
»
PokerStars NJSCOOP to Begin May 4 for New Jersey Players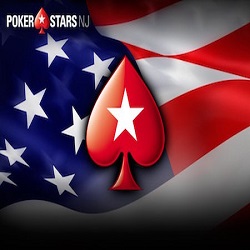 Just after PokerStars announced its schedule and massive $75 million in guarantees for the Spring Championship of Online Poker (SCOOP), it also had news for the New Jersey market. The small but powerful little slice of the United States will have its NJSCOOP in May with more than $1 million in total prize pool guarantees.
The larger SCOOP for the dot-com market will run May 12-27 with 67 unique events, though that translates into 201 individual tournaments due to the low, medium, and high buy-in levels for each.
Of course, the NJSCOOP is smaller, but it will still offer a variety of buy-ins with a total of 82 tournaments over the course of two weeks. And it all begins on May 4 for those residing in or visiting New Jersey.
Series Highlights
There will be a total of 82 tournaments in NJSCOOP, consisting of 41 unique events, each with a low buy-in and high buy-in version. The lowest buy-in will be $5, and the highest will be $1,000. And the cumulative guarantees will exceed $1 million.
NJSCOOP 2019 to Return With Over $1 Million Guaranteed Prize Pool https://t.co/fcYgdzYEMh

— pokerfuse (@pokerfuse) April 18, 2019
The 2019 series is admittedly smaller than the 2018 NJSCOOP, as last year's series guaranteed more than $1.3 million over a total of 80 tournaments. But with some events exceeding their guarantees, the final tally of payouts totaled more than $1.5 million.
The upcoming NJSCOOP will run May 4-20, complete with a $50 buy-in Main Event with $40K guaranteed and a $500 buy-in with $130K guaranteed.
2019 NJSCOOP Schedule
The full schedule below offers two different buy-ins and guarantees for each event, both running at the same time. And those times listed are ET.
May 4

Event 1 at 7pm:  $10 / $100 NLHE ($5K / $20K GTD)

May 5

Event 2 at 2pm:  $20 / $200 NLHE Deepstack 8-max ($8K / $20K GTD)

Event 3 at 3:30pm:  $15 / $150 NLHE Progressive KO ($5K / $18K GTD)

Event 4 at 5pm:  $30 / $300 NLHE ($14K / $55K GTD)

Event 5 at 7pm:  $10 / $100 PLO 6-max ($2,500 / $10K GTD)

Event 6 at 10pm:  $15 / $150 NLHE Hyper-turbo ($3,500 / $12,500 GTD)

May 6

Event 7 at 6:30pm:  $20 / $200 NLHE Win the Button ($5K / $18K GTD)

Event 8 at 8pm:  $10 / $100 NLHE Progressive KO 4-max ($3,500 / $14K GTD)

May 7

Event 9 at 6:30pm:  $25 / $250 NLHE ($8,500 / $32K GTD)

Event 10 at 8pm:  $15 / $150 NLHE Escalating Antes ($3,500 / $12K GTD)

May 8

Event 11 at 6:30pm:  $50 / $500 8-Game 6-max ($3,500 / $14K GTD)

Event 12 at 8pm:  $20 / $200 NLHE Turbo ($3,500 / $10K GTD)

May 9

Event 13 at 6:30pm:  $25 / $250 NLHE Progressive KO ($8K / $22K GTD)

Event 14 at 8pm:  $20 / $200 PLO Win the Button 8-max ($2,500 / $10K GTD)

May 10

Event 15 at 9pm:  $20 / $200 NLHE Deep Hyper-turbo ($3,500 / $10K GTD)

May 11

Event 16 at 6pm:  $10 / $100 NLHE Deepstack Hyper-turbo ($5K / $14K GTD)

Event 17 at 7pm:  $20 / $200 PLO Hi-Lo 8-max ($2,500 / $8,500 GTD)

Event 18 at 9pm:  $10 / $100 NLHE Progressive KO Turbo Zoom 3-max ($2,500 / $8K GTD)

May 12

Event 19 at 1pm:  $10 / $100 NLHE Marathon ($3K / $8,500 GTD)

Event 20 at 3:30pm:  $15 / $150 NLHE Progressive KO ($5K / $14K GTD)

Event 21 at 5pm:  $35 / $350 NLHE ($12K / $55K GTD)

Event 22 at 6:30pm:  $10 / $100 PLO 5-Card 8-max ($1,500 / $7,500 GTD)

Event 23 at 10pm:  $30 / $300 NLHE Turbo 6-max ($6K / $22K GTD)

May 13

Event 24 at 6:30pm:  $30 / $300 NLHE 4-max ($8K / $25K GTD)

Event 25 at 8pm:  $10 / $100 NL Omaha Hi-Lo 8-max with rebuys ($3K / $7,500 GTD)

May 14

Event 26 at 6:30pm:  $20 / $200 NLHE Progressive KO Win the Button ($6K / $18K GTD)

Event 27 at 7:30pm:  $100 / $1K NLHE ($22K / $45K GTD)

May 15

Event 28 at 6:30pm:  $20 / $200 NLHE Progressive KO 6-max ($6K / $18K GTD)

Event 29 at 8pm:  $10 / $100 NLHE Turbo 8-max ($2,500 / $7,500 GTD)

May 16

Event 30 at 6:30pm:  $15 / $150 PLO Progressive KO 8-max ($2,500 / $8K GTD)

Event 31 at 8pm:  $20 / $200 NLHE HU Progressive Total KO Zoom ($3,500 / $10K GTD)

May 17

Event 32 at 8pm:  $15 / $150 NLHE Big Stack Turbo ($3,500 / $12K GTD)

May 18

Event 33 at 6pm:  $20 / $200 NLHE ($7,500 / $17,500 GTD)

Event 34 at 7pm:  $20 / $200 Limit Stud Hi-Lo 8-max ($1,500 / $5K GTD)

Event 35 at 9pm:  $5 / $50 NLHE Turbo 4-max with rebuys ($2K / $7,500 GTD)

May 19

Event 36 at 2:30pm:  $20 / $200 Mixed NLHE/PLO Progressive KO ($4K / $14K GTD)

Event 37 at 5pm:  $50 / $500 NLHE Main Event 2-day ($40K / $130K GTD)

Event 38 at 8pm:  $15 / $150 PLO 6-max ($2K / $12,500 GTD)

Event 39 at 10pm:  $10 / $100 NLHE Hyper-turbo ($2,500 / $10K GTD)

May 20

Event 40 at 7pm:  $10 / $100 NLHE ($5K / $18K GTD)

Event 41 at 9pm:  $15 / $150 NLHE Deep Hyper ($4K / $12,500 GTD)
One of New Jersey's biggest online series of the year returns on May 4.https://t.co/JaqbxSmMDQ

— PocketFives (@PocketFives) April 21, 2019
Related Articles