PokerStars to End 2020 with New Blowout Series
By
December 10th, 2020 | Last updated on December 10th, 2020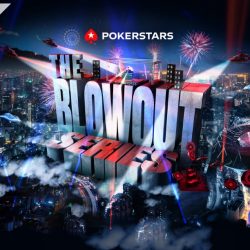 The overwhelmingly popular feeling around the world is that 2020 should suck it.
PokerStars knows this and wants to provide a way for poker players to kick 2020 off the calendar. The new Blowout Series is one way to do that, all while welcoming in the new year with a plethora of poker action and opportunities for winning.
The brand-new PokerStars Blowout Series will get run from December 27 to January 19, complete with 268 tournaments – including buy-ins for all bankrolls – and a massive $60 million in prize pool guarantees. Of course, there will be plenty of satellites from now through the end of the series.
A new series and a new year are just weeks away.
Something for Everyone
The inaugural PokerStars Blowout Series will kick off on the final Sunday of 2020 – December 27. It will begin with one of several Big Blowout tournaments on the schedule, a $109 buy-in with a $5 million guarantee.
Most of the events in the lineup will offer three buy-in levels. The 88 events in that category will each have a low, medium, and high level. The four Sunday Big Blowouts will stand on their own with just one buy-in each. That puts the total for the series at 268 tournaments.
The full slate of events will guarantee a total of $60 million.
PokerStars Managing Director and Commercial Officer Severin Rasset noted that 2020 was a unique year and deserves a unique tournament to usher it out. "We have a variety of buy-ins for our Big Blowout Sunday events with $5 million guaranteed, giving all players in our community the opportunity to play in these special events. We also have our New Year's Bash on January 1st where we hope to see many players come together to ring in 2021."
Introducing the #BlowoutSeries
🆓 $4M in free tickets
💵 Buy-ins from $2.20
🗓️ Dec 27 – Jan 19
ℹ️ https://t.co/oocOachDJh pic.twitter.com/Cjwow4jMja

— PokerStars (@PokerStars) December 7, 2020
Blowout Series Highlights
The PokerStars blog lists the entire schedule in all of its 268-event glory.
For our part, we'll list some of the major events, starting with the Big Blowouts on Sundays:
–Sunday, Dec 27:  $109 buy-in NLHE 8-Max Big Blowout ($5M GTD)

–Sunday, Jan 3:  $215 NLHE 8-Max Big Blowout ($5M GTD)

–Sunday, Jan 10:  $530 NLHE 8-Max Big Blowout ($5M GTD)

–Sunday, Jan 17:  $1,050 NLHE 8-Max Big Blowout ($5M GTD)
Those tournaments will take the place of a traditional series Main Event.
Another highlight in the series is the one to kick off 2021, the low buy-in version of Event 17:
–Friday, Jan 1:  $11 NLHE 8-Max New Year's Bash ($2M GTD)
For a taste of the options available to players on any given Sunday, this will be the kickoff day of December 27, including the aforementioned Big Blowout opener.
–Special:  $109 NLHE 8-Max Big Blowout ($5M GTD)

–Event 1-L:  $5.50 PLO 6-Max ($25K GTD)

–Event 1-M:  $55 PLO 6-Max ($85K GTD)

–Event 1-H:  $530 PLO 6-Max ($175K GTD)

–Event 2-L:  $55 NLHE 8-Max ($250K GTD)

–Event 2-M:  $530 NLHE 8-Max ($300K GTD)

–Event 2-H:  $5,200 NLHE 8-Max High Roller ($1M GTD)

–Event 3-L:  $2.20 NLHE 8-Max Turbo PKO ($40K GTD)

–Event 3-M:  $22 NLHE 8-Max Turbo PKO Mini Sunday Cooldown ($150K GTD)

–Event 3-H:  $215 NLHE 8-Max Turbo PKO Sunday Cooldown ($350K GTD)
The rest of the series offers various versions of Hold'em and Omaha, as well as 8-Game and HORSE options.
There will be a Blowout Ticket Machine promotion to award $2 million in tournament tickets from December 27 through January 16. Players can opt-in via their challenges window and then compete in any Blowout Series tournament to enter the daily draw. Players will receive one entry per series events played.
Of course, there will also be special edition Spin & Go events for $4 and $22 each for cash and tournament seats. Those will be open through January 17.
PokerStars will announce more promotions and satellite opportunities as the start of the series nears.
There's over $1M to be won in #TheBlowout.
🎉 1,000 Blowout Series packages
🎟️ Two exclusive freerolls
💰 Cash prizes of up to $10K
ℹ️ https://t.co/DNa12BibGQ pic.twitter.com/yV6Zh8wKEo

— PokerStars (@PokerStars) December 8, 2020
Related Articles