PokerStars Reveals Numbers in Global and Euro SCOOPs
By
May 3rd, 2021 | Last updated on May 4th, 2021
Home
»
Poker News
»
PokerStars Reveals Numbers in Global and Euro SCOOPs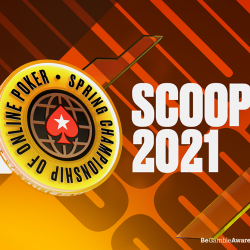 Back in the olden days, PokerStars had one website – PokerStars-dot-com – that served players around the world. Enter governments and laws and taxes and a global misunderstanding of poker and how it differs from other forms of gambling. In the last decade, PokerStars has had to ring-fence its sites to cater to certain markets. That means they must organize the Spring Championship of Online Poker (SCOOP) for every market.
YOU get a SCOOP, and YOU get a SCOOP…
There is still a global SCOOP, which includes many major parts of the world. But there are three different ones in the United States and one for a few European countries. The European one is the largest next to the global series.
While the ones in the US wrap up or get started, let's tally the numbers for the others.
Southern Europe SCOOP
PokerStars is finally able to connect its SCOOP events for France, Spain, and Portugal. Italy is not yet in the loop. For the three countries that PokerStars calls its Southern Europe contingent, the numbers for SCOOP were big.
–Total events:  360

–Total entries:  764,810

–Total guarantees:  €15M

–Total prize money awarded:  €17,805,960
The series offered 10 championship events, each with €250 buy-ins, and those awarded €1,044,180 in cash. They also received SCOOP trophies.
AS for the Main Event, it required a €125 buy-in and brought in 9,896 entries. The resulting €1,128,144 prize pool beat the €1M guarantee. And "SleeepWalker13" won it for €94,967.
PokerStars set up a Battle of the Countries leaderboard that awarded points to players who participated and cashed in events. Spain was the country with the most top-ranking players, followed by France and then Portugal. In the end, a player named "pepelurodri" won the leaderboard for a trophy and €10K in tournament money.
3 de los nuestros se hacen con el podio entero de la Batalla de los Países. 🥇🥈🥉

🇪🇸 lidera la clasificación. Todos los que hayan participado en algún evento de las #SCOOP recibirán un ticket para el Freeroll del 24 de Abril con un premio GTD de 15.000€

— PokerStars España (@PokerStarsSpain) April 21, 2021
Global SCOOP
The big Spring Championship of Online Poker started on April 4 and ran through April 29. It offered 102 events, each with a high, medium, and low buy-in. That translated into 306 individual tournaments and more than $100M in guarantees.
This series far exceeded expectations:
–Total events:  360

–Total entries:  1,731,546

–Total guarantees:  $1M

–Total prize money awarded:  $139,845,673

–Total paid to SCOOP event winners:  $19,469,060.80

–Largest prize pool:  Event 92-H ($10,300 buy-in NLHE Main Event) with $6.64M

–Smallest prize pool:  Event 78-L ($11 FL Badugi 6-Max) with $12,789
There were six tournaments dubbed the Main Events, three buy-in levels of No Limit Hold'em and three of Pot Limit Omaha. Together they awarded more than $19.1M. Those results were:
-$109 buy-in NLHE ME:  38,913 entries = $3,891,300, Cantaloupe91 (Greece) won for $376,086

-$1,050 buy-in NLHE ME: 5,903 entries = $5,903,000, livinmydream1 (Austria) won for $838,908

-$10,300 buy-in NLHE ME: 664 entries = $6.64M, kZhh (Hungary) won for $878,781

-$109 buy-in PLO 6-Max ME: 4,391 entries = $439,100, DaCus3 (Germany) won for $59,989

-$1,050 buy-in PLO 6-Max ME: 935 entries = $935K, Odonkor1 (Sweden) won for $153,356

-$10,300 buy-in PLO 6-Max ME: 134 entries = $1.34M, kaju85 (Andorra) won for $263,099
22 days, 306 tournaments
1.7m entries; $137m in prizes
Multiple winners and Brazilian brilliance
A full statistical breakdown from #SCOOPhttps://t.co/Xb6Bi3rDi6

— PokerStars Blog (@PokerStarsBlog) April 29, 2021
Top SCOOP Players
It goes without saying that the above-mentioned Main Event winners were top players in the 2021 SCOOP. But there were others.
There were leaderboards for each buy-in level and one overall leaderboard.
–Overall leaderboard winner: Rinat "Zapahzamazki" Lyapin (Russia) for $25K

–High buy-in leaderboard winner: Rinat "Zapahzamazki" Lyapin (Russia) for $15K

–Medium buy-in leaderboard winner: aleksandrs10 (Russia) for $10K

–Low buy-in leaderboard winner: FONBET_RULIT (Russia) for $5K
The winners of those leaderboard may have hailed from Russia, but players from Brazil took the most SCOOP titles:
-Brazil: 50

-Russia: 37

-UK: 29

-Sweden: 21

-Canada: 15
Winners represented a total of 41 countries/nations in the 2021 SCOOP.
Several players won multiple SCOOP titles in this series alone. Eleven players won two each, including names like Patrick Leonard, Simon MAttsson, and Rinat Lyapin. But these two players each claimed three 2021 wins:
-Adrian "Amadi_017" Mateos (UK): Events 13-M, 50-H, 84-H

-Dejan "dejanlc357" Kaladjurdjevic (Montenegro): Events 2-H, 11-H, 17-H
Those results differ from the players who accrued the most tournament cashes. That is relative, though, to how many entries it took to get there. But the numbers are interesting nonetheless:
-aleksandrs10: 402 entries = 122 cashes for $129,524.28

-Ilari "Fabahaba" Tahkokallio: 472 entries = 92 cashes for $179,421.29

-Rinat "Zapahzamazki" Lyapin: 496 entries = 91 cashes for $306,893.17

-Patrick "pads1161" Leonard: 523 entries = 86 cashes for $572,710.22

-Konstantin "krakukra" Maslak: 491 entries = 86 cashes for $164,861.20

-Jussi "calvin7v" Nevanlinna: 527 entries = 86 cashes for $155,710.15
New All-Time SCOOP Heights
Obviously, PokerStars has been tracking the numbers for all SCOOP tournaments since the first events in 2009. The big news prior to this year's series was that the first few events were set to put the series into the billion-dollar prize pool territory. It did just that. SCOOP history now shows:
–Total SCOOP events:  746

–Total SCOOP tournaments:  2,238

–Total entries:  11,002,096

–Total prize pools:  $1,136,439,084

–Total first-place prizes:  $173,673,302

–Top country wins:  UK with 240
While the UK players hold the most SCOOP titles, it is important to note that players from 79 countries have won SCOOP titles in the past. Brazilians are now in second place with 209 of them, followed by Russia with 205 and Canada with 194.
The 306 tournaments of #SCOOP2021 are now over. But where did the $137m in prizes go, and what records were set? Here's a full and forensic statistical breakdown of the latest @PokerStars series. https://t.co/Xb6Bi3rDi6

— PokerStars Blog (@PokerStarsBlog) April 29, 2021
Related Articles