PokerStars Creates High Roller Club for Big Bettors
By
November 25th, 2018 | Last updated on November 25th, 2018
Home
»
Poker News
»
PokerStars Creates High Roller Club for Big Bettors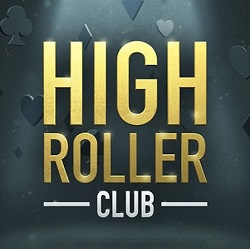 Over the past several years, PokerStars has abandoned its original player rewards system in favor of one that attracts more recreational players. Other online poker sites have done the same, but PokerStars received most of the grief from professional poker players as most of them depended greatly on the Supernova and Supernova Elite programs. The lucrative systems gave players incentives to spend time on the site and participate in the high-stakes action.
When PokerStars began to phase out the system in favor of Stars Rewards, many high-stakes players reduced the amount of time spent on PokerStars or left altogether. They found incentives to play at PartyPoker and made the switch, some also spending their time at 888poker.
PokerStars wants them back. In an attempt to achieve that goal, PokerStars recently announced the High Roller Club. And it seems to be working.
A big hand for @kurganovigor, he took third place in Sunday's #HighRollerClub $2,100 High Roller, picking up $27,728.65 for his podium finish. ? ?
High Roller Club tournaments run seven days a week, check out the full schedule here: https://t.co/dUJ7SF5fam pic.twitter.com/tz9FAXK2x4

— PokerStars (@PokerStars) November 12, 2018
Big Buy-Ins Daily and Weekly
The High Roller Club is not exactly a club, as no membership is required. It is simply a schedule of tournaments that attracts the poker players with big bankrolls and high-roller tendencies. The lowest buy-in is $530, and the highest are the Sunday High Roller and Sunday Cooldown, both of which require $2,100 to play.
Of course, there are satellites for players who want to try to win a seat for less, with the lowest qualifiers starting at $5.50. Who doesn't like a bargain? But the buy-ins remain for those who simply want big action without the fuss, only with substantial guarantees.
The daily High Roller Club schedule is:
–11:00am ET = $1,050 Daily Warm-Up ($100K GTD)

–12:30pm ET = $530 Bounty Builder High Roller ($150K GTD)

–2:00pm ET = $1,050 Daily-themed $1K (varies $100K to $225K GTD)

–3:00pm ET = $530 Daily 500 ($50K GTD)

–5:00pm ET = $1,050 Daily Cooldown ($100K GTD)

–6:00pm ET = $530 Daily Supersonic ($50K GTD)
There are also some special additions for Omaha fans, as there is a $530 PLO Omania High Roller at 7:30pm ET on Tuesdays and a $530 5-Card PLO Omania High Roller at 7:30pm ET on Thursdays.
And then there is the Sunday schedule, complete with some oldies but goodies, as well as additions to the lineup to serve the high rollers.
–11:00am ET = $1,050 Sunday Warm-Up ($100K GTD)

–12:30pm ET = $530 Bounty Builder High Roller ($300K GTD)

–2:00pm ET = $2,100 Sunday High Roller ($150K GTD)

–2:30pm ET = $530 Omania High Roller ($40K GTD)

–3:00pm ET = $530 Sunday 500 ($100K GTD)

–5:00pm ET = $2,100 Sunday Cooldown ($100K GTD)

–6:00pm ET = $1,050 Sunday Supersonic ($100K GTD)
It seems likely that as the tournaments garner a following and grow, some of the guarantees might increase as well.
Success So Far
PokerStars isn't afraid to toot its own horn when it finds success, and it is a way to show that the market for high-buy-in tournaments is a ripe one. The first week of the High Roller Club awarded more than $5.1 million, with more than 1,200 players competing on the first Friday and Sunday alone.
The new @PokerStars High Roller Club topped $5.1 million in prize money last week. The numbers, as well as the experiences of players themselves, go some way to explaining why…https://t.co/c4cdSZ8O5Y

— PokerStarsBlog (@PokerStarsBlog) November 23, 2018
Poker pros like Igor Kurganov like the roster of tournaments that provides a range of options for high-stakes players looking to play a solid, long session. And Martin Finger pointed out that the smaller fields give those players a better chance of finishing at the final table more often, and offers competition at the levels to which they've become accustomed.
Well-known pros who have claimed victories thus far include Viktor Blom, PartyPoker Ambassador Patrick Leonard, Chris Brammer, and Calvin Anderson.
It seems that PokerStars is also trying to bring back the rail. When high-stakes players competed during the poker boom on PokerStars or Full Tilt, there was often a large group of railbirds, poker fans who logged on just to watch their favorite players and take notes from some of the best. And while everyone doesn't have access to PokerStars as they did before Black Friday, PokerStars is touting its Twitch page as a place to watch some of the High Roller Club events.
Huge day today, have the opportunity to take some shots at the brand new High Roller Club @PokerStars! Will be playing the $1050 Warm up, $530 Bounty Builder AND $530 Sunday 500 all streamed ?LIVE https://t.co/cqUowLuIla pic.twitter.com/eOnt6UuRT3

— Benj Spragg (@spraggy) November 11, 2018
Related Articles