PokerStars to Host Celebrity Charity Tournament May 9
By
May 6th, 2020 | Last updated on May 14th, 2020
Home
»
Poker News
»
PokerStars to Host Celebrity Charity Tournament May 9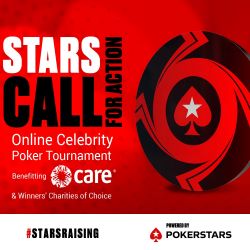 Being the largest online poker site in the world comes with responsibilities, and PokerStars has never shied away being a leader in charitable endeavors. And it is ready to step up again.
The list of charitable funding from PokerStars dates back to the poker boom when its executives realized the power of its platform. When a tsunami pummeled countries on the Indian Ocean on the day after Christmas in 2004, PokerStars ran a donation tournament, and players contributed $187,769. PokerStars matched and increased the amount to donate $400K to the International Red Cross.
Through the years, PokerStars did the same for victims of Hurricane Katrina, the Virginia Tech shooting rampage, ongoing wars in Darfur, Chinese earthquake, and Hurricane Haiyan.
When poker pro Gavin Griffin won the EPT Monte Carlo Grand Final in 2007 and dedicated part of his winnings to a breast cancer charity, PokerStars did the same. The company also raised funds for AIDS and cancer research through the years, children's charities, and everything from saving sharks in Costa Rica to funding a genetic data analysis tool for scientists.
The coronavirus pandemic has been devastating to people around the world, but it had to be difficult to decide where to aim charitable funds. The needs of people and countries are so wide-ranging.
But when longtime poker fan and actor Hank Azaria, alongside journalist and screenwriter Andy Bellin, reached out with an idea, PokerStars was ready.
Had a blast chatting with @HankAzaria and @AndyBellin about this Saturday's Stars CALL For Action event (and other things). 👇🏻 https://t.co/7sEdDGLxbn

— Short-Stacked Shamus (@hardboiledpoker) May 5, 2020
Stars CALL for Action – Powered by PokerStars
Azaria and Bellin had the idea. They wanted to put together a poker tournament to raise money for charities through a friendly game of poker. Azaria said that type of game "reminds us how life used to be, which hopefully we get back to soon. It's a way for people to interact for a good cause and enjoy themselves at the same time."
PokerStars got involved as the host of the charity tournament. PokerStars Associate Director of Public Relations Rebecca McAdam Willetts noted, "We were thrilled that they came to us and have been blown away by the momentum it's gained."
The lineup of celebrities has been growing, but many are already registered to play the online poker tournament:
–Amy Schumer, Bryan Cranston, Don Cheadle, Jon Hamm, David Schwimmer, Jason Alexander, Brad Garrett, Kevin Pollak, Ed Norton, Michael Cera, Brian Koppelman, Michael Ian Black, Tony Yazbeck
📢 '…And more' now includes @neymarjr and @aakkari.
Kick-off is 2pm ET, Saturday. #StarsRaising
👉 https://t.co/AQJuwYDiZM pic.twitter.com/5wMONYosiR

— PokerStars (@PokerStars) May 6, 2020
How Will It Work?
Poker players know that PokerStars is not allowed to operate in many parts of the global market due to varying national and state restrictions. Even for charity, real-money online poker is not allowed in some parts of the world and most of the United States.
So, it seems that PokerStars will host a virtual home game, one with play-money chips that signify commitments of donations.
On Saturday, May 9, at 14:00 ET, the Stars CALL For Action will kick off on PokerStars. PokerStars Ambassador Lex Veldhuis and commentator James Hartigan will translate the action during the live broadcast on Twitch, Facebook, and YouTube.
Celebrities will also turn on their computer cameras so fans can watch them play poker.
For ever celebrity who enters, PokerStars will donate $10K. They claim the prize pool will reach $1 million.
Ultimately, PokerStars claims the prize pool will equal $1 million.
Viewers can also donate to the fund through "donate" buttons to be available during the live broadcast on all of the platforms.
When the money is tallied, half of it will go to CARE International, the charity often benefiting from PokerStars charitable endeavors. PokerStars, via its Helping Hands initiative, and CARE began partnering in 2013 and have worked together on various projects ever since. CARE has been helping to save lives and overcome poverty and social injustices since 1945, now in more than 80 countries.
The other 50% of the final prize pool will go to players who finish in "cashing" positions of the tournaments. They will have chosen charities to benefit from the funds, and the money will be administered by the Entertainment Industry Foundation (EIF), a charity navigator often used by celebrities for large fundraising events.
Many of the stars playing in the event are members of a regular home game hosted by Azaria and Bellin. It has been a weekly event for about 20 years in their New York homes, and they took it online after the pandemic relegated everyone to their own homes.
Even non-poker players stepped up to play because of the charitable donations promised by PokerStars.
Azaria noted, "I'll tell you, when PokerStars stepped up like that, I was actually kind of moved by it. We were hoping they'd put in some money, but to basically finance the whole thing to the tune of a million dollars, is pretty incredible."
"Conceived and brought together by actor @HankAzaria and journalist, author and screenwriter Andy Bellin, this unique event is fast building momentum."https://t.co/xdUMYg6z2y #StarsRaising

— AndyBellin (@AndyBellin) May 6, 2020
Celebrities and Others
For every celebrity participating, PokerStars will be inviting a randomly-selected poker fan (or player) to compete. That tournament will be separate from the celebrity event.
However, when both events are down to a final table each, they will combine for a finale, all with Zoom cameras on, to play for the win.
Anyone can qualify to play via community giveaways this week leading up to the May 9 tournament. The PokerStars social media pages will alert fans to opportunities by PokerStars ambassadors, streamers, and even celebrities giving free seats.
In addition, celebrities who bust from the main tournament early will be added to a side event, with the winner of that tournament donating 10% of the prize money to charity.
It is important to stress that there are is no real-money poker involved in the event due to regulatory concerns. Players will simply compete alongside PokerStars' commitment to donate.
Celebs, cards, and charity… Stars CALL For Action, 2 pm ET, Sat 9th May.
👉 https://t.co/AQJuwYDiZM#StarsRaising pic.twitter.com/tmvtRoEbq8

— PokerStars (@PokerStars) May 5, 2020
Related Articles