PokerStars and Somerville Collaborate for Twitch Poker
By
June 22nd, 2018 | Last updated on October 19th, 2018
Home
»
Poker News
»
PokerStars and Somerville Collaborate for Twitch Poker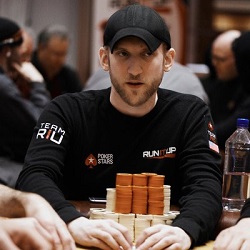 Somerville always running it up
When Jason Somerville first took to YouTube and Twitch to share his online poker experiences with fellow players, many wondered why he spent so much time livestreaming low buy-in games from his basement. Nearly half a dozen years later, Somerville not only has a sponsorship deal with PokerStars from the United States, his Run It Up Studios now has a partnership with PokerStars as well.
Those initial games on YouTube transferred to Twitch and grew into programming with a die-hard audience of fans, and Somerville inspired numerous other poker players to begin livestreaming their poker games as well. Whether he began it as an experiment or a part of a larger vision, his instincts about the future of poker were spot on.
Somerville has created an online poker business from Las Vegas, where only one poker site is authorized by the state of Nevada – and it's not PokerStars. Nevertheless, the partnership announced this month is a global endeavor that will grow the game in new ways.
The Deal
Somerville's Run It Up Studios and PokerStars aim to build the Twitch Poker community through "key initiatives, including content development, innovation and streamer development."
This seems to be a multi-faceted plan to grow the game of poker that involves Twitch content, new streamers, and fresh broadcasting opportunities.
Run It Up Studios announces new partnership with @PokerStars to grow @TwitchPoker – https://t.co/Dp1Q5kx1c2 pic.twitter.com/JpRGO40sL9

— Run It Up (@runitup) June 14, 2018
If anyone can grow poker in an era that offers more obstacles than the industry has seen in the last decade, it is Somerville, who turned his rudimentary livestreaming setup into a full-fledged production studio that is Run It Up Studios. In a world where most people follow the trends, Somerville sees beyond those trends and takes small steps while envisioning bigger long-term goals.
Somerville first offered a Run It Up live series in Reno to meet and play poker with his Twitch followers, and it is now a must-attend series offered several times each year with some of the biggest names in today's poker scene. He also took his one-man show across the world to tournaments like the Aussie Millions to broadcast live from events that already had coverage from major poker media outlets, and his efforts have led him to this partnership with PokerStars to spearhead further growth for the game.
Stars Group VP of Corporate Communications Eric Hollreiser said as much in the press release: "Jason is a pioneer, innovator and human content engine, which is why he's so successful on Twitch. … We're eager to build on our partnership with Jason and to mine the vast PokerStars library of content, promote poker streamers, and create exclusive promotions and original content for Run It Up."
Farhan Ahmed, who heads Twitch poker partnerships, echoed that sentiment: "There is no greater news for the continuing growth and health of poker on Twitch than to have Jason Somerville at the heart of it. As a fundamental part of the category's success to date, his new venture is bound to excite our large and passionate poker community."
Following the excitement of our partnership with @PokerCentral, we caught up with the man himself @JasonSomerville to chat @WSOP memories, his future plans, and his favourite Twitch Poker moments: https://t.co/BNRM3YPOZM

— TwitchPoker (@TwitchPoker) June 22, 2018
Existing Run It Up Offerings
Run It Up Studios is no longer a basement production, rather a full Las Vegas-based studio that creates unique content and produces poker livestreams from various broadcasters as well as live poker events.
Twitch poker fans can not only follow Somerville's past poker adventures, there is a full roster of players that currently work with him, all with their own almost-daily streams as well as in some collaborative efforts. All of the members are currently also PokerStars-sponsored players in some form: Lex Veldhuis, Jaime Staples, Kevin Martin, Jeff Gross, Fintan "EasyWithAces" Hand, and Ben "Spraggy" Spragg.
In the area of innovation, Somerville developed several Twitch-associated tools to help poker players and streamers alike. The RIU (Run It Up) Stats tracker offers a place to keep track of players and statistics, and the RIU Player is a hand history replayer that transforms a hand into a viewable replay tool for any hand played on PokerStars.
Of course, the Run It Up Reno series still takes place twice each year, and that will continue.
We're excited to announce we'll be returning to the beautiful @RenoPeppermill for our seventh #runitupreno festival October 19-29! We have huge plans and an expanded schedule for this one. Don't miss our biggest event ever this fall! pic.twitter.com/gXBYW95OLT

— Run It Up Reno (@runitupreno) March 31, 2018
Somerville also turned his store into a partnership with Postmates during the World Series of Poker to provide local deliveries in Las Vegas. The store offers everything from standard poker t-shirts to pajama pants and original themed pins and stickers, lanyards and popsockets.
In Vegas for #WSOP and wish you could grab some RIU gear? We have teamed up with Postmates this summer to make all your dreams come true. Mon-Sat from 11am-7pm we can get merch delivered directly to you – anywhere in Las Vegas. https://t.co/vzzQT7N1g9 pic.twitter.com/EKsvYqXYhz

— Run It Up (@runitup) June 7, 2018
The Future
There are no specifics revealed about the next steps of the Run It Up and PokerStars relationship, but an article about it on the PokerStars blog gave a bit more information.
One hint came from Somerville talking about languages around the world that are underrepresented – or absent altogether – from Twitch. But he insists the audience is there waiting to be served, noting that his Run It Up store ships merchandise to places in the world, like Africa, which indicates a hunger for more coverage of the game.
The blog post mentioned Somerville eyeing more of the American online poker scene, such as the upcoming Pennsylvania market, and building on the already-growing Run It Up Studios trajectory.
Whatever Somerville chooses to do, having PokerStars as a partner certainly doesn't hurt.
It's a crazy new world out there, and @JasonSomerville is becoming the architect of his own future…and poker's.

We talked with him about his newest venture to change the world of poker @Twitch streaming: @RunItUp Studios.https://t.co/mhTUhOoWQ0 pic.twitter.com/BDaC1Bix9x

— PokerStarsBlog (@PokerStarsBlog) June 14, 2018
Related Articles