Poker World Loses Paul Magriel
By
March 6th, 2018 | Last updated on February 15th, 2021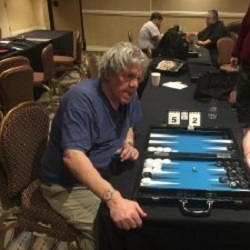 November 2017 photo of Magriel
The poker world was informed today of the loss of one of its most memorable players, Paul "X-22" Magriel. He died this week at the age of 71.
Most in the poker world learned of Magriel's death from his longtime friend Erik Seidel and several others who tweeted the news or spread the word among friends.
A staple at the poker tables through the years, Magriel was a memorable player and holds important places in the history of the game. Some player noticed his tics and quirky sayings (quack quack!) but never knew the genius behind the face.
He was a mathematics professor, Princeton fellow, chess champion, backgammon teacher and champion, and poker pro, teacher and author, memorable character and deep thinker. He was also a friend to many in the poker, chess, and backgammon gaming communities through the years, as well as a son, brother, husband, and father.
An Intellectual and Game-Filled Background
Paul Magriel was born in 1946 and grew up with one brother, who was a musician. He first married Renee, with whom he wrote two backgammon books, and later divorced and married Aileen, whom he also divorced before marrying Martine Oules, a French poker player, with whom he had a son.
Magriel was a fan of games from a young age, but he preferred games like chess and backgammon that required strategy and skill. He was incredibly intelligent, receiving a perfect score on his College Board exams and becoming a fellow at the Courant Institute at New York University before he even graduated with his initial degree. He went on to become a National Science Foundation fellow at Princeton University, where his specialty was probabilities. He went on to spend some time as a math professor at the now-New Jersey Institute of Technology.
Obituary: Paul Magriel https://t.co/6zO9p4AeqB pic.twitter.com/i5ODTcp1si

— UK Backgammon (@UKBGF) March 6, 2018
Meanwhile, however, Magriel's other passion was gaming, and he was recognized early for his accomplishments. He became the New York State Junior Chess Champion at 19 years old while studying at New York University, and he played backgammon on a competitive level. His first victory at the higher levels of that game came in 1978 when he won the World Backgammon Championship. During that same time and through 1980, he was also a backgammon columnist for The New York Times.
Devastated to hear of the passing of Paul Magriel @x22magriel. Great friend, #legend & author of the seminal work on the game ever written #backgammon. Playing until the end. RIP X pic.twitter.com/rEVVJ0ifmK

— James Vogl (@jamesvogl) March 6, 2018
The backgammon titles rolled in over the years, and he specialized in game theory while becoming an acclaimed backgammon coach. At one point, he simulated a backgammon tournament with 64 boards and named them X-1, X-2, and so forth. When he won on board X-22, that became his nickname. His legendary status in the game prompted television series to feature his commentary and insights.
A Natural Progression into Poker
Magriel naturally took to poker, as its skill component was appealing to a chess and backgammon player. He played in Europe and the United States, wherever he could find a variety of events offered the best challenges, as he was proficient in Hold'em, Omaha, and Stud poker.
Paul Magriel died today. Author of #backgammon the seminal book on the game & true legend. Will be sorely missed. Here's Paul in action at the #poker table, accused of being a #maniac a word he loved to use himself. RIP https://t.co/NZ7vveZtrF

— Cerebral Gym (@cerebralgym) March 6, 2018
His first recorded win via the Hendon Mob came at the beginning of 1985 at the Grand Prix of Poker in Las Vegas, where he took home close to $80,000 for the victory. He went on to win tournaments at the European Poker Championships, Vienna Spring Poker Fest, and Austrian Classics. In his later years, he showed his ability to continue to thrive, winning a seniors' tournament at the Bellagio Cup in 2010 and an event at the Deep Stack Extravaganza in 2015. He also had his share of final table appearances that ranged from the World Poker Tour to the World Series of Poker.
One of our greatest final tables in the early years of the WPT (in Reno) had X-22 (a backgammon legend) on it. The guy was a genius, a character, & unique to say the least. He was quite aggressive & won a pot with 2/2. It was "Quack, Quack" from then on. #RIP https://t.co/sQvQu5jPRc

— Mike Sexton (@Mike_partypoker) March 6, 2018
In total, Magriel showed more than $527,000 in live tournament earnings, while he also continued to play on the backgammon circuit as much as possible.
A Most Significant Poker Contribution
As a part of Magriel's lifelong study of game theory, he contributed something major to poker strategy. He developed the M-ratio, which most players now simply refer to as M. The calculation is simple. A player's stack divided by the sum of both blinds and any antes equals the M. And that M tells the player how many rounds they will remain in the tournament before being blinded out.
Example:  Player Jane has 2500 chips, and blinds are 50 and 100 with a $5 ante (playing ten-handed puts a full round of antes at $50). By dividing 2500 by (200), the total of blinds and antes in one round of play, the M is 12.5. Jane has 12.5 rounds of play left unless she plays a hand to win or lose more chips.
The M works in no-limit or pot-limit tournaments. It became so important to the game that Dan Harrington used the M-ratio upon which to build an optimal strategy chart that attached zones to certain M-ratios. The best zone would be an M or 20 or more – the green zone – while the dead zone is an M of less than one and forces the player to rely solely on luck. Other calculations can be done as well, such as the Effective M to be used as tables are shortened throughout a tournament.
Thanks for All the Quacks
Magriel's contributions to the game were significant, both as a whole and to the many individual players with whom he played and mentored.
Those who played at a table with him might remember his sometimes-disheveled look or his "Quack quack!" shouts when betting an amount including the number 22 or playing deuces, the ducks of poker. But condolences go out to the members of the many gaming communities who knew him on a deeper and more personal level.
Last time I saw Paul Magriel. I dealt to him last week. Was his typical self..even took a picture with one of our players..whenever I dealt to him I always watched how he played…he was the poker's beautiful mind #ripquackquack

— Ronnie B (@balt999) March 6, 2018
He died on March 5, 2018 in his sleep. Rest in peace, Mr. Magriel.
RIP "X22" Paul Magriel, 1 of #Backgammon 's modern fathers. He'd won more major backgammon tournaments than any other player in the world. U will be missed old friend! He died in his sleep yesterday. pic.twitter.com/REk2NqzOJY

— BoopYrNose&RESIST (@YureBliss) March 6, 2018
*Main Photo: Credit to Voice of Backgammon blog's Larry Shiller from November 2017
Related Articles