Poker Industry Mourns Loss of Marty Wilson
By
July 31st, 2019 | Last updated on July 31st, 2019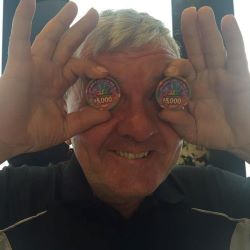 The news spread across social media last weekend, starting in the UK and quickly eliciting sorrow from the global poker community. Marty Wilson, better known in many circles as Mad Marty, died from cancer.
Some remembered his sense of humor, the fun he brought to the game of poker, while others remembered his generosity and friendship. His successes in poker were not as much a side note as a way to put a figure on what many believed to be a priceless contribution to poker over the last several decades.
Wilson fought cancer for the past half-year and finally lost that battle with the ferocious disease on Friday, July 27, with his wife at his side.
Before and After Televised Poker
As a regular in poker rooms around the UK before poker became popular on television, Wilson was reportedly a fun player to have at his tables. He was a renowned storyteller, and he consistently regaled fellow players with tales from on and off the felt.
you know why the french eat snails………because they dont like fast food

— Martyn Wilson (@madmartywilson) July 10, 2018
When Late Night Poker became a hit on Channel 4 in the UK, Wilson quickly became a fan favorite. His humor became a necessary part of the show, though he didn't win often. But his presence on the show helped propel it to popularity in the UK as a part of the poker boom.
His flirtation with stardom not only won him a place on a show called Heads Up with Richard Herring, he also became a sought-after poker instructor for celebrities who wanted to play poker on television or simply in home games. Wilson was said to have taught Tom Cruise to play poker, as well as stars like Michael Greco and soccer presenter Helen Chamberlain.
Poker Accolades
Wilson was known for his work as a tournament director, reporter, consultant, and commentator, having served the poker community in a variety of roles in order to stay connected to the game he loved.
He also had quite a few successes on the tables, too.
His first cash on record was in 1997 at the Great Britain Poker Championships, but that was also the year that Wilson began traveling to the World Series of Poker in Las Vegas. During his many travels to Sin City, he racked up quite a few final tables and wins.
I don't care if it rains or freezes, I've got a ticket for the World Series pic.twitter.com/r6uckjyxHb

— Martyn Wilson (@madmartywilson) July 1, 2015
In fact, Wilson's first official tournament win was at the Carnivale of Poker in Vegas in 1998, where he won a $1K NLHE tournament for $68,400. He won another tournament that year in Nova Gorica in Europe, then added other wins through the years at events like the Glasgow Masters in 2001, Holdem Double in 2002, Crown Australasian Poker Championship in 2004 and 2005, and Binion's Poker Classic in 2009.
The most recent cash for Wilson was in 2005 at the Grand Poker Series in Las Vegas.
In total, Wilson won more than $451K on record in live poker tournaments. But he also played online poker for years, even serving as an ambassador for NoblePoker for some time.
Just heard the sad news about the passing of Mad Marty Wilson, he was one of the great personalities of poker and won't be able to be replaced #RIPMadMarty #Legend https://t.co/fcV1n24gH2

— Matt Savage (@SavagePoker) July 27, 2019
Passing of a Friend
Most of the social media tributes to Wilson mention little about his poker outside of meeting him through that particular community. Words of remembrance point out his wit, his storytelling ability, and his friendship to so many.
In the last several years, Wilson had worked with sports promotion company Matchroom, allowing him to put his love of sports to use, and in various capacities with PartyPoker.
His battle with pancreatic cancer lasted less than one year, having only been diagnosed in late 2018 and undergoing chemotherapy in early 2019.
The coin flips on. After long delay due to infection,chemo started today. I'm gonna smash this. @padraigpoker pic.twitter.com/OYXXhKOgkR

— Martyn Wilson (@madmartywilson) February 18, 2019
Wilson's place and voice in the poker community will be missed.
'Mad Marty' Wilson made you smile just entering a room he was in. He was a true character in the poker world – one of which we'll not see again. RIP Marty! ♥️ https://t.co/wLgcm5WnbV

— Mike Sexton (@Mike_partypoker) July 27, 2019
Related Articles