WSOP Poker Hall of Fame Inducts Huckleberry Seed
By
December 31st, 2020 | Last updated on December 31st, 2020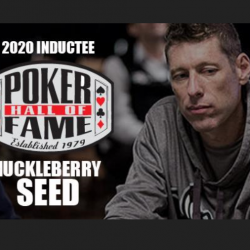 Earlier in December, the public had the opportunity to nominate people for induction into the WSOP Poker Hall of Fame. This year, only one induction was possible because…well…2020.
On December 18, the World Series of Poker announced the ten nominees that made it to the final round of voting. All were previous nominees except Patrik Antonius and Isai Scheinberg, as well as the commentating team of Norman Chad and Lon McEachern. Many names were familiar to the voting process: Eli Elezra, Antonio Esfandiari, Chris Ferguson, Ted Forrest, Mike Matusow, Matt Savage, and Huck Seed.
The 31 living members of the Poker Hall of Fame each had ten votes to distribute as they saw fit.
Vote Tallies
One member of the Poker Hall of Fame abstained from voting, which meant 30 people did vote. That put 300 votes into play.
Huckleberry "Huck" Seed received the most votes and became the 2020 inductee. The complete rundown of votes was as follows:
-Huck Seed = 76 votes

-Matt Savage = 51 votes

-Isai Scheinberg = 45 votes

-Eli Elezra = 30 votes

-Antonio Esfandiari = 23 votes

-Lon McEachern and Norman Chad = 20 votes

-Ted Forrest = 20 votes

-Mike Matusow = 17 votes

-Patrik Antonius = 15 votes

-Chris Ferguson = 3 votes
A couple people asking about 1, which is the most critical factor. Chip & Doyle dominated cash games & broke many players throughout the years. Huck came on the scene & for a period took on all comers & crushed souls on a daily basis, he was the OG Ivey

— Erik Seidel (@Erik_Seidel) December 18, 2020
The World Series of Poker had promised to reveal the name of the 2020 honoree via the WSOP Main Event finale on December 30. Since that heads-up match is now delayed until January 3, the WSOP announced the induction of Huck Seed on social media and on its website.
Seed told the WSOP, "Hearing the news that I am being inducted into the Poker Hall of Fame this year brought back memories of my early poker days, walking into Binion's Horseshoe, about to start a poker session, admiring all the Poker Hall of Famers on the wall. It feels good to be included with all the poker legends that I once idolized and competed against over the years. Thank you, everyone."
Congratulations to the OG @HuckleberrySeed on his 2020 induction to the Poker Hall of Fame. It has been a long time coming for you, well deserved! pic.twitter.com/aHLWrHDQ7n

— Matt Savage (@SavagePoker) December 30, 2020
Decades of Poker for Seed
Huckleberry Seed was born in January 1969 in Santa Clara, California, but he spent most of his youth in Corvallis, Montana. His height – which settled at 6'7" – took him to the basketball court in high school. He and his teammates went all the way to the state finals in 1987.
Seed attended college at the California Institute of Technology (Caltech) in Pasadena. His top-line math skills contributed to his desire to become an electrical engineer. He also played basketball for the school.
However, his competitive nature and penchant for gambling took him to the poker rooms in Southern California and in Las Vegas, Nevada. He took a break from school in 1989, a break that became permanent.
Seed's first recorded poker tournament win came in 1990 at the Super Stars of Poker in Tahoe, where he won a $330 buy-in No Limit Hold'em event for $30,240. He went to Las Vegas that summer for the World Series of Poker, where he made two final tables and finished fourth in both the $1,500 Limit Omaha and $1,500 Seven-Card Stud Hi/Lo events.
Continuing his solid runs in tournaments, Seed made another three WSOP final tables in 1992 – in the $5K NL Deuce-to-Seven Draw, $1,500 LHE, and $1,500 PLHE – and just missed another in the Limit Omaha.
But in 1994, he won achieved his goal and won a WSOP event. He took down the $2,500 buy-in PLO event for $167K.
And in 1996, Seed took it one step further. He won the $10K buy-in NLHE World Championship, also known as the WSOP Main Event. That win was worth an even $1 million.
He went on to win his third gold bracelet in 2000 in the WSOP $1,500 Razz tournament and his fourth in 2003 in the $5K Razz. And in 2010, he won the WSOP NLHE Tournament of Champions for $500K.
Through the years, he added numerous other titles to his resume by winning the 1998 Carnivale of Poker Championship for $306K and 2008 Canadian Poker Open Championship for $100K, as well as events at the World Poker Finals at Foxwoods, Bay 101 Shooting Star in San Jose, Jack Binion World Poker Open in Tunica, Festa al Lago in Las Vegas, and L.A. Poker Classic. He also won televised events like Late Night Poker in Cardiff for $200K, the Poker Lounge in Cardiff for $120K, and Poker After Dark in Los Angeles for $600K, not to mention the NBC National Heads-Up Championship in Las Vegas for $500K.
All in all, Seed earned $7,649,864 in live tournaments throughout his career.
He also played online poker for many years, notably as a member of Team Full Tilt. Seed dabbled in cash games, too.
Seed was known for his prop bets away from the tables. He famously lost $50K to Phil Hellmuth when he was unable to float in the ocean for 24 hours. He won a bet to learn how to do a standing backflip in six months and when he broke 100 on a golf course five times in one day (a blazing hot Las Vegas summer day) using just three clubs.
The somewhat-retired poker pro joins 58 other names in the Poker Hall of Fame. The full list of members is on the WSOP website.
1996 World Series of Poker Main Event Champion Huckleberry "Huck" Seed @HuckleberrySeed is the 2020 inductee to the Poker Hall of Fame !
More details : https://t.co/NDygkrqv4I pic.twitter.com/BOjrhzGet8

— WSOP (@WSOP) December 30, 2020
Related Articles