Poker Events to Test Texas Poker Laws
By
June 8th, 2019 | Last updated on June 8th, 2019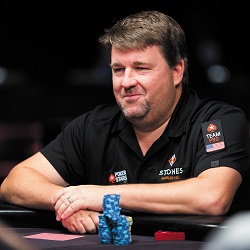 The poker world keeps poking the bear – the Texas bear – by openly promoting poker action at poker clubs around the state.
For years, poker club owners have circumvented the state's laws with legal advice and loopholes, pushing the state to its limits.
Recent actions may prompt the final clash, one that is put in the hands of the courts.
In early May, Texas authorities raided two well-known poker clubs in Houston, arrested their owners and managers, and charged them with promoting gambling, organizing criminal activities, and money laundering. These cases are likely to be challenged through the court system in order to push for a concrete decision on poker's legality in Texas, once and for all.
Meanwhile, Team PokerStars Pro Chris Moneymaker has decided to challenge the laws in his own way by scheduling two tour stops in Texas on his new Moneymaker Poker Series.
Poker Room Raids
On May 1, the Harris County District Attorney's Office coordinated with the Houston Police Department to raid two poker clubs in the Houston area. The Post Oak Poker Club and Prime Social Poker Club were raided, and owners and operators were arrested. Further, the bank accounts of both clubs were frozen, with balances being seized.
This changes things a bit in the South Texas poker club scene. Will be interesting to see what more develops –> Police raid 2 poker rooms, arrest nine https://t.co/SPUZUPW5tp via @ABC13Houston

— Sean Chaffin (@PokerTraditions) May 1, 2019
All in all, nine people were charged with money laundering as part of engaging in organized crime, all the result of a two-year investigation. Those people were:
Post Oak Poker Club:

–Daniel Jeffery Kebort, owner

–William Jack Heuer III, owner

–Alan Harris Chodrow, owner

–Sergio Diaz Cabrera, owner

–Kevin Louis Chodrow, owner

Prime Social Poker Room

–Dan Maddox, owner

–Mary Switzer, comptroller

–Brent J. Pollack, general manager

–Steven Farshid, assistant general manager
According to the Harris County District Attorney's office, DA Kim Ogg said, "Poker rooms are illegal in the state of Texas. We are changing the paradigm regarding illegal gambling by moving up the criminal chain and pursuing felony money laundering and engaging in organized crime charges against owners and operators. Players are not being targeted."
Houston Police Chief Art Acevedo added, "We can't allow illegal gambling to go on. It drives organized crime and fuels other criminal activity."
Years of Club Action
The poker rooms around Texas have been operating for years, and there are more than 30 of them in operation at any given time. While live poker is not technically legal in Texas, despite numerous efforts to try to legalize the games, poker enthusiasts have found ways around the current laws as they are written.
Since playing poker for money and collecting rake from games is illegal, people have been opening poker rooms as private clubs. Players can purchase a membership, and that allows them to play in tournaments without commission and cash games without rake. Clubs can also charge seat rental fees to make the revenue necessary to provide the services.
Some poker tours have even scheduled tournaments at the clubs. The Card Player Poker Tour stopped at the Post Oak Poker Club in 2018, and WPTDeepStacks took its action to the FreeRolls Poker Club in Houston last fall.
Upset Officials
The clubs have seen intensifying pushback from members of city councils and other officials.
When those officials have reached out to the Texas Attorney General for clarification in the hopes of an answer strong enough to shut the clubs down, they have not received that answer.
For example, Texas Attorney General Ken Paxton was asked to weigh in on the issue in 2018 by Texas State Representative Geanie Morrison, but Paxton's office responded that the matter was being litigated in court, and "the courts are generally the appropriate forum for resolving the issue."
That litigation was a lawsuit by Texas Card House against SA Card House over membership rate competition. The owner of Texas Card House, Austin Card Room, claimed to have filed the lawsuit to obtain clarity under the current poker laws.
Moneymaker Up to the Challenge
Just weeks after the Houston poker club raids and arrests, Team PokerStars Pro Chris Moneymaker announced a new poker tour. The Moneymaker Poker Series will have two stops in Australia and two in Texas.
(Side note:  This tour is not being promoted by PokerStars. In addition, PokerStars is no longer available to players living in Australia, nor would PokerStars likely authorize tournaments in Texas where the laws are unfavorable to legal poker, at best. As PokerStars is trying to stay licensed in legal poker markets, especially in the United States, it would not want to jeopardize those opportunities by promoting poker in Texas.)
Moneymaker's Australian stops are July 22-28 in Brisbane and July 30 to August 3 in Adelaide. The Texas stops, as originally announced, are as follows:
–August 14-18:  The House Club Poker Room and Lounge in Edinburg, Texas

–August 20-25:  Poker Kings Card House in Corpus Christi, Texas
In addition, Moneymaker has been promoting various poker events throughout Texas. In one Twitter video, he promoted the SA Card House in San Antonio and the Texas Card House in Austin.
Support your local Texas card rooms pic.twitter.com/wX6Mf3qbky

— Chris Moneymaker (@CMONEYMAKER) May 20, 2019
As of his latest video, the latter of the two Texas stops is still on, but he didn't' mention the other previously-scheduled stop.
See you aug 20-25 at poker king card house in Corpus Christi TX. pic.twitter.com/Ea5wrrJ1uq

— Chris Moneymaker (@CMONEYMAKER) June 7, 2019
Related Articles