Poker Community Remembers Poker Pro Gavin Smith
By
January 16th, 2019 | Last updated on January 16th, 2019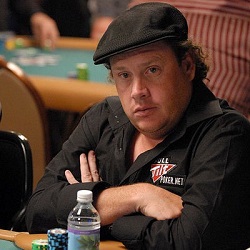 Two weeks into 2019, Gavin Smith died in his sleep, unexpectedly, at the age of 50. He is survived by his two young sons, Kingston and Keegan, and multitudes of friends in the poker community.
His sudden death took the poker world by surprise, with some having just seen him days before playing poker, others having crossed paths with him again recently, years after he stopped traveling the circuit regularly as taking care of his sons full-time took precedence.
For those who knew him, admired him, heard stories about him, watched him during the poker boom from afar, and played poker with him, today involved hours of scrolling through social media posts full of kind words and remembrances. Through it all, it was clear that Gavin Smith was loved and will be sincerely missed by many, many people.
We're all working today with heavy hearts as we mourn the loss of Gavin Smith. He was a great friend to many of us. @Stapes, after mentioning the loss on the live stream today, stepped outside to talk about his friend Gavin, what he meant to poker, & what he meant to all of us. pic.twitter.com/P88WeTV4JQ

— PokerStarsBlog (@PokerStarsBlog) January 15, 2019
Proud Canadian Poker Pro
Smith was a native of Guelph, Ontario, and grew up playing cribbage and card games like rummy with his father. His love for competition also extended into sports, as he played everything from baseball to rugby, hockey and soccer. As a young adult, he worked as a greens-cutter on a golf course, drove a taxi, and followed life where it led.
Poker came into his life in the early 1990s when he played casually with coworkers, but Smith was drawn to the game enough to take a job as a poker dealer in 1996. Two years later, he established his own poker club and was then playing regularly on his own time.
Smith's first tournament cash came in 1998 when he finished ninth in a Limit Hold'em tournament at Foxwoods. His first win came one year later when he won a $500 NLHE event at Foxwoods for $14,280, and he won another in the same World Poker Finals series the following year in Seven Card Stud Hi-Lo Split. He continued to play tournaments when he could, but satellites became his specialty, as he regularly won tournament satellites and sold the chips.
In the early 2000s, Smith was traveling more regularly. He had befriended several other poker pros with whom he traveled and played poker. He often spoke of mentors Grant Pittman and Jeremy Balka, the latter a statistics expert, and close friend and backer Erick Lindgren. Smith and Lindgren went on to become Full Tilt Pro players, representing the site online and in live tournaments for many years.
Gradually, Smith climbed in stakes and played more high-profile events, especially during the years of the poker boom. His first major win came in one of those events, the World Poker Tour's $10K buy-in Mirage Poker Showdown in 2005, for which he won more than $1.1 million. From there, he went on to finish third at the WPT Doyle Brunson North American Poker Championship for more than $327K and fourth at the WPT World Poker Open for more than $173K. That led to him being named the WPT Season IV Player of the Year.
Said television appearances made Gavin Smith a household name for nearly every poker fan. He won the World Pro-Am Challenge in 2006 for $500K, final tabled several WSOP Circuit Championship events, and finished in the money at the 2007 NBC National Heads-Up Championship. He also competed in and won numerous "Poker After Dark" televised SNGs, and played on television shows like "Late Night Poker" and "Full Tilt Poker Million" on Sky Sports. And Smith was a beloved member of the Poker Road Radio team along with close friends Joe Sebok and Joe Stapleton.
Smith final tabled a World Series of Poker event in 2007, came close in 2009, and was dubbed one of the best players in poker without a WSOP bracelet. But that changed in 2010 when he won a WSOP $2,500 Mixed Hold'em event for more than $268K and that gold bracelet.
Along with substantial online poker winnings, Smith shows more than $6.3 million in lifetime live tournament earnings.
Proud Dad and Part-Time Poker Pro
Over the past decade, the poker life slowed for Smith as he moved to Anchorage, Alaska. Eventually, he took sole custody of his two young sons and moved to Houston, Texas. As he told WPT in the summer of 2018, "I don't really play much poker these days. I'm raising two kids. Last year, I think I only played maybe three or four tournaments, and this (WPT Tournament of Champions) is the first tournament I've played this year."
His last major cashes were at the WSOP. In 2016, Smith finished sixth at the final table of the $1,500 Eight-Game Mix and fourth at the final table of the $1,500 PLO-8 & Big O event. In 2017, he min-cashed the WSOP Main Event.
While much of his poker life was in the public eye – hosting shows, making very public prop bets with friends, and being the life of the game or party – Smith relished his years as a father, mostly in the privacy of their home and out of the spotlight.
For this reason, Smith's friend Josh Arieh started a GoFundMe for Smith's sons. All funds raised will be placed in an escrow account and eventually a trust for them. In the first eight hours, nearly $35K had been donated. The ultimate goal is $100K.
please share. Gavin loved life, loved his kids and really loved poker. he leaves behind 2 boys that he had full custody of. Lets show his kids just how great the poker community can be! https://t.co/xXpIS2HWx6 via @gofundme

— Joshua Arieh (@golferjosh) January 15, 2019
Rest in Peace
When I began my career as a freelance writer full-time in 2006, I spent many long days and nights at the World Series of Poker and at other events in Los Angeles and Las Vegas. Gavin was always a friendly face in the hallways or at the nearest bar. Though he and I were never close friends, he was always a smiling, sociable soul to be around.
I have spoken to several of his friends who have confirmed that Gavin Smith did in fact pass away unexpectedly at his home in Texas last night. Details are scarce at the moment. RIP to one of the funniest, most genuine guys I ever got to know in poker. pic.twitter.com/CkMTelmlC2

— Chad Allan Holloway (@ChadAHolloway) January 15, 2019
Of all the people I've known in the last 15 years, Gavin Smith talked to me about my kids more than anyone. He cared the most about being a good father, & no matter how late the nights got, the conversations never drifted far from fatherhood. Peace to the kids he loved so much. pic.twitter.com/RCA0HbTOhD

— Brad Willis (@BradWillis) January 15, 2019
My friendship with Gavin Smith overlapped my years as a poker photographer.

Women always loved having their photos taken with him, and I have literally dozens of photos like this in my archive. (Thanks to @RadioAmanda for posting this one.) pic.twitter.com/IKdabCiiQo

— BJ Nemeth (@BJNemeth) January 15, 2019
Gavin was close, however, with many people I considered friends in poker media. And whether they spent time with him taking care of poker business or letting loose after work, they treasured their friendships with him. He was generous and kind, funny and sensitive, boisterous and caring, all wrapped up in one disheveled but ever-present package. I never heard a negative word about Gavin, the person and the friend.
The poker community has not been the same since the days that he was a regular in it. And the game will never be the same now that he is gone.
In the last of the above videos published in 2010, Amanda Leatherman asked Smith where he will be in 20 years. "Probably in the ground," he said seriously. "No!" she responded, prodding him for a different answer. Smith then said, "Twenty years, that's a long time. I don't know. I'll be having fun somewhere, I guess. Whatever I do, I'll be having fun."
The poker community has not been the same since the days that he was a regular in it. And the game will never be the same now that he is gone.
Wherever Gavin is now, I can only hope he is having fun. Rest in peace.
I feel wrecked today, and can't even imagine what Gavin's kids are going through losing their dad. If Gavin touched your life in any way, please donate what you can. https://t.co/9W03ra8RW2 via @gofundme

— Dutch Boyd (@DutchBoyd) January 15, 2019
Just got word that my old friend Gavin Smith has passed away. "The Caveman" was troubled, but kind & generous. I'm glad I was reunited with him last year, where he was able to do what he loved – wreck one of my shows. My thoughts are with his children.

I'll miss you, ole G.

— Joe Stapleton (@Stapes) January 15, 2019
Gavin Smith was a smart, funny, talented character who loved the game of poker. The only thing he loved more than the game were his kids and my heart breaks for them today. RIP. pic.twitter.com/OLpVihrVk6

— Lance Bradley (@Lance_Bradley) January 15, 2019
Gavin Smith was a true gem and will be missed dearly. He taught me that you can be the class clown, have fun at the table, and represent the game well…but still end up with all the chips. He was also an extremely charitable man & devoted father w/full custody of his 2 sons…? https://t.co/XSXMWuAyCW

— Matt Stout (@MattStoutPoker) January 15, 2019
I'm in disbelief that Gavin Smith passed away unexpectedly this morning. His love for the game was only a fraction of this gentle giant. His generosity was incredible, and his love for his children was second to none.
RIP my friend. pic.twitter.com/Lee8EfwPVI

— Sean McCormack (@ThePokerBoss) January 15, 2019
If you have been in poker for the last 15 years you most likely had a story to tell about Gavin Smith. @olegsmith was usually the biggest personality in the room. Popular, gregarious, and generous to most who knew him and always went out of his way to be a friend. #RIPGavin pic.twitter.com/7tvbA6Zuh2

— Matt Savage (@SavagePoker) January 15, 2019
RIP #GavinSmith. He gave me my nickname "JTillatheKilla" We used to play the 1k Bellagio tournaments together and when I walked in the room he would happily yell "Here comes JTillatheKilla!" He was always fun to be around, he made everybody laugh.? We will miss you Gavin.

— Jennifer Tilly (@JenniferTilly) January 15, 2019
Related Articles