Poker Central Extends Partnership with NBC Sports
By
July 19th, 2020 | Last updated on July 19th, 2020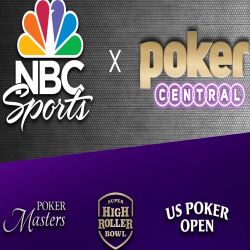 At one point in time, poker was all over television in the United States. There were cash games and tournaments featuring well-known poker personalities and celebrities. That was before Black Friday forced companies like PokerStars out of the US market. ESPN still had the World Series of Poker and the World Poker Tour continued to air on Fox Sports, but there was little else.
That was until Poker Central turned up the heat on its high-roller poker tournaments. It partnered with NBC Sports in 2017, extended that deal to 2020, and now just announced a renewal of the deal through 2022. Of course, poker fans can also see everything from current livestreams to classic tournament coverage on the PokerGO platform.
Poker Central caters to high-stakes players, but it has made poker programming more affordable on a wider platform and at a global level.
When Poker Central and NBC Sports First Met…
It was 2017. On April 3 of that year, Poker Central and NBC Sports Group publicly announced their new relationship.
The agreement put Poker Central programming on NBCSN (NBC Sports Network) on Monday nights in prime time, with the first episodes scheduled to air that summer. The Super High Roller Bowl was the major focus, and the first one was the 2017 SHRB.
That year's Super High Roller Bowl was the third one, the first events being in 2015 and 2016. The 2017 one grew to accommodate 56 entries, each one worth a $300K buy-in. The prize pool was $16.8 million, and Christoph Vogelsang ended up winning it for $6 million. To date, that remains the second-highest winner payout for a SHRB.
NBC Sports agreed to broadcast episodes of the SHRB and feature the programs on its digital platforms, which included livestreaming on mobile devices, desktops, tablets, and connected televisions.
Then NBC Sports Group VP of Programming Gary Quinn said NBCSN was "thrilled to present Poker Central's high-stakes action." He said it would be high-quality programming for "both existing and new poker fans alike."
Partners Took the Next Step
By January of 2018, Poker Central and NBC Sports were pleased enough with their relationship that they announced they were taking it to the next level.
They expanded their agreement and extended it through 2020. And it would also include the then-new tournaments called the Poker Masters and US Poker Open. This was in addition to the Super High Roller Bowl, which had expanded on its own to include non-US locations and two or three events per year.
The relationship applied to the NBC Sports website and app. Quinn noted that the 2017 SHRB was successful, so "we are further broadening our poker content by adding more tournaments to our slate."
Committed Relationship to Continue
Last week, Poker Central announced that its partnership with NBC Sports will continue through 2022.
The deal is to continue broadcasting the Super High Roller Bowl, US Poker Open, and Poker Masters on the NBC Sports linear platforms. Poker Central CBO JR McCabe noted that he wants their poker action to "reach the greatest number of sports fans possible, globally."
Quinn of NBC Sports added a note of excitement about continuing the partnership, "which allows us to continue to engage with all poker fans, while also introducing the game to a wider audience."
They could not announce any tournament dates or broadcast schedules now, as Poker Central has been and continues to be unable to plan any live poker tournaments. With the coronavirus pandemic now increasing its hold on people in the United States, it is unclear when any sense of normalcy will return to Las Vegas – or any casinos or poker rooms in America, for that matter.
Poker Central has partnered with PartyPoker to put some of its events online in the past several months. While there have been livestreams and commentary, NBC Sports is likely willing to wait for live poker tournaments.
Poker Central and @NBCSportsPR renew programming and development partnership through 2022.https://t.co/zDl4X4vHpt

— Poker Central (@PokerCentral) July 16, 2020
Related Articles