Poker Central to Debut Unique Format with High Stakes Duel
By
July 24th, 2020 | Last updated on July 24th, 2020
Home
»
Poker News
»
Poker Central to Debut Unique Format with High Stakes Duel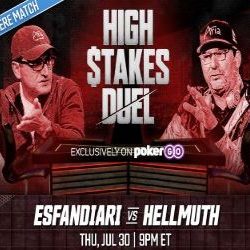 The development team at Poker Central is always working to think of new and original show ideas. Whether it involves new analysis of old tournament footage or reliving classic World Series of Poker moments, Poker Central is always ready to try something new.
High Stakes Duel is the latest show to emerge from Poker Central and to air on PokerGO. It will premiere next Thursday, July 30, featuring Antonio Esfandiari and Phil Hellmuth in a unique heads-up poker match.
Original Format
Poker Central created High Stakes Duel as a new show based on heads-up poker. And there are several rounds in play.
Round One pits two high-stakes poker players against each other. Each player buys in for $50K. The loser of the match may challenge the winner for a rematch, though the player need not accept.
The winner of Round One moves to Round Two and puts the $100K on the line. Any player can then challenge that person by putting up $100K. This moves forward several times over, with the buy-in doubling each time. By the time two players sit down for Round Eight, there will be $12.8 million in the prize pool.
There are several caveats:
-1. A player must win three straight matches before Round Six or two in a row from Round Five forward to win the entire High Stakes Duel.

-2. If no one challenges a winner within 30 days of the previous match, that last winner declares victory.
These are also not just any heads-up matches. They put two players together who have long talked of competing one on one or have an interesting history as poker competitors.
Event One, Round One
The first episode of the first show will debut on Thursday, July 30, at 9pm ET. That will be 6pm PT in Las Vegas, where the first two players will meet at the PokerGO Studio at Aria Resort & Casino on the Strip. They will compete live on PokerGO.
The first two players will be Antonio Esfandiari and Phil Hellmuth. The two have clashed in many a poker tournament over at least 10 years, as exemplified here:
Esfandiari commented, "For 10 years, I've been challenging Phil to a heads-up match where the winner shoots the loser with a taser gun, so going head-to-head in High Stakes Duel has been a long time coming."
Hellmuth also acknowledged the long history of the pair. "From the first time he came to my house as a young man and insisted we play heads-up – he won – to the time we played televised cash games together – he won – to the NBC Heads-Up Championship in 2005 – I won it all. Looking forward to this battle!"
The new concept is likely to attract some new viewers as well as seasoned poker fans, the latter of whom likely watched players like Esfandiari and Hellmuth clash through the years.
Poker Central Executive Producer Mori Eskandani noted that the show is different than anything seen in poker prior to this. "If you're a fan of the game, you definitely don't want to miss this," he said. "The stakes and rivalries will be on another level."
I'll be putting a package on https://t.co/1GRCr8cpxx @YouStake, selling a piece of myself vs @MagicAntonio at par value (no markup). I've made the YouStake bettors over $100,000 in profits: won like 12 out of 13 packages…Bet on me, then watch the match!! #POSITIVITY pic.twitter.com/L4sRwNgnVj

— phil_hellmuth (@phil_hellmuth) July 23, 2020
Related Articles