Pobal Wins EPT Prague for Second EPT Title
By
December 18th, 2019 | Last updated on December 18th, 2019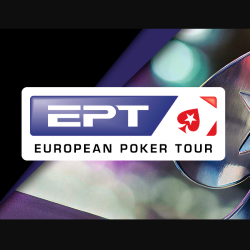 When the European Poker Tour (EPT) began in 2004, creator John Duthie couldn't have imagined that it would still be alive today. PokerStars owns the tour and continues to keep it operating across Europe, now in its 15th season.
As a part of the current season, the EPT Prague brought players to the Czech Republic from December 6-17, 2019. Nearly 50 tournaments, not to mention cash games and other activities, provided plenty for the players to do on and off the felt.
And while many players won sizeable amounts of money and prestigious titles, one player made EPT history. Mikalai Pobal of Hungary won the EPT Main Event, becoming the second player ever to win two EPT Main Event titles after Victoria Coren.
Brilliant Mikalai Pobal rewrites the record books and wins elusive second EPT title at #EPTPrague. https://t.co/6G0Z1dSGlK pic.twitter.com/7SqLWDxV3X

— PokerStarsBlog (@PokerStarsBlog) December 17, 2019
EPT Main Event Action
Out of all of the tournament options at EPT Prague, the €5,300 buy-in Main Event was…well…the main event. It got underway on December 11 with 391 entries, and another 745 came in on Day 1B the next day. And when late registration closed when Day 2 began, the final numbers were:
Total entries:  1,154 (including 294 reentries)

Total prize pool:  €5,596,900

Total paid players:  167

Minimum payout:  €8,960
Day 2 brought back 395 survivors from the starting flights and a few new entries. The money bubble burst late that night, leaving 141 players to bag their chips.
Day 3 reduced the field to just 41 players. Day 4 saw the exits of players like Sylvain Loosli, Gaelle Baumann, Hossein Ensan, Day 1A chip leader Pierre Calamusa, and Day 3 leader Luigi Shehadeh.
Day 5 started with some quick eliminations, including Dominik Panka in 10th place for €62,070. Dietrich Fast busted in eighth place, and the final five packed up to play the final day on December 17. Gaby Livshitz had the chip lead, and Mikalai Pobal was the second-lowest in chips.
On the final day of play, Norbert Szecsi battled Livshitz for the lead for hours. Tomas Paiva was the first to depart at the hands of Livshitz. Pobal was on a short stack for some time but did double through Livshitz twice to stay alive. Pobal then did it a third time to climb into the chip lead before eliminating Livshitz from the tournament in fourth place. Szecsi ousted Da Rocha in third place.
Szecsi took a lead into heads-up play with 18,385,000 chips against the 16,215,000 of Pobal. But the latter quickly took over the lead and ran away with it. Szecsi then pushed all-in with eights but found that Pobal had kings. The board changed nothing, and Pobal won.
Dreams Come True
Pobal became only the second EPT winner in its long history to capture a second EPT Main Event. He claimed his first title in Barcelona in 2012.
After that victory, per the PokerStars blog, Pobal fell away from poker, rarely playing live tournaments anymore. But when he won an online poker package on PokerStars for only €50, he decided to bring his family to Prague for a holiday.
It turned into a lucrative holiday, as Pobal won more than €1 million.
1st place:  Mikalai Pobal (Belarus) – €1,005,600

2nd place:  Norbert Szecsi (Hungary) – €598,880

3rd place:  Ricardo Da Rocha (Brazil) – €421,450

4th place:  Gaby Livshitz (Israel) – €316,780

5th place:  Tomas Paiva (Portugal) – €241,230

6th place:  Luke Marsh (UK) – €177,420

7th place:  Laurent Michot (France) – €134,610

8th place:  Dietrich Fast (Germany) – €96,100

https://twitter.com/PokerStarsLIVE/status/1207006724428881920?s=20
Greenwood Among High Roller Winners
EPT Prague was not short of high-stakes tournaments. Here are the final numbers of those tournaments with €10K or higher buy-ins and their respective final table players:
Event 1:  €10,300 NLHE Single Reentry

Entries:  61 (including 15 reentries)

Prize pool:  €591,700

1st place:  Adrian Mateos (Spain) – €177,500

2nd place:  Anton Yakuba (Russia) – €128,400

3rd place:  Denis Ip (Hong Kong) – €82,840

4th place:  Vladimir Troyanovskiy (Russia) – €62,720

5th place:  Bertrand Grospellier (France) – €48,520

6th place:  Tsugunari Toma (Japan) – €37,870

7th place:  Orpen Kisacikoglu (Turkey) – €30,180

8th place:  Arsenii Karmatckii (Russia) – €23,670

Event 8:  €25,000 NLHE

Entries:  28 (including 8 reentries)

Prize pool:  €672,280

1st place:  Jean-Noel Thorel (France) – €248,740

2nd place:  Ben Heath (UK) – €171,430

3rd place:  Danny Tang (UK) – €109,250

4th place:  Yuan Li (China) – €78,990

5th place:  Sam Greenwood (Canada) – €63,870

Event 50:  €25,000 PLO Unlimited Reentry

Entries:  34 (including 12 reentries)

Prize pool:  €980,000

1st place:  Bogdan Capitan (Romania) – €333,200

2nd place:  George Wolff (US) – €230,300

3rd place:  Franco Cantarella (Italy) – €147,000

4th place:  Bryn Kenney (US) – €112,700

5th place:  Massimiliano Zanasi (Italy) – €88,200

6th place:  Martin Kabrhel (Czech Republic) – €68,600

Event 12:  €50,000 NLHE Super High Roller

Entries:  44 (including 14 reentries)

Prize pool:  €2,134,440

1st place:  Stephen Chidwick (UK) – €725,710

2nd place:  Bertrand Grospellier (France) – €501,590

3rd place:  Adrian Mateos (Spain) – €320,170

4th place:  Steve O'Dwyer (Ireland) – €245,460

5th place:  Jean-Noel Thorel (France) – €192,100

6th place:  Ben Heath (UK) – €149,410

The last four were money-list leaders in the UK, France, Spain and Ireland — and it was Stephen Chidwick who came out on top. Read how the British No 1 won €725,710 at #EPTPrague and became poker's highest earning European. https://t.co/d4lkrY6Rzb pic.twitter.com/s4iOm93mpc

— PokerStarsBlog (@PokerStarsBlog) December 11, 2019

Event 18:  €10,300 6+ Short Deck

Entries:  7

Prize pool:  €67,900

1st place:  Yake Wu (China) – €44,135

2nd place:  Daniel Tang (UK) – €23,765

Event 21:  €10,200 NLHE Single Reentry

Entries:  41 (including 9 reentries)

Prize pool:  €397,700

1st place:  Tsugunari Toma (Japan) – €135,220

2nd place:  Kahle Burns (Australia) – €93,450

3rd place:  Timothy Adams (Canada) – €59,660

4th place:  Ludovic Geilich (UK) – €45,740

5th place:  Yake Wu (China) – €35,790

6th place:  Daniel Tang (UK) – €27,840

Congrats to Tsugunari Toma, he took down the #EPTPrague €10K High Roller, defeating a field of 255 entries to win €523,120. pic.twitter.com/YwfWbxEC9A

— PokerStars LIVE (@PokerStarsLIVE) December 18, 2019

Event 25:  €25,000 NLHE Single-Day Reentry

Entries:  50 (including 14 reentries)

Prize pool:  €1,200,500

1st place:  Chin Wei Lim (Malaysia) – €378,160

2nd place:  Jorryt van Hoof (Netherlands) – €273,120

3rd place:  Matthias Eibinger (Austria) – €174,070

4th place:  Timothy Adams (Canada) – €132,055

5th place:  Jun Obura (Japan) – €102,040

6th place:  Pavel Plesuv (Moldova) – €78,035

7th place:  Yang Wang (China) – €63,020

The day's action has wound down at #EPTPrague.

Malaysia's Chin Wei Lim grabbed the title in the 25K Single-Day Super High Roller, while Belgium's Bart Lybaert leads the remaining cohort of Day 1B's 745 entries in the Main Event.

Full coverage:https://t.co/X5DT4Civjw pic.twitter.com/R1M0KVXxAX

— PokerStarsBlog (@PokerStarsBlog) December 13, 2019

Event 33:  €25,000 NLHE Unlimited Reentry

Entries:  66 (including 23 reentries)

Prize pool:  €1,584,660

1st place:  Sam Greenwood (Canada) – €384,968

2nd place:  Steve O'Dwyer (Ireland) – €411,312

3rd place:  Sam Grafton (UK) – €216,310

4th place:  Jans Arends (Netherlands) – €163,220

5th place:  Daniel Tang (UK) – €126,770

6th place:  George Wolff (US) – €98,250

7th place:  Matthias Eibinger (Austria) – €77,650

8th place:  Mustafa Jukovic (Sweden) – €60,220
Related Articles