Pennsylvania Sets Another iGaming Revenue Record
By
February 22nd, 2021 | Last updated on February 22nd, 2021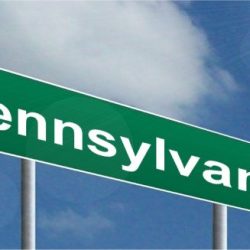 The gambling industry in Pennsylvania saw record revenue drops due to the coronavirus pandemic. Land-based gambling took hit after hit to its bottom lines with shutdowns and limited reopenings. The industry has yet to return to full-capacity business, and the slow road to the pandemic recovery may not allow it until much later in 2021.
However, there was a relatively new member of the PA gaming family – internet gaming – that stepped up and showed its value. Everything from online sports betting to internet casino games and online poker delivered revenue for Pennsylvania. And it did so in record numbers in 2020.
Enter 2021, and internet gaming continues to deliver, according to the Pennsylvania Gaming Control Board. January revenue set another record, so much so that the entire gaming sector increased year-over-year in spite of the land-based gambling restrictions that remain in place.
Online Poker Almost Keeps Up
The online poker sector in Pennsylvania remains very limited, as PokerStars remains the sole operator. It has been alone in the market since November 2019. And until other sites enter the market, create some competition, and give players the variety they seek, online poker's potential is limited.
Of course, interstate poker via the multi-state agreement would help immensely, but there are no signs that Governor Tom Wolf has entered into discussions with Nevada, Delaware, and New Jersey to join that group yet.
Regardless, online poker revenue in January wasn't terrible for PokerStars and partners FOX Bet and Mount Airy Casino. In fact, the $2.7M in revenue was only slightly less than the December number. And it definitely made year-over-year progress.
A win is a win.
–January 2021 online poker revenue: $2,725,600

–December 2020 online poker revenue: $2,729,729

–January 2020 online poker revenue: $2,157,266

Month-on-month change:  0.01% decrease

Year-on-year change:  26.35% increase
With Michigan now offering online poker – also only from PokerStars – it seems likely that the multi-state online poker liquidity agreement will include Pennsylvania and Michigan sometime in 2021. This will make all the difference in market growth.
PA iGaming Sets Another Record
Coming into 2021, the Pennsylvania internet gaming sector had little to prove. It saved the state's gambling industry in many respects in 2020 and showed more than $565 million in revenue. And in a pandemic, that proved invaluable.
Internet gaming sites then started January with a bang, surpassing its December revenue record by setting a new one. Its monthly and yearly progress shows what is possible for the state. Further, it is likely to continue on this trajectory throughout 2021, if years of New Jersey internet gaming is any example.
Ten casinos reported internet gaming revenue in January 2021 as follows:
–January 2021 total igaming revenue: $80,413,132

–December 2020 total igaming revenue: $71,609,260

–January 2020 total igaming revenue: $13,957,539

Month-on-month change:  12.3% increase

Year-on-year change:  476.13% increase
Last January, seven igaming sites in Pennsylvania contributed $4,966,229 in tax revenue. In January 2021, the ten sites provided the state with $32,246,329 in tax revenue, quite a substantial increase.
Sports Wagering Handle Climbs
Pennsylvania sports bettors provided a lot of action in January, especially leading up to the Super Bowl. It is no surprise to see that sports wagering handle increased from the previous month.
When it came to year-on-year changes, though, the handle nearly doubled. Of course, there are more casinos tied in with sports betting providers. Only four establishments continue to steer clear of the online sports wagering option (South Philly Race & Sportsbook, Live! Philadelphia and Pittsburgh, and Mohegan Sun Lehigh Valley).
The growth in this sector has been substantial and a boon for Pennsylvania as a whole.
–January 2021 sports betting handle: $615,294,827

–December 2020 sports betting handle: $548,590,065

–January 2020 sports betting handle: $348,381,708

Month-on-month change:  11.5% increase

Year-on-year change:  76.6% increase
Revenue is a different story in that it depends upon how many bettors win or lose. In that regard, the yearly increase was notable, but the monthly tally was down.
–January 2021 sports betting revenue: $33,970,396

–December 2020 sports betting revenue: $34,059,539

–January 2020 sports betting revenue: $22,841,213

Month-on-month change:  0.3% decrease

Year-on-year change:  48.7% increase
In January 2020, sports betting delivered $8,222,829 to Pennsylvania, but the sector did much better this year with $12,229,342 to start off the new year.
Total Gaming: January 2021
As 2021 got underway, Pennsylvania casinos remained under limited-capacity restrictions. There were also limited video gaming terminals (VGTs) in operation. Even so, the contributions of internet gaming put the total gaming revenue number nearly 3% higher than January 2020.
Year over year, the land-based casino revenues were the only ones showing losses in the retail slots and retail table games categories. Monthly, those revenues were fine, with only sports wagering, fantasy contests, and online poker down from December statistics.
All in all, Pennsylvania can be happy with its decisions. While they didn't know a pandemic was afoot last January, they knew that internet gaming revenue would come in handy. They just had no idea it would boost the entire gambling industry.
–January 2021 total gaming revenue: $311,102,747

–December 2020 total gaming revenue: $168,739,237

–January 2020 total gaming revenue: $302,844,362

Month-on-month change:  84.37% increase

Year-on-year change:  2.73% increase
In total, gambling operators produced $127,117,920 for the state of Pennsylvania in January 2021.
Related Articles