PartyPoker MILLION Return Suffers Setback but Resets
By
November 6th, 2019 | Last updated on November 6th, 2019
Home
»
Poker News
»
PartyPoker MILLION Return Suffers Setback but Resets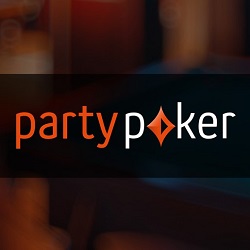 Things have been going well – in general – for PartyPoker. With Rob Yong taking charge of changes per customer feedback, players have been happy. They felt as if they've been heard, and PartyPoker has been wasting no time in implementing changes at a fairly fast pace.
One of those changes was to bring back the PartyPoker MILLION.
During the poker boom, nearly every poker site had a Sunday tournament that stood out from the rest. For PartyPoker, it was the MILLION. The standard $215 buy-in brought players in for a $1 million prize pool guarantee.
With the recent upswing in players on PartyPoker, executives felt it was time to bring back the MILLION. It was a great plan, in theory.
Where the Plan Went Wrong
The PartyPoker MILLION action began with four starting days – October 27, October 29, October 31, and November 3. Later on November 3 would be the playdown to the final table and the winner.
All went smoothly through the starting flights. But Day 2 – when all first-flight survivors took seats to play for the win – did not go smoothly. It seemed that Day 1D players, those from earlier in the day, did not get their seats. And PartyPoker was unable to immediately stop the tournament.
When it did stop after an hour, players running well were upset that it stopped. But Day 1D players were upset that Day 2 ran at all without them in it.
PartyPoker immediately started tweeting:
1.) Firstly, we apologise for the issues with the partypoker MILLION tonight. An error occurred that prevented the Day 1D players being loaded into Day 2. This resulted in the cancellation of the tournament. The following tweets are what happens now….

— partypoker (@partypoker) November 3, 2019
2.) The players that played in the first Day 2 and busted will keep the cash they have received for ranking in the tournament. All players that were still in at the time the tournament was paused will be paid the next prize rank. This will be paid out on top of the $1M GTE.

— partypoker (@partypoker) November 3, 2019
3.) All players that made it through Day 1 will receive a share of the $1M prizepool – 50% of the $1M will be split equally among the players and 50% split based on chip equity at the end of Day 1. All Day 2 players will also be given a $215 partypoker MILLION ticket.

— partypoker (@partypoker) November 3, 2019
4. Please accept our sincerest apologies for the inconvenience. We remain committed to hosting the partypoker MILLION and it will run next week. Please bear with our customer support team who will be, understandably, very busy right now. Payouts will be made as fast as possible.

— partypoker (@partypoker) November 3, 2019
PartyPoker spokesperson Rob Yong quickly created a video to load on social media to explain the compensation in detail, as well as to reiterate the apology.
There were several components of the payments to players:
–1.  All players who made it to Day 2 and cashed kept their payouts, which amounted to approximately $400,000.

–2.  All 806 players who were supposed to play Day 2 split the $1 million guaranteed prize pool, with payouts based on chip counts from the end of their respective Day 1s.

–3.  All 806 players who were supposed to play Day 2 received a complimentary $215 ticket to the next PartyPoker MILLION.
This was all a significant hit to PartyPoker's bottom line, as the site paid out a total of $1.8 million, but it seemed like the best possible way to handle the situation and maintain positive relations with customers. And customers did respond very positively on Twitter in appreciation of the honesty, transparency, and speed with which it was handled.
Re@ @partypoker MILLION – apologies for lack of response – I was out tonight when this disaster happened but have spoke to @tom_waters & we have compensated players as c $600K as per explanation. Micro also had same problem & will be treated in same way. FML Rob 😰 pic.twitter.com/2xPZ4oviE0

— Rob Yong (@rob_yong_) November 3, 2019
Reset and Reboot
With that, PartyPoker immediately decided to run it again.
It started this past Sunday and will play as planned, complete with a $1 million prize pool guarantee:
–Sunday, November 3: Day 1A

–Tuesday, November 5:  Day 1B

–Thursday, November 7:  Day 1C

–Sunday, November 10:  Day 1D

–Sunday, November 10 (several hours later):  Day 2
As previously stated, there are no reentries on a particular day, but players are able to enter as many of the first days as they choose and bring the largest stack into Day 2.
We wanted the first partypoker MILLION to be $1m guaranteed and ended up paying $1.8m to players. Players come first, whatever happens. Join the partypoker MILLION this week. https://t.co/Fwf7uINdFI 18+. Play responsibly. begambleaware pic.twitter.com/BOjc5Tz4e1

— partypoker (@partypoker) November 5, 2019
Satellites are running all week for discounted entries into the $215 buy-in PartyPoker MILLION.
Related Articles