Online Poker Community Saddened by Lyndaker Death
By
August 4th, 2019 | Last updated on August 4th, 2019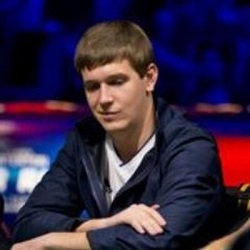 Richard Lyndaker went by the screen name "nutsinho" in online poker circles. He was a well-respected player, one who spent years at the high-stakes tables winning millions of dollars. He did very well at the live tournament tables as well.
This week, at the age of 33, the poker pro was found dead in his San Diego apartment of an overdose. The drug was one prescribed to him to help with pain from a recent soccer injury.
A friend posted the news on the Two Plus Two forums, and it has since been confirmed.
Meanwhile, the poker community has expressed sadness and shared memories of Lyndaker via social media in the past few days.
The world morns the loss of a truly beautiful person, one of the world's greatest poker poker players, and one of the most kind-hearted people I've had the joy to know. I will cherish the times we had. RIP Rich Lyndaker (Nutsinho) you will be missed ? pic.twitter.com/HP0USUUo4x

— Lexy Gavin (@ChipTrick11) August 1, 2019
Online Poker Life
Lyndaker was born and lived much of his life in New York. According to a 2014 interview he did with CardPlayer, he started playing poker during high school, just before his senior year, and competed against friends for a few dollars. The poker boom, spurred by the 2003 WSOP Main Event victory by Chris Moneymaker, inspired him to play.
When his friends began playing online at PartyPoker, Lyndaker did, too. He also began reading and participating in poker forums to improve his strategy. He also played some live poker cash games at Turning Stone in New York.
Starting at low stakes, Lyndaker improved his game online at $2-$4 stakes, then moved into six-max games and moved up in stakes. He also became friends with poker pros like Will Reynolds and Tom Marchese and learned from them. He quickly moved up to $25-$50 games and beyond.
By 2010, Lyndaker became the top money earner in PokerStars high-stakes cash games, and he regularly played $200-$400 and $300-$600 games.
He went on to win millions on PokerStars, and he spent some time as a poker coach on Leggo Poker and recorded training videos.
Meanwhile, Lyndaker played quite a bit of No Limit Hold'em in live tournaments as well. His first cash was recorded in 2007 but he quickly made his first final table at the 2008 WSOP when he finished second in a $5K NLHE event for more than $570K.
After numerous cashes and deep runs, Lyndaker scored his first live victory at the 2013 Heartland Poker Tour Main Event, where he won more than $122K. His last recorded live cash was in June 2018, when he finished ninth at the WSOP $10K PLO Championship event for more than $67K.
Lyndaker's lifetime live earnings eclipsed $1.87 million, on top of millions in online wins.
News Spreads
The news of Lyndaker's death spread after an August 1 post from a "close friend who has been in touch with his hometown friends and family" on a Two Plus Two forum thread.
"Rich did somewhere between Monday July 29th and Tuesday July 30th at his apartment in San Diego of an accidental overdose (confirmed by toxicology). He was taking prescribed pills to manage pain from a recent soccer injury.

"No one outside his family and close friends know this yet. I'm posting here because, for the sake of his legacy, I want the story to be told by those who know, not by rumors."
People immediately began posting memories of playing poker with Lyndaker, with the following included:
–"really funny and had a unique sense of humor"

–"never any hostility even if he ran awful"

–"really admired his game"

–"nice guy"

–"one of the good ones"

–"one of the players I looked up to"

–"always great to talk to at the tables, but was always tough to battle"

–"funny, lots of heart"

–"he was a crusher, had a good attitude whether winning or losing"

–"powerhouse of a player"

–"one of the greatest minds in poker"

–"absolute endboss"

–"nastily funny, incredibly talented"

–"fierce competitor but always willing to laugh things off"

–"unstoppable when he was on his A game"

–"pioneered new strategies at the highest stakes"

–"one of the best at pushing the leaks no one even knew were exploitable"

–"another level of poker ability and intelligence"

–"such a kind, funny person"
Many of the remembrances and notes called Lyndaker a legend.
Some friends and family members have been posting and viewing the thread, which contains some detailed stories from his life before and during poker.
so sad ! he definitely left his mark on the game

— lil proggrezive (@proggrezive) August 2, 2019
good guys. I remember some kid sitting down at 10/20/40 at bellagio several years ago, limp raising the hj vs me his first orbit and me thinking "who's this fish" as I fold. Find out later its nutsinho. He probably had 85s.

— Jesse Sylvia (@MrJesseJames4) August 2, 2019
Never met in person but was a huge online presence for me. Highstakes crusher matched by an even bigger personality. Sad news. RIP

This video of his is a great example of his brilliance https://t.co/LpIQEqWFGj https://t.co/p2LX7CYEji

— DFSx42 (@dfsx42) August 2, 2019
Related Articles