Norwegian Poker Legend Thor Hansen Dies
By
December 6th, 2018 | Last updated on December 6th, 2018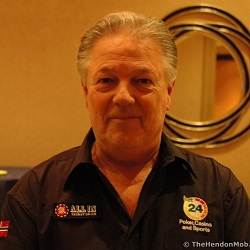 On the morning of December 5, 2018, the sad word of Thor Hansen's passing spread through the poker community. Details about his death are unconfirmed, but he did wage a long battle with cancer and outlived his original prognosis by quite a few years.
Known as the "Godfather of Norwegian Poker," Hansen is widely credited with popularizing poker in his home country of Norway. His skills at the table, accumulated over the course of more than 50 years, were rewarded with numerous Norwegian awards and honors, but he was also known for his modesty and kindness. His respect for the game and zest for life endeared him to those who had the honor of meeting him through the years.
Remembering His Roots
Hansen was born in Oslo, Norway, in June 1947. His family owned a grocery store, and it was there that he helped out as a young boy and also became acquainted with poker. Young Hansen saw his brother, father, and their friends playing poker in the back room of the store, and he occasionally played a few hands for them. The game made an indelible mark on him before he was even 10 years old.
According to PokerListings, Hansen quit school in his early teens to work in a local hotel, but he often made more money playing billiards or poker on the side. He soon left the hotel to spend time as a professional billiards player, though it was poker that captured his attention more and more as the years progressed.
He played his first poker tournaments in early 1987 during a trip to Las Vegas, where he quickly saw that he had the skills to compete at high levels, making final tables in several events at the Grand Prix of Poker. He also competed in tournaments closer to home, like the Scandinavian Championship of Poker. The following year, Hansen traveled to play in the World Series of Poker in Las Vegas, where he final tabled a hold'em tournament and won his first WSOP title. The $5K Seven-Card Stud tournament was worth $158K in prize money.
One of the best guys I ever https://t.co/52Zwm8KzQd https://t.co/DdUiu2wNtV

— Doyle Brunson (@TexDolly) December 5, 2018
A Lifetime of Accomplishments
The listing of tournament successes for Hansen is long and peppered with wins and final tables. Altogether, he had earned nearly $3 million in live tournament earnings, and he remained the third-most money earner in Norway's history.
Among those accomplishments, there are substantial finishes in tournaments around the world, though mostly in Europe and Las Vegas. His wins showed that diversity:
1988 – WSOP $5K Seven-Card Stud (Las Vegas)

1988 – Malta European Poker Championship Five-Card Draw (St. Julian's)

1989 – Manx Classic $250 Pot Limit Five-Card Stud (Douglas)

1989 – All-England NLHE Grand Prix No Limit Hold'em (London)

1998 – L.A. Poker Classic $400 Limit Hold'em (Los Angeles)

1998 – California State Poker Championship $300 Limit Hold'em (Los Angeles)

1998 – Grand Prix de Paris FF10,000 No Limit Hold'em (Paris)

1998 – Legends of Poker $500 Seven-Card Stud (Los Angeles)

1999 – Carnivale of Poker $500 Limit Hold'em (Las Vegas)

2001 – L.A. Poker Classic $1K Seven-Card Stud (Los Angeles)

2002 – WSOP $1,500 No Limit 2-7 Draw Lowball (Las Vegas)

2003 – Larry Flynt's Poker Challenge Cup $200 Omaha Hi/Lo (Los Angeles)

2004 – L.A. Poker Classic $300 Limit Hold'em (Los Angeles)

2004 – Five Diamond World Poker Classic $1,500 Seven-Card Stud (Las Vegas)

2011 – Festa al Lago $500 Seniors No Limit Hold'em (Las Vegas)

2011 – Grand Challenge Tournament Series $300 No Limit Hold'em (Las Vegas)

2012 – Wynn Recurring Tournaments $125 No Limit Texas Hold'em (Las Vegas)
His last recorded tournament cash came in March 2018, when he min-cashed the Norwegian Open tournament at the Irish Poker Open & Norwegian Championships in Dublin.
Off the Record
Most of Hansen's poker accomplishments will not be found on any list. His online poker profits can be tracked, but the extent of his cash game wins went with him to the grave. Most will never know how much he won and lost in the cumulative cash game sessions that took place throughout his decades in the game.
As Hansen did explain on several occasions, he first met publisher, businessman, and casino owner Larry Flynt during one of his poker trips to Los Angeles, and Flynt offered to stake him in a home game. That went well enough that Flynt continued to invite Hansen to play in those games, intermingling with celebrities and other high rollers in poker, for many years. Those games eventually moved to the Hustler Casino in Los Angeles when Flynt bought the casino and opened its doors in 2000.
There were many stories of the Flynt-hosted games, some that Hansen told to friends, some that he shared with members of the media, and others that he likely never revealed to anyone.
Thor will be so missed. I feel lucky to have been able to spend as much time with him as I did. My heart goes out to his family and loved ones. https://t.co/yJc4S8PliB

— Kara Scott (@KaraOTR) December 5, 2018
Scary Prognosis
In early 2012, Hansen revealed to friends that he was diagnosed with terminal cancer. He was only 64 years old but discovered the cancer only after kidney pain became concerning, at which point the doctors giving him only several months yet to live as the cancer had spread.
At that time, Hansen was living in the United States and without any health insurance. Through fundraising efforts by friends and PokerStars, money was raised for Hansen to travel back to his home country of Norway and receive top treatment.
He did just that, and he survived long beyond the doctors' predictions. He spent several years receiving chemotherapy, and it worked to not only keep him alive but send him back to the poker tables to make a living again.
At the 2015 WSOP in Las Vegas, PokerNews spoke with Hansen, who said, "The doctors tell me I'm one of a kind. Very strong. I've been on chemo for three and a half years. I'm very lucky. Appreciate life, and take a day at a time. I'm fighting. Right now, my illness is pretty stable. I have a lot of things in my body, but I feel good."
A Life Well Lived
Hansen married longtime love Marcella Braswell in California in 1999. They were together through his cancer battle, and her positive outlook helped him beat the odds.
Celebrated 70th Birthday! #ThorHansen. pic.twitter.com/8g18YDExKH

— ThorHansen (@ThorHansen47) June 24, 2017
His lifelong passion for poker took him around the world many times, making friends along the way. While Hansen always held a special place in his heart for fellow Norwegians at the poker tables, he was supportive of many with whom he shared special bonds. And there was nary a soul that didn't want to be in Hansen's sphere, as he was consistently kind and respectful of others while keeping a passion burning for the game he loved.
RIP #ThorHansen. Always friendly and kind. Always a gentleman. https://t.co/guYiUHWVng

— Jennifer Tilly (@JenniferTilly) December 5, 2018
Rest in Peace (A Personal Note)
The moment I stepped into the freelance poker world as a writer in 2006, Thor Hansen was one of the first friendly faces to extend a welcome. While other players were hurried and scattered, hungry and anxious, Thor was calm and warm, finding joy in every moment. And while many male players of all ages were often wildly inappropriate to the few females in the poker media, Thor was never anything but respectful and sincere.
I hadn't seen Thor in years, yet the news of his death today hit hard.
Thinking of the days of the poker boom, when poker was full of opportunities and money and parties and celebrities and an extreme mix of personalities, Thor was a gentle soul who provided a much-needed reprieve from the madness, even if only with a soothing smile or a small compliment. He exemplifies the part of the immersive poker scene that I miss.
Thor is a person I will miss. He fought hard. He deserves now to rest.
This day is so damn sad 🙁

RIP Thor Hansen

A few words I wrote for the local newspaper (in Norwegian)https://t.co/2ehIyqeXlB https://t.co/2ehIyqeXlB

— Andreas Høivold (@AndreasHoivold) December 5, 2018
Related Articles