Is North Korea Eyeing Your Online Poker Account?
By
August 2nd, 2017 | Last updated on August 1st, 2017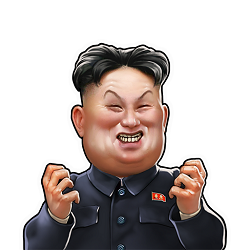 Kim Jong-un wants your online poker winnings!
Several poker-focused online news sites recently reported that North Korean hackers are hacking online poker websites to steal money for their government. Is this true?
According to cybersecurity experts in South Korea, it is true.
While it is always important to protect one's online poker account from hacking susceptibility, it may be even more vital in today's world. Change those passwords regularly, beware of friend requests and chats with unknown players, and never keep too much money stored in an online account. Most essentially, though, understand that regulated and licensed sites are better equipped to protect their customers from hacking and criminal activity.
Just the Facts
According to the Financial Security Institute, thousands of hackers are being paid by the North Korean government to launch attacks on various computer networks and banks, and now to cheat at online poker. The government-backed agency in South Korea concluded that the primary target is money, not data as in past years.
This was best illustrated by a recent successful hack into a central bank in Bangladesh, in which $81 million was digitally stolen. Evidence also showed that Polish banks were targeted, as were more than 100 other organizations around the world.
The need for money, according to the New York Times article, is due to North Korea's shortage of foreign currency to pay for imported goods. Due to restrictions and sanctions placed on the war-obsessed dictatorship by various nations around the world, the government seeks goods wherever possible, and cash helps pay for those goods while also aiding in the building of a massive nuclear weapons supply.
One relatively new hacking group recently identified as Andariel is said to be responsible for numerous attacks on banks and defense contractors, but its focus recently shifted to computer networks in order to collect bank account data to sell underground.
"The group also used malware to cheat at online poker and on other gambling websites," said the article.
Dangers Abound
Maintaining any type of online accounts, especially in internet poker and gambling websites, come with responsibilities to be as careful as possible with leaving funds in those accounts. And in an age when hackers are employing numerous ways to steal those funds, it becomes all the more important to take every precaution.
Online poker players were once comfortable with leaving winnings online as a bankroll and transferring money between player accounts in good faith. Many players learned the hard way on Black Friday that trusting most online poker sites with the protection of funds is not sufficient, as few companies are responsible enough to segregate player funds and, further, be accountable to governments and their laws so as to report hacking and other crimes.
The revelation about North Korean hackers targeting online poker players is one more of many reasons to use caution when maintaining online accounts. And when one sees suspicious play from a player or group of players, it is important to report it to the operator's customer service team as soon as possible and in great detail. Sites employ experts to research those cases, detect hacking and cheating, and protect their good customers from criminal activity.
The latest information from security experts indicating an interest in stealing money rather than just information is a sign that online poker players should employ extra safety measures. Large player balances, especially when evident by those players competing at high stakes, puts a target on them. Keeping money in the online account may be convenient for playing the big cash games, but it presents a larger danger if left unattended.
Some of the most important steps for online poker players and gamblers to take include the following:
Change passwords on all online accounts often.
Check all new software for malware.
Only download computer programs and games from trusted and protected sources.
Regularly transfer money from online poker accounts to avoid a large balance.
Do not accept friend requests or transfer requests from unknown players.
Watch carefully for suspicious play and possible cheating, and report it immediately.
Monitor poker forums for information about hacking attempts.
Contact online poker and casino sites for security assurances and guarantees.
*Picture by Annika Laas, CC BY-SA 4.0.
Related Articles