No UB or Absolute Poker Claims News in Seven Months
By
October 18th, 2018 | Last updated on October 18th, 2018
Home
»
Poker News
»
No UB or Absolute Poker Claims News in Seven Months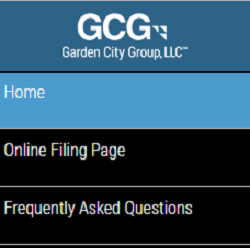 Poker players who were victims of the UltimateBet and Absolute Poker site closures are frustrated. Many have no received their payments, nor have they received updates on disputed claims submitted many months ago. The website hasn't been updated in seven months.
A quick phone call to the Garden City Group, which has been handling payments to former UB and AP players since the process started in early 2017 elicited no information. The person fielding phone calls had no updates whatsoever and said that any information for the general public will only be posted on the GCG claims website.
In addition, the Poker Alliance had no information regarding updates.
This is not helpful to the numerous players still waiting for payments.
Latest Posting
The Garden City Group has been working with poker players since 2013. More than two years after Black Friday, it was announced that the US Department of Justice's Money Laundering and Asset Recovery Division would allowing former Full Tilt Poker players to petition the government for their funds that were seized from Full Tilt. The process ended up taking several years. And upon its completion, leftover funds were used to repay players whose funds were stolen by Ultimate Bet and Absolute Poker.
The UB-AP process began in April 2017 when the GCG contacted nearly 1.2 million eligible victims of the online poker sites. Evidently having learned from the Full Tilt payments process, GCG seemed to move rather quickly, sending out the first round of payments to approximately 7,400 players in June 2017, with a total distribution of $33.5 million in funds.
Hooooooray got my full balance back from Absolute/ UB Poker!!! #BetterLateThanNever

— Chance Kornuth (@ChancesCards) August 20, 2017
The second round of UB-AP payments was processed just a few months later, with another 4,600 players collecting their funds to the tune of $3.7 million.
The initial deadline of September 7 was extended somewhat, as the GCG did note it would handle disputed balances and late petitions after that deadline. In mid-March 2018, the GCG announced that another 450 petitioners were to receive their respective portions of $1,084,200.97 in the subsequent weeks. That was not the end of the story, though, with that March posting on the website noting:
"Petitioners should continue to check this website for updates regarding the payment process and this administration."
Still waiting on UltimateBet or Absolute Poker payments? Third round of distribution ($1M to 450 players) in process now. One more round possible. Did you get yours? #poker #onlinepoker https://t.co/hWnx7klZgu

— LegalUSPokerSites (@legal_poker) March 28, 2018
Frustrated Players
Since the GCG claimed that it originally contacted 1.2 million players, their updates show that only about 12,450 players have received funds from petitions. Of course, there are many players with minuscule balances that never submitted claims, but the number of people paid seems to be a disproportionate number of the total UB-AP victims.
Some players have taken to the Two Plus Two forums to express their frustrations and see if anyone has updated information.
On July 6, a poster named "kingo" reported that they filed late but received an ACH that day for $8,500. And on September 5, "78sooted" posted that they received a check for $15K in Canada after having filed one year prior. "Sandler1860" said they received a payment in August for approximately $750.
Numerous others, however, posted that they had received no updates. "WaitingOnAP" posted that they were told by GCG that it could take two to three years to process that particular claim, though that person submitted a claim on the first day the petition process began and was unable to obtain any explanation from GCG for the delay.
Player "fsn" reported that their UB balance was paid in February but their much larger AP balance has gone unaddressed. And the check for the UB balance needed to be reissued, and despite having been told numerous times that it is in the final stages of review by GCG, this player has been unable to obtain satisfactory answers to any questions.
Encourage Action
The Garden City Group has refused to give any updates in seven months. And when asked for a response to the lack of information from GCG, the Poker Alliance responded with this:
"From the beginning of the Full Tilt remission to advocating that Absolute Poker/Ultimate Bet customers get their money refunded, our organization worked directly with the Department of Justice (DOJ). Once approved by the DOJ, Garden City Group managed the reimbursement process. It is concerning that AB/UB customers who had filed their claim with GCG have still not been paid. It was our understanding that all valid claims had been processed and were paid. Our best advice is to contact GCG directly via phone, (855)907-3254, or by email, Info@AbsolutePokerClaims.com. They should be able to provide information."
It is going to be up to the players to get answers. Taking a page from the modern-day activists' playbook, it might be time to bombard the GCG with phone calls demanding answers. This may prompt action or, at the very least, answers.
Related Articles