Could New Hampshire Legalize Online Poker?
By
August 25th, 2017 | Last updated on July 27th, 2018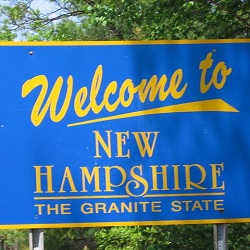 New Hampshire to revisit online gaming bill
When 2017 began, there were several states named as possibilities for online poker and/or gaming legalization discussions. New Hampshire made some lists because of its proximity states like New Jersey and Delaware, both of which already have online gaming industries, and Pennsylvania and New York, both considered likely to pass online gaming legislation in 2017. New Hampshire was also said to be considering legalizing online lottery sales.
There was a bill proposed early in the year, but it lacked substance and detail. Many thought it was simply an action to represent interest in online gambling in the future, though not many people anticipated serious consideration of online poker or casino games in 2017.
There may now be more movement than anticipated in New Hampshire, however, as a hearing is set for the bill that hadn't been mentioned much since its introduction in January. The results of that September 6 hearing will likely indicate what comes next.
Past Considerations of Online Gaming
The most that New Hampshire legislators thought about online gaming in past years was the idea of offering online sales for lottery tickets. The New Hampshire Gaming Regulatory Oversight Authority was only formed in 2013, and it handles the overseeing and regulating of lottery games, charity gaming, and horse and dog racing. The state has no casinos or other gaming industry of which to speak.
So, when three legislators introduced an online gaming bill in January 2017, it was a bit of a surprise. HB.562 was introduced into the House legislature on January 17 by Republican Representatives Eric Schleien, Nick Zaricki, and Robert Fisher. The bill was quickly referred to the Ways and Means Committee.
The entirety of the bill's analysis read: "An act to allow online gambling." The only other wording included was a "methodology" section, which read: "This bill exempts gambling done over the internet from gambling offenses under RSA 647. The Department of Justice to date has neither investigated nor prosecuted online gaming offenses and therefore does not expect this bill to have any impact on expenditures. To the extent this bill legalizes a form of gambling, it may have an indeterminable impact on lottery and charitable gaming revenue. Lottery and charitable gaming revenue is credited to the lottery fund, with net revenues after Lottery Commission expenditures being credited to the state education trust fund." And the effective date was listed as January 1, 2018.
The House Ways and Means Committee did host a private hearing about online gambling with a specific focus on daily fantasy sports (DFS), but it then did nothing with the bill for many months.
New Hampshire's citizens do play online poker on unregulated,off-shore sites, jeopardizing their money.Regulate and protect!

— Stephen Brogan (@SteveBrogan) October 12, 2016
Legalization of Lottery and DFS
Suddenly, New Hampshire legislators decided to embrace online technology for some additional state revenue. The online lottery bill passed first – in June – when both houses the state legislature passed HB.517. It was a rider bill that included 118 items, and the 116th of them "allows the lottery commission to sell lottery tickets on the internet and by mobile applications and create certain practices to address problem gaming in such sales."
In July, the DFS bill, listed as HB.580, passed both houses as well, and Governor Chris Sununu signed it. Months of hearings and debates preceded the votes, but the general support was always there.
Online Gaming Discussion Returns
After New Hampshire spent the summer embracing online games, the legislature may be ready to discuss online poker and casino games again. On August 17, HB.562 was retained for a subcommittee work session to be held in the early afternoon hours of September 6, just after the end of the legislature's summer recess.
If the committee plans to seriously discuss the legalization and regulation of online gaming, the meeting will be an ideal time to fill the proposal in with some details, such as licensing fees, tax rates, and the initial pieces of a regulatory framework.
The interesting hurdle for New Hampshire is the current lack of land-based casinos. Other states have required their online gaming operators to partner with brick-and-mortar casinos, but in their absence in New Hampshire, it will be interesting to see a proposal for the setup of an online poker and casino games network.
Related Articles