Negreanu Teaches a Poker MasterClass
By
June 14th, 2018 | Last updated on March 15th, 2021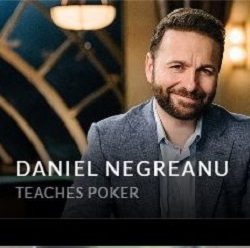 First lessons available on MasterClass in mid-June
One of the most famous sayings in poker came from Mike Sexton during his time with the World Poker Tour: It takes a minute to learn and a lifetime to master.
Few people actually master the game of poker. It is a game that requires skill but also experience and something else that has no name, really. It's a feeling, a proclivity, something that ties the person to the game in an intimate way. The person has to have more than an appetite for the game, more of a desire to live in it and build a profound bond with it.
Daniel Negreanu has that. He has the skills that he has taken the time to learn through the years, and he has had his share of lucky moments. But he has that relationship with the game that – along with the desire to always learn more – puts him in a rare category as one of the most legendary players to ever compete, one of the few that has come close to mastering the game of poker.
It is no surprise that he has been chosen by MasterClass to teach the world about poker.
This is easily the coolest, most mainstream poker project I've ever done.

So many incredibly talented and famous people involved and you can get access to ALL of it. https://t.co/z0Zecu7Rdc

— Daniel Negreanu (@RealKidPoker) June 12, 2018
What is MasterClass?
Most people have seen the advertisements online for MasterClass. James Patterson and Judy Blume teach about writing. Shonda Rhimes reveals secrets to writing for television. Martin Scorcese discusses filmmaking, Ron Howard directing, and Helen Mirren acting. Wolfgang Puck talks about what it takes to be a master chef, and Serena Williams talks tennis.
Who wouldn't want to learn about investigative journalism from Bob Woodward? Who wouldn't want photography tips from Annie Leibovitz?
MasterClass gives everyone access to the masters of their professions through online education classes that are meant to teach but also inspire. The videos offer words from masters in their respective fields as well as course materials, video lessons, interactive exercises, and peer interaction. The idea took form in 2015 and has grown exponentially.
Daniel Negreanu has won six World Series of Poker (WSOP) tournament bracelets, and now he's teaching you his winning strategies. See what Daniel covers from betting tactics to spotting tells in our newest MasterClass: https://t.co/9B4MBCh9BE @RealKidPoker pic.twitter.com/fMslrpvSAy

— MasterClass (@MasterClass) June 12, 2018
Negreanu Teaches Poker
The latest MasterClass is from none other than Negreanu, whose class will be partially released in June with the full immersive tutorial to follow.
Negreanu is described by MasterClass as "one of the best and most influential poker players in the world," of course mentioning his tens of millions of dollars in tournament earnings, six WSOP titles, two WPT wins, and Player of the Year honors.
MasterClass CEO and co-founder David Rogier said, "Poker is an intellectual endeavor that Daniel has mastered over decades playing at the highest level through disciplined focus, hard work, and by honing his unique ability to read his opponents. With this class, we're excited to give students access to a comprehensive analysis of tournament strategy from the most successful live tournament player of all time."
The online class consists of 34 lessons and is aimed at intermediate and advanced players, those who already know the basics of hand rankings and general strategy. The education that viewers will receive through the class is deeper strategy, including advanced betting techniques, quantitative theory, spotting and masking tells, breaking down hands for analysis, and training for a more intense mathematical and mental game.
As Negreanu explained in the press release, "I'm excited to share for the very first time all the lessons I've learned with people who share the love of the game and want to take it to the next level."
Not total beginners who have never played before but if you take your time with it I think you can definitely use it to up your game.

— Daniel Negreanu (@RealKidPoker) June 12, 2018
Priced In
The MasterClass is not a monthly subscription cost or even a prohibitive one-time amount, as many personal poker lessons can be. A person can gain lifetime access to Negreanu's class for $90, which makes it available with no time limits, to be watched as many times as necessary. Or viewers can pay $180 to receive a one-year subscription to all available MasterClass lessons from all instructors.
Related Articles