Negreanu Beats Polk in Initial Hands of Heads-Up Match
By
November 6th, 2020 | Last updated on March 14th, 2021
Home
»
Poker News
»
Negreanu Beats Polk in Initial Hands of Heads-Up Match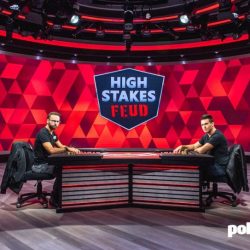 The long-awaited grudge match of year (decade?) began yesterday. It took the form of a heads-up poker game, recently dubbed High Stakes Feud, at the PokerGO Studio on the Las Vegas Strip. Doug Polk and Daniel Negreanu finally took their years-long war of words to the table, and they did it via a live online broadcast for poker fans.
Polk and Negreanu went to great pains – mostly emotional – to message each other with any civility on social media to set up the parameters of the match. While they seemed to want to hash this out with cards and chips, they both claimed to do it predominantly for poker fans.
No matter the reason, the 25,000-hand grudge match began on November 4 and will continue online going forward…until one player emerges victorious.
It Started in 2014…
The bad blood between Negreanu and Polk may have started years before but first took shape in a Twitter spat. Negreanu claimed to be able to study a poker variation and become a winning player in two weeks. Polk challenged that notion. But talk of a high-stakes cash game faded over time.
In 2015, Negreanu was still the lead member of Team PokerStars Pro when PokerStars changed its player rewards system to disadvantage pros. The site ended the SuperNova and SuperNova Elite VIP programs, which angered many professional players like Polk.
When Negreanu made a public comment supporting the PokerStars move, Polk honed in on his statement that "more rake is better." That grew into a movement of sorts, with Polk going so far as to buy a billboard in Las Vegas during the WSOP and wearing t-shirts at tournaments to taunt him. Negreanu was not pleased.
It Erupted in 2020…
The two revived their mostly-dormant feud until Negreanu, now the lead ambassador for GGPoker, had a viral and verbal rage-filled episode during his own Twitch stream during the 2020 WSOP Online at GGPoker. Polk was one of many to chide Negreanu for his temper, and the feud bounced back to life.
Joey Ingram commented on Twitter that the two men should settle the matter in a heads-up poker match. Polk quickly issued a challenge to Negreanu. With some trepidation, Negreanu accepted.
It took the duo weeks to establish the parameters for the match. Polk came out of semi-retirement, and Negreanu agreed to play Heads-Up No Limit Hold'em online, even though it was Polk's specialty, not his.
Finally, the two agreed on some terms and decided to play it out online on WSOP.com, since both players live in Las Vegas and can access the state-regulated online poker site. They both loaded their accounts with $1 million and began practicing (against other players).
Officially Dubbed High Stakes Feud
Poker Central stepped in to try to add some excitement to the match for poker fans. And its executives succeeded. They named it the High Stakes Feud and scheduled the first 200 hands to be played live at the PokerGO Studio on the Las Vegas Strip on November 4.
From there, the two would take it online and livestream as much as possible. Upswing Poker will broadcast all online sessions live on its Twitch and YouTube channels.
Doug vs Daniel at $200/$400 begins TONIGHT with a 200 hand live session on @PokerGO!

You can watch that for free at 5pm PT on PokerGO.

If you want to watch the many online sessions that follow, we'll have you covered on our Twitch channel and Doug's poker YouTube channel. pic.twitter.com/b6aD8gc71C

— UpswingPoker (@UpswingPoker) November 4, 2020
The details of the poker were fairly straightforward. They would play $200/$400. After the first 200 live hands, they would play two tables at a time online on WSOP.com. They agreed to a total of 25,000 hands, to be played in 3-5 sessions per week as schedules permit.
There is an option for either player to quit after 12,500 hands.
Negreanu Takes an Initial Lead
The two met at the studio – at a special heads-up table – to complete. PokerGO noted that Negreanu came in with $42 million in live tournament earnings and Polk with $9.4 million, but Polk's specialty was winning more millions online.
Negreanu and Polk made some uncomfortable-looking small talk before the match began and did wish each other good luck.
The live pro took the very first hand when he flopped top pair (holding K-3 on a K-2-9 flop). Polk checked his A-4 on the flop and turn, so when Negreanu bet $1,500 on the blank river, Polk took the bait and raised to $8,500 on a bluff. Negreanu thought about it but finally called to win the hand.
Polk took the next few hands uncontested, and the chatter became a bit more relaxed through some sarcasm and coronavirus talk. A big hand soon developed with Negreanu holding 6-5 suited and turning the flush but Polk and his 8-6 rivering two pair. Bets on the river took the pot to $45,650, a sizeable win for Negreanu.
Each man started with $50K, but Polk lost more than half of his stack within the first 10 minutes of play so topped up back to $50K.
By 30-45 minutes into the match, Negreanu and Polk lightened up so much that their conversation seemed genuinely cordial, even friendly. They began talking hands and poker sessions, opponents and old school versus new school poker.
As they approached the hour mark, Polk had taken some pots to push Negreanu's lead down to less than $6K. Just a bit over the two-hour mark, Polk had taken a slight lead with a flopped flush over a nut flush draw. Polk then took a larger pot with K-J on a 10-K-8-3 board by moving all-in and knocking Negreanu off of his straight draw. That put Polk up more than $13K.
That lead didn't last long, though, as Negreanu took a $36K pot with A-J on an A-8-J-10 board to beat the A-Q of Polk. That was the 130th hand of the match.
Polk took a brief lead again soon after, and the two traded the lead for a short time, though Polk opened up a lead of $8,800 by the 160th hand.
Negreanu Finished with Significant Lead
Negreanu changed it all with K-9 against the A-Q of Polk. There was $19,200 in the pot before the flop, and on a board of 10-3-J-6-4, Negreanu bluffed all-in to create a pot of $73,200. Polk folded, and Negreanu regained his lead by $13,200. Negreanu then increased that lead to $29,700 and then more than $42K with just 20 hands left to play.
On the 193rd hand, Negreanu and his 10-6 flopped 6-K-6. Polk continued on with his Q-J and bluffed all-in on the inconsequential river. Negreanu thought it through and called to win the $114,350 pot. Polk bought back in but lost more to put Negreanu up more than $117K.
We've selected the Top 5️⃣hands from High Stakes Feud: @RealKidPoker vs @DougPolkVids 200 live hands last night!

Tell us which is your favorite ⬇️🚛🚛🚛

📺👀https://t.co/HvkgSjINTW pic.twitter.com/GXwz9FxdGm

— PokerGO (@PokerGO) November 5, 2020
When the two stopped after the preset 200 hands with Negreanu up $116,500.
Both players smiled at the end, taking it as good competitors.
Polk said, "What can I say? I had some spots to bluff that I thought were good. They weren't. I just really didn't get things going my way."
Felt good about my play tonight despite going -$116,500. Couple hands were slightly loose (first hand of the night I misread the board to be totally honest lol)

Looking forward to not getting stacked bluffing into trips next session.

— Doug Polk (@DougPolkVids) November 5, 2020
Negreanu noted that he did have an advantage playing live and with 20 years of experience. "I've got like 20 years of playing under the lights, in this scenario, but unfortunately for me, that's just a very small portion of the match. I know that we've got a long road ahead. We're going to be walking into his arena, which is online, a couple tables. Obviously, I'm super pleased with the start. It felt like I played well, executed my strategy, and it worked out…"
I was happy that despite our history, and with all the divisiveness in the country right now, that @DougPolkVids and I could be civil and put on a show that the poker community could both be proud of and enjoy the fireworks.

Online Friday 2:30pm PST

— Daniel Negreanu (@RealKidPoker) November 5, 2020
Online It Goes…
The first session is Friday, November 6. Polk will livestream via Upswing Poker and Negreanu will do the same via GGPoker.
Both players set up grind stations with cameras and precautionary measures to ensure neither player receives any unfair help or uses any prohibited tactics.
This is my set up for the match tomorrow. Surveillance cameras were installed today, got my space chair, a comfy blanket and a backup IPad just in case my internet goes out.

It has the last 3 nights in a row. Yikes. pic.twitter.com/2uJLPdFJox

— Daniel Negreanu (@RealKidPoker) November 6, 2020
Interestingly, the only site involved in the High Stakes Feud not promoting the match in any way seems to be…WSOP.com.
Related Articles