Mysterious Tale of 5Dimes Tony Ends Tragically
By
October 23rd, 2018 | Last updated on October 23rd, 2018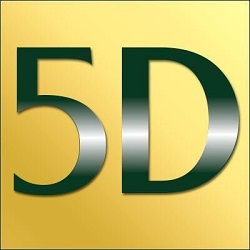 William Sean Creighton, born in America but longtime expatriated to Costa Rica, was better known in most circles as 5Dimes Tony. He was familiar to many in the sports wagering world prior to his ownership of the 5Dimes online sportsbook, but it was his integral role in building the company that made him more widely known. He handled everything from CEO duties to customer relations for nearly two decades of 5Dimes' history.
5Dimes is a popular sportsbook based in San Pedro, Costa Rica, but the company also launched a 5Dimes online poker site, which is now affiliated with Grand Poker but all based in the 5Dimes Group. Even so, it was the sportsbook that garnered so much international attention – specifically from US bettors – because of its various lucrative promotions and reduced juice.
All of this makes the recent news out of Costa Rica so tragic, as 5Dimes Tony appears to have met his demise in an untimely and disastrous way.
Authorities investigating the disappearance of owner of offshore sportsbook in Costa Rica: https://t.co/9ov0a8Sqx1 via @CostaRicaStar

— David Payne Purdum (@DavidPurdum) October 16, 2018
Reports of a Kidnapping
On October 16, the Costa Rica Star reported confirmation that the 43-year-old Creighton had last been seen on September 24, when he left his office that evening. He proceeded to give a coworker a ride to the area of Curridabat, after which he disappeared. The Judiciary Investigative Police (OIJ) confirmed that they were investigating his disappearance.
Further, however, Creighton was reportedly kidnapped and held for ransom, though the OIJ could not confirm that they had received a request for ransom. OIJ Chief Walter Espinoza only explained, "We have limited information, and we cannot share many details because the life of a person is on the line."
Reports of a Ransom
Days later, the same media outlet revealed more to the story as the OIJ provided it. Creighton never arrived home after dropping off his coworker on the night of September 24, and his Costa Rican-born wife, Tica, reported him missing the following day. She arrived in person at the OIJ with two male "American investigators" to report that Creighton never made it home the night before.
The OIJ also confirmed that Creighton's Porsche Cayenne vehicle was found crashed in the Heredia area, though the OIJ said that location was not necessarily the same as where Creighton went missing.
This prompted 5Dimes to publish a statement:
"Despite recent news, 5Dimes Group board of directors and its over 300 employees would like to reassure its clientele the fundamentals of 5Dimes Group operating model remain unchanged.

"We continue striving to deliver the best gambling experience to our customers, always aiming to innovate in the industry with more and better betting options to choose from.

"Our thoughts and prayers join the rest of the online gambling industry for Tony's safe return to his family."
It was also mentioned in the October 20 article that other media outlets reported "the family paid a ransom of close to $900,000 in cryptocurrency." Nevertheless, the OIJ insisted they were unaware of ransom requests or payments.
Reports of a Murder
The Costa Rica Star then posted a story later that same day, October 20, to say that Creighton's body had been found. And more of the dark saga was revealed.
The Body of US Expat and Sportsbook Owner "5Dimes Tony" Found in Costa Rica https://t.co/LwtKCX23PL #CostaRica

— Costa Rica News (@CostaRicaStar) October 21, 2018
Creighton's car had been forced off the road on the night of his disappearance, where he was then abducted at gunpoint by four men, two who had been on a motorcycle and two in a BMW vehicle. The ransom phone call was made to Mrs. Creighton that same night, asking for $750,000 in Bitcoin to be sent to a Cuban bank. Whatever the amount, she agreed to pay and did transfer the money that same night.
The two men who accompanied Mrs. Creighton to the OIJ station the next day were reportedly FBI agents hired by the family to help find him.
Despite the family following the kidnappers' orders, Creighton was apparently killed, as his body was found on October 20. The OIJ would not confirm the cause of death or even that the situation involved a kidnapping and ransom, only that the investigation continues. The results are expected this week.
Rumors Swirl
As members of the gambling world await word from the OIJ to confirm the identity of the body, cause of death, and other details of the case, rumors are beginning to swirl.
Of course, one place for those rumors is the Two Plus Two forum, wherein theories are difficult to overlook, such as one that that Creighton faked his own death and another involving an MMA fighter who ordered the attack.
A good point made on the forum, however, is that if a Bitcoin ransom was ordered and paid, it would not have been sent to a bank, as banks don't deal in cryptocurrency.
More information will be provided as confirmed by the OIJ.
Kudos to https://t.co/7K9RUTSyyM for being the only major industry news website to report about 5Dimes Tony. Guess offshore sportsbooks, especially dead ones, that can't pay for affiliate deals are no longer newsworthy to US-facing affiliates. https://t.co/hu9Kx9oHY9

— Pierluigi Buccioli (@pier0) October 22, 2018
Related Articles