Moorman Captures 30th Online Poker Triple Crown
By
April 22nd, 2019 | Last updated on April 22nd, 2019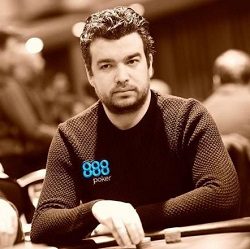 Milestones are key to keeping a poker player motivated and striving for more success. Tournament players have various methods of tracking their wins and profits, though it can be tougher to do when a player wins millions over year and years in the game.
Imagine how it must be for Chris Moorman.
Luckily, he has the help of PocketFives, where he first registered to track his online play in May 2006.
Moorman probably didn't need PocketFives to tell him about his latest accomplishment, though the site did anyway. He knew he won his 30th Triple Crown of online poker on April 16. And he is ever closer to eclipsing the $16 million mark in lifetime online poker cashes, which could very well be his next milestone…unless he wins another Triple Crown first.
Can't have any of these youngsters catching me up! https://t.co/67FJQX0aqW

— Chris Moorman (@Moorman1) April 16, 2019
Triple Crown Requirements
The Triple Crown was developed by PocketFives as a way to track accomplishments in poker, beyond the traditional milestones. It became a way for players to earn a certain status in poker and achieve certain goals in their poker careers.
A Triple Crown is earned by winning three different tournaments on three different online poker networks in a seven-day period. Each tournament must be on a site tracked by PocketFives and meet these requirements:
–Must be an MTT.

–Must consist of at least 100 players.

–Must have a buy-in of $0.01 or more (not including satellites).

–Must have a prize pool of $10K or more.
Once the win is verified by PocketFives, the badge is awarded. Sometimes, celebrations abound.
Thirty Triple Crowns
Moorman's first Triple Crown came in March 2007 when he won tournaments on Full Tilt Poker, PartyPoker, and Paradise Poker. His cumulative winnings for those three victories were $353.57.
He earned another in 2007, then two in 2008, six in 2009, and so on. He continued to rack up the Triple Crowns at several per year. The pace slowed after 2014 when he spent more time at his home in the United States, where he had fewer options for online poker, but he played when he traveled. He won one in 2015, none in 2016, one in 2017, and then he captured three Triple Crowns in 2018, the last being in August 2018.
That was until April 2019.
Just last week, Moorman won his 30th Triple Crown by capturing wins on 888poker, PokerStars, and PartyPoker, earning a total of $28,007.57 to go with the crown, according to PocketFives.
That feeling when you're the ?!

Congratulations to Chris @moorman1 Moorman for earning his record-extending 30th PocketFives Triple Crown! pic.twitter.com/D8FOH4IFTw

— PocketFives (@PocketFives) April 16, 2019
So Many Milestones
Just last summer, Moorman hit a massive milestone in online poker. He exceeded the $15 million mark for lifetime online poker tournament earnings.
He has had numerous milestones throughout his poker career, both live and online. And though his online play may have slowed due to the country in which he lives, he is still at the top of his game. And Moorman was honored for that with a PocketFives Legacy Award on April 5 at the Global Poker Awards.
Moorman has accumulated more than $5.6 million in live tournament earnings, with his latest final table happening in December 2018 when he finished third in the 888poker LIVE London Super High Roller tournament.
As an 888poker-sponsored pro, Moorman travels to play in special live and online tournaments. He has been in Canada recently to play the 888poker XL Blizzard online poker series, which just wrapped up on April 14.
It is likely that Moorman will be busy this summer with the World Series of Poker in Las Vegas, as well as other tournaments around Sin City from May through July. He'll keep playing the game, and we'll keep recording his milestones.
Related Articles