Lincoln Returns to Oppose Online Poker for Adelson
By
August 22nd, 2018 | Last updated on August 22nd, 2018
Home
»
Poker News
»
Lincoln Returns to Oppose Online Poker for Adelson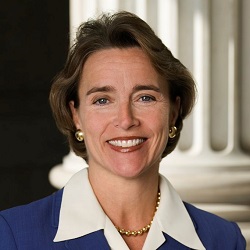 It has been some time since Americans heard from online poker and gaming opponents. The movement to ban online games and for Congress to pass the Restoration of America's Wire Act (RAWA) has been relatively silent for much of 2018.
But they are back. The Coalition to Stop Internet Gambling, funded by casino mogul and billionaire Sheldon Adelson, is back in the news with supporter and former United States Senator Blanche Lincoln from Arkansas front and center. She penned an op-ed for the Financial Times last weekend, complete with outdated talking points and misleading data.
MUST-READ @FT @ftopinion op-ed by Senator Blanche Lincoln: "Children and addicts need protection from online gambling" https://t.co/4B2w9Gnb5X

— Coalition To Stop Internet Gambling (@StopNetGambling) August 20, 2018
Facts, Step Aside
Lincoln took to the virtual pages of the Financial Times with an opinion piece entitled, "Children and Addicts Need Protection from Online Gambling." It is strikingly similar to the op-ed she posted in the Washington Times in April.
Blanche Lincoln: Now it is time for leaders in Washington, D.C., and in statehouses across the country to take action and stop the online gambling industry before it targets even more of our children and our most vulnerable citizens.https://t.co/4NPaGLbkse#Opinion

— The Washington Times (@WashTimes) April 18, 2018
She began the piece with misleading information about the passage of the Unlawful Internet Gambling Enforcement Act (UIGEA) of 2006, which she says was approved unanimously by herself and 97 of her Senate colleagues. In reality, the UIGEA was attached to the SAFE Port Act, a must-pass security measure that garnered the support of most in the Senate. The UIGEA was added to SAFE at the last minute by Senators Bill Frist and Jon Kyl, and most members did not know it was in the legislation until after it passed.
Lincoln then mentioned the 2011 Department of Justice decision that clarified the Wire Act as pertaining to sports betting only, leaving online lotteries and gambling to the states for legal status. "It deprived minors and addicts of protection from the industry's predatory practices," she wrote, ignoring the fact that any states choosing the legalize online games would (and have) prioritize consumer protections.
Missing the Point
The mention of the recent US Supreme Court decision repealing PASPA and allowing states to legalize sports betting came in Lincoln's third paragraph. "I am tremendously concerned about the rise of online gambling in our country."
She proceeded to use the UK as an example of legalized online gambling, pointing to a story of a man whose six-year-old son was the target of a BetStars advertisement while playing Angry Birds. Lincoln neglected to mention that it was Apple that placed the ad, not the gambling company. She also mentioned four gambling operators investigated for promoting games with potential appeal to children while bypassing the fact that the UK Gambling Commission is in place for that exact reason and does police the industry to ensure advertising is done ethically and lawfully.
Lincoln also mentioned an alleged violation in the New Jersey online gaming market regarding advertising of online casino games targeting children. However, her allegation has been debunked numerous times, as the ads were not targeted, rather randomly automated by the web page's ad algorithms. No fault was found with the gaming operators.
Finally, she used an FBI report – the 2017 Internet Crime Report – to assert that "the victim count and financial losses suffered as a result of online gambling surpassed that of terrorism-related cybercrimes." Lincoln neglected to mention that the number of 203 victims of internet gambling-related crimes, which were scams that could have been avoided by proper regulation, was only slightly more than the number of 177 terrorism cybercrimes victims. And according to CardPlayer, the gambling losses from said crimes amounted to $19,000, while lottery-related crimes amounted to $16.8 million.
Requesting DOJ Action
The crux of Lincoln's piece is her request for the Department of Justice to reverse its 2011 decision regarding the Wire Act. "The DOJ can prevent America's kids from visiting online casinos open 24/7" with such an action. And she wrote, "I urge it to do so with the urgency our most vulnerable deserve."
Several current members of Congress have echoed Lincoln's call to the DOJ in the past several years, with most recent requests coming in late 2017 and early 2018. However, the loudest call came from US Senator Lindsey Graham when questioning now-US Attorney General Jeff Sessions about said Wire Act decision during Sessions' confirmation hearings. But any chance of that happening was crushed when Sessions was forced to recuse himself from gambling-related decisions due to his close relationship to Sheldon Adelson.
Timing is Everything
Lincoln makes her plea as the DOJ is fully engulfed in a number of investigations and under constant attack by President Trump. The November elections are on the horizon, and the government as a whole is hesitant to make any moves that may reflect negatively upon candidates in said elections. Sports betting is immensely popular in America, which is evident by the dozens of states currently considering legislation to legalize it per the recent US Supreme Court decision allowing them to do so.
There is little doubt that the push for DOJ action regarding the Wire Act comes at the behest of Adelson, who is making several moves to further his personal agendas. One day after Lincoln's op-ed, Politico reported that Adelson and his wife gave $25 million to a super PAC closely aligned with Senate Majority Leader Mitch McConnell that pledges to help keep Republicans in the Senate and in the majority. The couple also gave $30 million to the super PAC doing the same for the House of Representatives.
Sheldon and Miriam Adelson gave $25 million last month to Senate Leadership Fund, Republicans' flagship super PAC charged with maintaining control of the chamber. https://t.co/mPQywORMQr

— Theodoric Meyer (@theodoricmeyer) August 20, 2018
If Adelson supporters in Congress lose control as a result of the November elections, the chance of passing RAWA will be diminished even further. The pleas to the DOJ to ban online gambling are a part of Adelson's attempts to buy his agenda before his money is becomes less influential in the policy-making business. Lincoln may be a Democrat and no longer in Congress, but Adelson is using what is left of her influence to push for the online gambling ban.
Related Articles