Legendary Minneapolis Jim Meehan Passes Away
By
December 10th, 2018 | Last updated on December 10th, 2018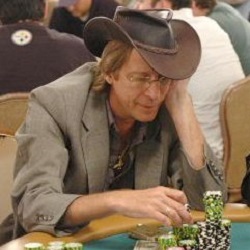 He was known to the poker community as "Minneapolis Jim" Meehan, a longtime poker player who became well-known during the poker boom for his sense of humor and his skills at the table. Often seen with a ragged cowboy hat and a cigarette hanging from his lips, usually with a drink nearby, the tall man was easy-going and pleasant, a friendly face in any game.
Meehan passed away on December 6, 2018. His obituary noted that he died peacefully but did not allude to the direct cause of his death. He was only 66 years old.
According to that obituary, "He always took after his father in his love of sayings, often modifying one of his father's favorites to 'I came from St. Paul a single man and look at me now.' He left behind four sons and six grandchildren.
The poker world has lost another legend. Minnesota Poker Hall of Famer and @WSOP bracelet winner "Minneapolis" Jim Meehan passed away on Dec. 6. https://t.co/W3cKT3acCU pic.twitter.com/pco1TtqgQq

— Chad Allan Holloway (@ChadAHolloway) December 8, 2018
From Lawyer to Professional Poker Player
Born in 1952, Meehan grew up in St. Paul, Minnesota, though he lived much of his later life in Minneapolis. He attended the University of Minnesota, from whence he obtained a bachelor's degree before pursuing and receiving his Juris Doctor degree. He then proceeded to practice law for approximately two decades.
Meanwhile, he took up poker. What was first a fun, casual game for him in the 1960s became more of a passion through the years, and he often traveled to Las Vegas and Los Angeles to compete in poker tournaments and juicy cash games.
Before the poker boom, Meehan was a regular at the World Series of Poker and enjoyed playing a variety of games, from Hold'em to Omaha. The slow pace of the games, the analysis required to play well, and the interactions with other players appealed to the man who relished in the challenges that poker offered.
Tournaments and Cash Games
Meehan quickly became known as a force at the tournament tables and always seemed to end up at final tables. His first recorded tournament win came at the 1994 L.A. Poker Classic in a $500 Limit Hold'em event, for which he won $48K.
He won more tournaments throughout that and the subsequent decade, taking titles in Big Poker Oktober, Card Player Cruises, and another one at the L.A. Poker Classic. It wasn't until 2003 that Meehan won the biggest of his career when he took down a World Series of Poker $2K No Limit Hold'em event for more than $280K and a shiny gold bracelet.
All the while, Meehan could be found at final tables, whether at a Vegas casino's daily tournament table or the World Poker Tour. He was often featured at televised tables during the poker boom because of his eccentric personality and amusing table talk, but he always put up a fight for his chips at the same time.
In total, Meehan showed more than $1.4 million in live poker tournament earnings, but he did find success in online poker for a time as well, when the games were offered to US players. But it had typically been the cash games in which he found enough success to get by.
Taking a Break
After the summer of 2013, Meehan mostly disappeared from the poker tournament scene, only reappearing occasionally at local Minnesota events. He was inducted into the Minnesota Poker Hall of Fame in 2015 for his lifetime of contributions to poker in the state.
Huge Congratulations to Minneapolis Jim Meehan and Blake Bohn Class of 2015 MN Poker Hall of Fame.

— MNPoker Hall of Fame (@MNPokerHoF) December 12, 2015
PokerNews caught up with Meehan in early 2016 to ask about his absence from the game, and he confirmed that he was "really pretty much out of it." He added, "Maybe I'll come back and learn how to play again," referring to the changes in the game that brought more skilled players into it. "I enjoy the game enough, but it used to be kind of a kick. It's no kick anymore."
He also admitted to missing online poker, which is no longer available on most sites like PokerStars in Minnesota. "It was good for me because I smoke," he recalled, "so it was great to sit home, not shave, and sit there and smoke. Nobody yells at you."
Even so, Meehan has appeared at the occasional tournament in Minnesota or in nearby states like Iowa when traveling. There was something about poker that caught him and never fully let go.
Poker World Missing a Favorite
News of Meehan's death spread quickly through the poker community, especially on the Two Plus Two poker forums.
"I played with him countless times," wrote doublejoker. "Always fun to have at the table."
And stuff wrote about Meehan, "He was playing 40/80 mix at Canterbury and Minnesota tournaments up until ~3 years ago. … He was a pretty damn solid O8 player."
Many poker pros who played with Meehan over the years also weighed in with memories:
RIP Jim Meehan pic.twitter.com/4abc22iJb1

— Todd Brunson (@ToddBrunson) December 9, 2018
Sad to hear of the passing of "Minneapolis Jim" Meehan. He was quite a character. The first person from Minnesota to win a @wsop bracelet. Also the only person I ever saw have beer and ice cream for breakfast… In the same bowl. #beerfloat

— Chris Wallace (@foxpokerfox) December 8, 2018
Jim was a warm and fuzzy guy w a fun shtick. Good guy, poker will miss you Jim, RIP https://t.co/HBO8U53A7r

— phil_hellmuth (@phil_hellmuth) December 10, 2018
Gonna be playing @msptpoker day 1c with a bit of a heavy heart today. 'Minneapolis' Jim and I had made a nice connection over the last 8 years on and off the felt. Already miss him…big ups 'Silent Bob' ???

— Blake Bohn (@bkbohn) December 8, 2018
Related Articles