Kempe and Lewis Star in 2019 Aussie Millions High Rollers
By
February 2nd, 2019 | Last updated on February 2nd, 2019
Home
»
Poker News
»
Kempe and Lewis Star in 2019 Aussie Millions High Rollers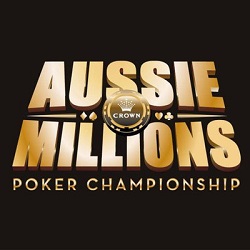 The Aussie Millions is a staple in the live poker tournament scene every year. The Crown Melbourne has been the host of the globally respected series since 2003. Players fly in from around the world to play everything from low buy-in events to the $100K Challenge.
Some high-stakes players, however, go for the high rollers, the tournaments that challenge their bankrolls as much as their poker skillsets. This year's series began on January 15 and wraps no February 4, and it included three major high roller titles: AU$25K Challenge, AU $50K Challenge, and AU$100K Challenge.
When all was said and done, there were three champions, but two names stood out. Rainer Kempe made two of the three high roller final tables, winning one of them. And Toby Lewis did the same, though he also came in as the 2018 Aussie Millions Main Event champion.
The biggest poker prizepool in the southern hemisphere is on the line at @CrownPoker down in Melbourne. All the calls, folds and check raises are right here on Twitch #AussieMillions #TwitchANZhttps://t.co/2RdsskD9u9 pic.twitter.com/bY5SOap4tT

— Twitch ANZ (@Twitch_ANZ) February 1, 2019
AU$25K Challenge
The first of the big three was the AU$25K buy-in tournament that began on January 25 and ran for two days. In total, the number of entries hit 151, which broke its previous record of 133 set two years prior. The result was a prize pool of AU$3,624,000, which would pay the final 17 players at least AU$63,420 but reserve AU$960,360 for the champion.
2019 #AussieMillions $25,000 Challenge
has already reached last years total entrants @CrownPoker pic.twitter.com/NxCvFlM6gd

— Aussie Millions (@AussieMillions) January 25, 2019
Day 1 reduced the field to just 29 players, and Day 2 quickly met with the money bubble. Two players busted at that moment, so they split the minimum payout. Play then moved forward as Kitty Kuo cashed in 14th place, Jack Sinclair in 13th, and Jack Salter in seventh place.
The action continued as Kempe took charge to eliminate Luke Marsh in sixth place. While Guillaume Nolet ousted the fifth-place finisher, Chino Rheem sent Nolet out in fourth. Kempe then busted Rheem in third, and Kempe and Lewis then agreed to a chop. The two then went all-in blind on the next hand and ended it with Kempe taking the title.
1st place:  Rainer Kempe (Germany) AU$826,465

2nd place:  Toby Lewis (UK) AU$786,214

3rd place:  Chino Rheem (UK) AU$416,760

4th place:  Guillaume Nolet (Canada) AU$$308,040

5th place:  Gautam Dhingra (Australia) AU$217,440

6th place:  Luke Marsh (UK) AU$154,020

7th place:  Jack Salter (UK) AU$117,780
AU$50K Challenge
The following day, players had a chance to compete in the AU$50K event, which would span three days. The first day of action brought 37 entries into action, much more than the four players who entered the previous year. No further entries came in before the start of Day 2, which meant the prize pool was set at AU$3,007,000, with which the top seven finishers would be paid.
Event 12 #AussieMillions $50,000 Challenge is under way @CrownPoker pic.twitter.com/Odeq7fr2AO

— Aussie Millions (@AussieMillions) January 27, 2019
Day 2 brought 23 players back to the tables, and as the money bubble approached, play tightened as expected. Some of the pre-money eliminations included Bryn Kenney, Kahle Burns, and Michael Addamo, and it was Chin Wei Lim who busted in eighth place on the bubble, guaranteeing the rest of the players at least AU$176,700.
Before the night ended, Lewis ousted Michael Zhang, and Tobias Ziegler departed in sixth place. Lewis took the lead into the final day of play, and after hours of shorter stacks exchanging chips, Lewis busted Bjorn Li in fifth place, while Manig Loeser took care of Dominik Nitsche in fourth. Lewis eventually eliminated Thomas Muehloecker in third place and took a massive lead into heads-up play against Loeser. The latter did double twice to stay in action, and the two players ultimately agreed to a payout deal before going all-in blind on the next hand, giving Lewis the title.
1st place:  Toby Lewis (UK) AU$818,054

2nd place:  Manig Loeser (Germany) AU$772,246

3rd place:  Thomas Muehloecker (Austria) AU$412,300

4th place:  Dominik Nitsche (Germany) AU$323,950

5th place:  Bjorn Li (Hong Kong) AU$235,600

6th place:  Tobias Ziegler (Germany) AU$206,150

7th place:  Michael Zhang (UK) AU$176,700
AU$100K Challenge
The final of the three challenges was on the schedule after the Main Event, and quite a few players stayed around for Super High Roller action. Day 1 delivered 33 entries, but nine more came in before registration closed to set the number at 42 entries and the prize pool at AU$4,116,000. The top six finishers would be paid from that pot.
#AussieMillions Event 20 $100K Challenge has officially locked out at 42 entries – the largest field since 2015!!
Top 6 paid with a whopping $1,481,760 and the ANTON Championship ring to our Champ! pic.twitter.com/mur6h9pvts

— Crown Poker (@CrownPoker) February 2, 2019
Only 14 of the initial day's players made it to Day 2, and Cary Katz was the chip leader. Players came in and out before registration closed, but after that, exits were final. Among those who departed permanently were Nitsche, Kenney, Addamo, Andras Nemeth, Muehloecker, and Loeser. Michael Soyza left in eighth place, and Alex Foxen busted on the bubble in seventh place.
Kristen Bicknell was the first to bust in the money at the hands of Kempe. Katz ousted Salter in fifth place, and Abraham Passet eliminated Kempe in fourth. Three-handed play lasted for hours until Johannes Becker busted Passet in third. Katz took the lead into heads-up, and no matter how hard Becker fought to chip up, Katz kept him down until he finally put Becker out in second place.
1st place:  Cary Katz (US) AU$1,481,760

2nd place:  Johannes Becker (Germany) AU$946,680

3rd place:  Abraham Passet (Germany) AU$617,400

4th place:  Rainer Kempe (Germany) AU$452,760

5th place:  Jack Salter (UK) AU$329,280

6th place:  Kristen Bicknell (Canada) AU$288,120
Related Articles