Kassouf: Not the Pro that Poker Needs
By
September 24th, 2018 | Last updated on September 23rd, 2018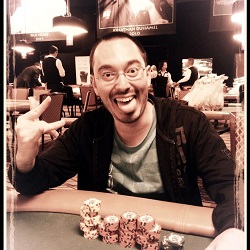 Sometimes, a poker pro comes along and garners enough of the spotlight to appear interesting. That player may be a new face to many in the poker world and seem to have a likeable-enough personality.
William Kassouf became that player in 2016. He popped into the spotlight at the 2016 World Series of Poker for his talkativeness and unconventional play, and he became the player that fans loved to hate. Kassouf fell into a Phil Hellmuth category of sorts… Some said Kassouf's antics were good for the game and generated interest and laughs, while others said he was disrespectful and goofy.
Grosvenor offered Kassouf a sponsorship in light of his newfound publicity after the summer of 2016, and it all seemed to go well until the man who stumbled into the spotlight stumbled directly into controversy. That left Grosvenor and everyone who had partnered with Kassouf to quietly exit those relationships and possibly ponder the way they make those types of decisions going forward.
Kassouf's Goof
While Kassouf was presumably living the good life in the UK, boasting of his sponsorship with Grosvenor casino entities, playing poker, and having fun at various casino games, he made a mistake that cost him said sponsorship. And his popularity may go down in flames with it.
According to witnesses, Kassouf was in Leeds for that particular leg of the Grosvenor UK Poker Tour, commonly known as the GUKPT. He was socializing with friends when everything went downhill. According to a person named Michael O'Mahoney via a Facebook post, Kassouf began palming chips worth £100 each from others' stacks at a roulette table.
"We were all drunk and the only one playing roulette was one mate who won about 4k and let us bet for him using the single 1 chips he had. We put a bet on that won another £2800 and Kassouf started celebrating and grabbing the £100 chips which myself and mates took back. But in the ensuing betting he was seen pocketing some. That's when argument happened. Like I said we all wanted to keep it between us and we had a private argument at bar with a view to it being sort the next day … It's not my place to write this really but sick of people defending him saying must be a mistake. Definitely wasn't and he'll have to accept the consequences as well as lose friends."
Apparently, the incident happened but leaked to poker pro Shaun Deeb, who tweeted about it on September 15, prompting O'Mahoney to clarify the events as he remembered them.
Just got a very interesting message about @WilliamKassouf getting caught palming 100$ chips at roulette table and getting banned from all properties and dropped by his sponsorship shocked to hear it but now we know where his buyins were coming from #goodriddence

— wcoop wafflecrusher (@shaundeeb) September 16, 2018
Deeb's assertion that Kassouf subsequently lost his poker sponsorship and was even banned from all Grosvenor properties has been accepted as fact by most poker media reports.
Kassouf Speaks
The man made famous by his "nine high like a boss" move at the WSOP was under attack from several angles regarding his actions at the Leeds roulette table, and several days after Deeb's tweet, Kassouf tweeted a statement:
"It is with great sadness that I write the following statement but I feel it necessary to clarify the situation now that I'm at liberty to do so.

"Last weekend, during the course of a drunken night playing roulette with friends, I made an error of judgment which I greatly regret; something I accept full responsibility for. I have apologised and will apologise again to all my friends who were with me that night for my foolish behaviour.

"As a result of this embarrassing incident, my sponsor, Grosvenor Poker and I have mutually agreed to part ways. I would like to take this opportunity to thank everyone I have worked with at Grosvenor Poker for all they have done for me and I'm proud to have been part of Team Grosvenor.

"I would like to apologise to all my family, friends, fans and followers for my behaviour on this occasion. I accept the consequences of my actions and would now like to draw a line under this whole matter and move on.

"I will continue to do what I do best by bringing the fun and entertainment factor back to poker as that's what's most important to me in my poker career. I wish you all the best of luck and look forward to seeing you at the tables.

"Thank you all for your understanding."
Kassouf signed it with "much love" and has not replied publicly on Twitter to any of the 175-plus comments to his post.
It is with great sadness that I write the following statement but I feel it necessary to clarify the situation now that I'm at liberty to do so. pic.twitter.com/x7vvhTMMUE

— William Kassouf (@WilliamKassouf) September 18, 2018
Consequences
While Kassouf's casino ban has not been confirmed, he did verify that his sponsorship is over. The consequences of his actions are – at a minimum – the loss of a career opportunity and income. The amount of alcohol consumed matters none when casino rules are violated in a blatant and irresponsible way as seems to have happened in this case.
Meanwhile, Grosvenor seems to be trying to let the situation diffuse without addressing it an official manner. This should not be accepted by those in poker who have long held a fair amount of respect for the Grosvenor brand. The poker section of the Grosvenor site still lists Kassouf (as of September 23) as a sponsored pro just after Joe Beevers and before several others. The site refers to the list of pros an "exceptional roster."
Kassouf has proven his poker skills at the live tables both before and after his famous television moment in 2016. However, his live earnings totaling little more than $1.4 million would rarely translate into a sponsorship without his minutes of fame from the WSOP event in which his irritating behavior brought him into the spotlight. Grosvenor now must suffer the embarrassment of everyone's "I told you so" comments as they sever ties with Kassouf.
Since poker sponsorships are so difficult to come by in today's environment, companies may want to think longer and harder before awarding such a coveted partnership to a player who enters the spotlight via questionable behavior.
Related Articles