Justin Bonomo Leads Heading into Big One for One Drop Finale
By
July 17th, 2018 | Last updated on July 29th, 2018
Home
»
Poker News
»
Justin Bonomo Leads Heading into Big One for One Drop Finale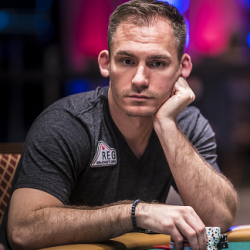 The final table for the 2018 Big One for One Drop is now set. After two days, a total field of 27 players was thinned down to just six. During the day, many superstars fell including both Daniel Negreanu and Phil Ivey.
Justin Bonomo looks to continue his insane run in 2018 and is the chip leader heading into the final day of play. Joining him is German superstar Fedor Holz and "Cowboy" Dan Smith. Amateurs Rick Salomon and David Einhorn are also looking for another One Drop final table cash.
Field Grows By Three – Hellmuth and Tsoukernik No-Show
The good news at the start of play was the field grew by three players. Brian Rast, Byron Kaverman, and Rainer Kempe ponied up their $1 million buy-ins to play. Even after missing all of Day 1, they still get to start with 50 big blinds.
Several big names still failed to show. Phil Hellmuth and Leon Tsoukernik failed to show despite being on the "confirmed" list back in June. Tsoukernik was the first person to confirm his spot when the event was first announced, but that failed to result in a buy-in.
At least one mystery was solved in terms of the field. MGM International Invitation-only satellite winner William Barth was visibly absent from the event. It seems odd that someone would pass on a freeroll to win $10 million.
When asked about Barth's absence, Kevmath tweeted the following on Monday:
Apparently sold to someone else.

— Kevin Mathers (@Kevmath) July 16, 2018
We don't know whom he sold the seat to, but it's probably safe to assume that Barth has a piece of whoever is playing the event in his stead.
After the start of play, the payouts were announced. Only five players will receive a payday. Payouts are as follows:
$10,000,000
$6,000,000
$4,000,000
$2,800,000
$2,000,000
This guarantees that the Big One for One Drop will be the largest first place prize of the year, but still not near what was anticipated when the event was first announced last year.
Negreanu Busts and Was NOT Happy
Shortly after the first break of the day, Daniel Negreanu was all-in pre-flop with 10d-7d and Steffen Sontheimer called with Ad-6s. The board bricked Negereanu and he was out.
Normally, this would not be that big of a deal but apparently, Negreanu was not happy about an incident that happened during the break. Apparently, the floor announced the break at 20 minutes but decided to change it to 15 minutes without telling the players. Several players came back from break late and Negreanu missed a couple of hands. With his chips short, he was not happy.
Negreanu was spotted ranting about it in his blog afterward and he shared a clip via Twitter to confirm that the floor originally announced the break at 20 minutes, not 15:
WSOP floorman tried to tell me he announced it would be a 15 minute break. I have PROOF he said "Players you are on a 20 minute break and said nothing about 15.

Cost me what could have been a crucial hand. No good excuse for this one. pic.twitter.com/jNHX7VxJIx

— Daniel Negreanu (@RealKidPoker) July 16, 2018
One can hardly blame him considering that they were playing for $1 million.
Seidel Out in 9th – Ivey in 8th
Heading into the unofficial final table of 9, Erik Seidel was fourth in chips and looking like he might make a run. Then in two hands, he was out. In the first hand, Byron Kaverman was all-in with A-K against pocket queens for Seidel. Kaverman hit a king on the turn to double and leave Seidel with about 12 big blinds.
A bit later, Seidel was all-in on a 10d-9h-8d flop holding Qs-Jh for a straight. David Einhorn called with Qd-9d for a flush draw. The turn missed both players, but the river 4d gave Einhorn a flush and Seidel was out in 9th.
Lost the biggest flip of my life, but grateful to have the opportunity to play One Drop & hope Byron & Einhorn make good use of my chips

— Erik Seidel (@Erik_Seidel) July 17, 2018
Phil Ivey had a roller coaster ride during Day 2 and found himself as the short stack eight-handed. He found a good hand to try and double with in Ah-Jc but ran smack into pocket kings from Justin Bonomo. Bonomo ended up catching kings-full to send Ivey home in eighth.
Petrangelo Takes Event to Money Bubble
Nick Petrangelo has enjoyed an awesome summer in high rollers but was unable to make the final five in this event. He was short with seven left and eventually moved all-in with 19 big blinds with Ac-8c. Justin Bonomo looked down to pocket nines and made the easy call. A nine on the flop gave Bonomo a set and the set held to send Petrangelo to the rail in seventh place.
One Drop: Nick Petrangelo eliminated in 7th place https://t.co/AuMnQliW8O

The remaining six players are bagging for the night. Day 3 will restart at 5:30pm PT. pic.twitter.com/txfOoADBKC

— PokerNews Live (@PokerNews_Live) July 17, 2018
Petrangelo's elimination sent this event to the stone bubble. There are six players left in this event and the next player out will end up leaving empty-handed while the rest will receive at least $2 million.
Justin Bonomo is the chip leader heading into the final day with more than double the chips of the remaining players. A win in this event will leapfrog him over Daniel Negreanu for #1 on Poker's All-Time Money List.
Fedor Holz and Dan Smith are second and third in chips and in good shape to cash. Rick Salomon and David Einhorn are the two amateurs at left but both have cashed in the Big One in the past. Byron Kaverman will return as the short stack.
Play will resume on Tuesday at 5:30 p.m. Vegas time and continue until the One Drop bracelet and $10 million top prize is awarded. Who will win the final event of the 2018 World Series of Poker? We will find out Tuesday.
Below are the chip counts heading into the final day of play:
Justin Bonomo – 49,000,000
Fedor Holz – 22,100,000
Dan Smith – 21,500,000
Rick Salomon – 19,700,000
David Einhorn – 12,300,000
Byron Kaverman – 10,500,000
Related Articles