John Cynn Emerges From Epic Heads-Up War to Win 2018 WSOP Main Event
By
July 15th, 2018 | Last updated on August 9th, 2019
Home
»
Poker News
»
John Cynn Emerges From Epic Heads-Up War to Win 2018 WSOP Main Event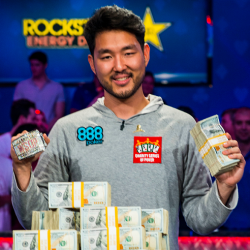 After ten of the most grueling days that one can ever play in poker, we have a champion in the 2018 WSOP Main Event. Tony Miles led both John Cynn and Michael Dyer heading into the last day of play, but nobody expected what ended up unfolding.
In the end, the poker world was treated to an epic war in the form of a 10+ hour heads-up match for the bracelet. When the smoke cleared in the early morning hours of July 15, one of the most remarkable redemption stories in WSOP history was completed as John Cynn emerged as the World Champion of Poker.
Michael Dyer Out in Third
Michael Dyer started with just 16 big blinds and was looking to double early. He got his chips in often but never got anyone to call. Finally, with just 22.2 million left, he shoved with Ah-10d and Tony Miles made the call with As-Jh.
Miles kept the lead on a Qc-5s-3h flop. When the Jc hit the turn, Mile picked up a pair but Dyer had a Broadway draw. The river Qh was enough to end Dyer's Main Event run in third-place.
Dyer may not have been the most talkative player at the final table, but he certainly played a strong game up till the end. For his amazing run, he earned $3.75 million.
"I played the poker that got me there."

Michael Dyer, the man with a game-plan, out in third from 2018 #WSOPME. Meanwhile cash arrives as Cynn & Miles now heads up for title.https://t.co/0Z4QJ8jDm3 pic.twitter.com/x5wOO3tlDq

— PokerStarsBlog (@PokerStarsBlog) July 15, 2018
Nearly All Square at the Start of Heads-Up Play
With the elimination of Dyer, Tony Miles and John Cynn played heads-up for the bracelet. Prior to Dyer's elimination, Cynn had chipped up and was actually in the chip lead. Miles retook the lead with Dyer's knockout.
Chip counts at the start of heads-up play:

Tony Miles 203,500,000
John Cynn 190,300,000

Updates at https://t.co/ijXHLwKRxT

(Photo credit @JoeGironPhoto) pic.twitter.com/4JMqeIjoVo

— WSOP (@WSOP) July 15, 2018
At the start of heads-up play, Miles led 203.5 million to 190.3 million, or about 8 big blinds. As is customary, Caesars brought out the stacks of $1 bills wrapped in $100 bills and the bracelet. After the blinds went up, Miles had 100 big blinds while Cynn had 96. This meant that there was potentially a long night of poker ahead of us.
The Never Ending Heads-Up Match!
Anyone following the recaps of this site might notice this one took a bit longer. There one massive reason for that. This heads-up match set a record for the longest in WSOP Main Event history. This epic battle lasted more than 10 hours and 199 hands.
So how did we get such a marathon battle? For starters, both players battled incredibly hard and gave little ground. When one was starting to falter, they'd find a way to pull back to even or take the chip lead.
WSOP Facts: John Cynn vs. Tony Miles is now the longest heads-up match in recent recorded WSOP Main Event history surpassing 2016's Qui Nguyen vs. Gordon Vayo who played 182 hands HU.

We are now at 183 and counting. pic.twitter.com/UdY8let5XU

— PokerNews (@PokerNews) July 15, 2018
The other was that we didn't get any of the monster cooler hands that we saw earlier at this final table. We didn't see aces versus kings or kings versus queens or A-K against A-Q for all the chips. Instead, it was board based monsters that helped to swing momentum at different times of the match.
Two things in this match were apparent. First, Cynn had the momentum by about the mid-way point of the match. The other was that Miles was being negatively impacted by fatigue. The announcers commented on this multiple times.
Fortunately, the impact was not catastrophic and Miles time and again found a way to get back to even. Even late in the match, he was down almost 3:1 in chips and managed to close the gap to just 8 big blinds prior to the final hand.
John Cynn Wins The 2018 WSOP Main Event
Prior to the final hand, Cynn had 213 million to 180 million for Miles. They had 53 and 45 big blinds and while not as deep as they were for most of the night, play could have continued a bit longer if not for one final monster that went Cynn's way.
Cynn raised to 9 million pre-flop and Miles three-bet to 34 million. Cynn called and the flop fell Kh-Kd-5h. Miles led for 32 million and was called. The turn fell the 8d and Miles shoved for 114 million. Cynn though for a bit and finally called, showing Kc-Jc for trips. Miles showed Qc-8h for two pair and found out he was drawing dead for the bracelet.
John Cynn is your 2018 World Series of Poker Main Event champion!

After 199 (!!) heads-up hands against Tony Miles, he takes home the $8.8M prize. pic.twitter.com/pQj9BGafdv

— ESPN (@espn) July 15, 2018
Cynn's rail went into celebration mode as the river 4s hit and it was all over. John Cynn is the 2018 WSOP Main Event Champion. Speaking to WSOP.com about his remarkable run this year, he said that it was different from his 2016 run where he finished in 11th. He said, "Really, neither is supposed to happen, right? To make 11th is insane on its own. And then to win, that's literally something that you dream of, but just never expect to happen. […]. Right now, I do feel pretty overwhelmed. All the emotions times 10."
Tony Miles finished runner-up and became the latest footnote to history. Of course, this footnote earned a massive $5 million prize. He told PokerNews that the heads-up match was a war and of the new champion, he told them, "He's gonna be a great champion and I'm really happy for him. After the disappointment of losing — which is there is some, I'm gonna be honest — subsides, I'm sure I'll be very happy that I'll be able to help my family and do some traveling and stuff I wanted to do for a long time. It truly is a blessing to be here. I ran way above average just to get to this spot and I'm very grateful."
John Cynn is one of the most remarkable stories in poker history. In 2016, he finished 11th in the WSOP Main Event. This feat is usually a career highlight for many players. Most never come close to the Main Event final ever again. Not only did Miles come close again, he made the final table and won it all in 2018. In addition to winning a Power Ranger-style WSOP championship bracelet, Miles earned $8.8 million, the second-largest prize in WSOP Main Event history.
Congratulations to John Cynn, 2018 World Series of Poker Main Event Champion.
Winner photo courtesy: @WSOP on Twitter
Related Articles