Joe Cada and John Cynn in Contention With 26 Remaining in WSOP Main Event
By
July 11th, 2018 | Last updated on July 30th, 2018
Home
»
Poker News
»
Joe Cada and John Cynn in Contention With 26 Remaining in WSOP Main Event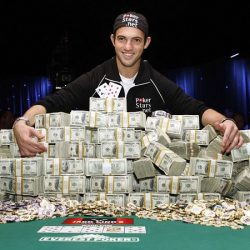 Day 6 of the 2018 WSOP Main Event was easily the longest day of the event thanks to an unexpected stoppage on Monday night. A power outage forced play to halt early and the remaining 109 players returned on Tuesday to play down to the final three tables.
While it was planned to play down to 27 players, as it turned out, two players were eliminated at the same time at the end of the day and just 26 will return on Wednesday to play to the final table. Aram Zobian will take over a 10 million chip lead into the Day 7 action.
Kelly Minkin – Last Woman Standing – Finished 50th
Back in 2015, Kelly Minkin was the Last Woman Standing in the event and ultimately finished 29th. This year, Minkin went on another deep run and even challenged for the chip lead a couple of times.
Minkin again found herself in the position of Last Woman Standing this year but entered Day 6 with just around 20 big blinds. Unfortunately, she was unable to get anything going on Day 6 and soon found herself all-in pre-flop with Ac-10h for her last 2.2 million. Frederik Jensen made the call with Ah-Kd and had Minkin dominated.
Jensen caught a king on the flop but the flop also produced a queen to give Minkin a gutshot Broadway draw. The turn and river bricked both players and Kelly Minkin was out in 50th.
50th for another deep run….

But the most amazing part of all was the overwhelming support you guys gave me. I can't thank everyone of you enough ❤️❤️❤️☺️

— The Chillest (@The_Illest) July 11, 2018
This time around, Minkin won $156,265 for her 50th place finish. With her elimination, Barbara Enright remains the only woman to ever make the WSOP Main Event final table.
With Minkin's ability, we wouldn't be surprised to see her join Enright at some point in the future.
John Cynn Looking to Improve on 2016 11th Place Run
One of the more interesting stories remaining in this Main Event is the run of John Cynn. Cynn had an incredible run in the 2016 Main Event where he finished in 11th place and earned $650k. Fast forward to 2018 and he hasn't really done much since then, but that change during this Main Event.
Cynn has managed to navigate his way through the second largest field in Main Event history and will return on Day 7 looking to make the final table. He will return with 14.75 million and with plenty of chips to try and improve on his 2016 run.
In case anyone forgot, John Cynn took 11th in this thing two years ago. Now in the final 36 two years later. @drew_amato snagged this photo of him sweating his final all in from the floor. #WSOPME #WSOPMainEvent pic.twitter.com/vDbcRLtTN1

— ? (@Donnie_Peters) July 11, 2018
Joe Cada Looking to Win Second Main Event Title
Joe Cada is the last prior Main Event champion remaining in the field. He won the Main back in 2009 and earlier this series, he won his third career bracelet in the $3k NL Shootout. No player in the modern era of poker (post-Boom) has made the final table again after winning the Main Event.
Cada will return on Wednesday with 8.85 million. His stack will be plenty deep to where he still has some play and a couple of decent pots can give him the breathing room he needs to make a run at the final table.
With this run Joe cada is a lock for the poker hall of fame

— Sir Walter Scott, 1st Baronet FRSE fan account (@fuckwalterscott) July 11, 2018
The Final Table Will Be Set Wednesday – Aram Zobian Leads
Play was scheduled to conclude with 27 players remaining but there were three players all-in in the closing hands. Clayton Fletcher fell in 28th place when his Kc-10c couldn't outdraw the Kd-Qc of Yueqi Zhu. Barry Hutter was all-in and behind with pocket threes against the pocket aces of Alex Lynskey. However, Hutter binked a three on the turn to triple up.
Jorden Fox ended up falling in 27th during the final hand of play. On the turn, he was all-in with pocket jacks against a turned two pair of Michael Dyer. The river bricked both players and play concluded for the day.
With 26 players remaining, we are just a day away from the final table. The final three tables will return Wednesday to play to the final table. Aram Zobian returns at chip leader with 41.58 million. He has a 10.6 million chip lead over Artem Metalidi who returns with 30.84 million.
Besides Joe Cada, three other prior bracelet winners remain in the field. Yueqi Zhu returns with 19.24 million while two-time bracelet winner Eric Froehlich will come back with 15.28 million. Ivan Luca is also in the hunt with 8.82 million.
Wednesday will prove a long day but at its conclusion, we will know the final table participants in the 2018 WSOP Main Event.
Related Articles