JaoPoker Disappears, Players Left Helpless
By
February 26th, 2018 | Last updated on July 29th, 2018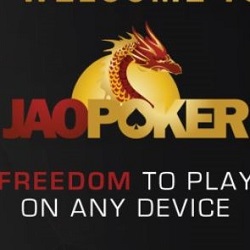 JaoPoker closes virtual doors, leaves players penniless
Online poker sites of all sizes come and go, but without regulation and proper licensing, those poker operators are accountable to no one.
Another site has now come and gone. In a matter of just a few years, JaoPoker came and left, giving players without many online poker options a new opportunity to play but then disappearing within the last week without a trace. Players have no recourse, as a site based outside of the United States with no license or registration cannot be pursued by US law enforcement authorities. The site is gone, along with all player funds, and the story ends there.
Looks like #jaopoker is just one more unregulated U.S. poker site added to the dustbin of history, taking their customers $$ with them. How many times do we have to see this unfold before states take action to protect consumers? https://t.co/W2wTwG0T2A

— PokerPlayersAlliance (@ppapoker) February 23, 2018
What was JaoPoker?
In 2017, an online poker site called JaoPoker appeared and offered players the opportunity to play from countries like the United States. With only a few options, some US players welcomed the site. While it never garnered much attention or traffic, it was a place for micro-stakes online poker.
JaoPoker was based in Cambodia but represented by US-based player Tam Nguyen. Several instances in 2017 gave Nguyen the opportunity to interact with the poker community, and he often displayed a great deal of anger and hostility toward anyone who disagreed with the setup of the affiliate model or anything that went wrong with the software.
In one instance, a player named Eric Nichols was disconnected at the point of the bubble in a $27 tournament and complained to the site. The money was refunded to the player, but Nguyen went on to publicly attack him on social media:
"Eric Nichols is a broke joke for the poker community. I gave him the opportunity to make money with me but all he did is bitch and complain. I even paid him $27 for a complaint of bubbling a tournament and blamed it on our system to keep him happy and he lost it and now filing a complaint that charges were not made from his account. Your (sic) a lowlife bitch. I don't give af, I will blast you. You said your reputation is important. Well you fucked it up off $27 that you got paid on."
The affiliate model was a particularly controversial point, as JaoPoker charged affiliates $250 to establish an account, $100 of which was credited to the affiliate for merchandise from the site's online store. In addition, new players had to input an affiliate code in order to play. Both business decisions limited the site's reach and angered many in the poker community.
Nguyen claimed JaoPoker was a network of players and affiliates "like other major sites." He noted that those who support the site also got paid referral rakeback monthly, team group rakeback monthly, a one-time IBO upgrade bonus, check matching monthly, and ultimately corporate profit sharing. Meanwhile, Nguyen was also promoting JaoSports while promoting himself on social media as an entrepreneur who was constantly signing new business deals and being a successful businessman.
Review sites warned against doing business with JaoPoker and Nguyen. Players filled forum threads with posts about unscrupulous behavior and problems with everything from deposit methods to no certification of the site using a random number generator on the site. Review sites and others in poker media warned players that the site seemed shady, and Nguyen wrote them off as haters and people who didn't understand what it takes to be a success.
Fools think I make money just by representing Jao Poker. Keep hating, while I stack paper. #poker #pokernews

— Tam Nguyen (@NfinitechIT) February 23, 2018
Disappeared as Predicted
As player complaints began to increase, site changes became noticeable. No online store was available for merchandise purchases. PayPal was dropped as a payment processing option with a move toward bitcoin in its place. Glitches on the site were blamed on software, to be resolved by an upcoming software upgrade. Withdrawals were fewer and further between.
Hi everyone, just wanted to welcome you to the new twitter handle for JaoPoker and it's still emerging Poker Room. Please share and let's get the party started.

— JaoPokerRoom (@JaoPokerRoom) November 17, 2017
Nguyen then posted a Facebook video in mid-February claiming JaoPoker was down for maintenance. He claimed he knew nothing more than anyone else except that an upgrade for the site was in the works.
Last week, the fears of players and affiliates who trusted JaoPoker were realized as they received a message from three players who used only their screen names but claimed to speak for the company:
"We are sad to tell you all that JaoPoker has closed. If we have any update on JaoPoker and members (sic) poker balances we will let you know in the community poker chat. We are currently moving poker games to 64spades.com. Please use our bonus code (deleted) to access our private games. I want to thank you all for the great times we had over at JaoPoker and we will rebuild once again.

Regards, Samoachic, Drushbag and CGCatDaddy"
Aside from being one of the most unprofessional, grammatically sad, and inconsistent company letters ever sent, the three people did not even use their own names. Flushdraw investigated the names and determined that the first two were likely Australian poker players Larry Druschel and Belinda Dwyer, while CGCatDaddy seemed to be Chris George of Ohio.
Nguyen then weighed in with another Facebook video, claiming he has no player monies and did not own the site. "For those who joined the ride," he said, "it was good while it lasted."
JaoPoker has closed and everyone's money is gone. I, for one, am shocked!https://t.co/VxNZgNJtG9

— Todd Witteles (@ToddWitteles) February 21, 2018
No Recourse
People with many years of experience in poker pegged JaoPoker as a scam from its launch. There were more red flags than one could count, and players were warned by everyone from professional players like Chris Wallace to longtime poker writers like Haley Hintze.
Those who ignored the warnings and continued to deposit to and play on the site now have no recourse. They will likely never see their money again.
Related Articles