Iden Insists Michigan Online Poker at Finish Line for 2018
By
December 4th, 2018 | Last updated on December 4th, 2018
Home
»
Poker News
»
Iden Insists Michigan Online Poker at Finish Line for 2018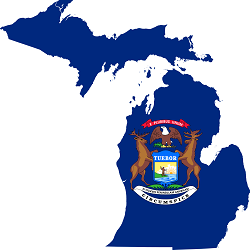 Michigan State Representative Brandt Iden continues to keep the hopes of poker players high as the holidays approach. As the last month of the year began, he gave his most hopeful and confident statement yet about the legalization of online poker and other casino games in 2018.
Online poker supporters have been disappointed many times in the past decade as the United States struggled with the legality and parameters of internet gaming. The American government, both on the federal and state levels, took away most online poker options, toyed with various ways to legalize online poker, and ultimately gave it to the states for their individual decisions. Many states have since talked about legalizing online poker, only to shelve the ideas and bills for consideration at a later date.
But Michigan continues to surprise. The state has taken its internet gaming legislation further than most originally anticipated, and the movement has been powered by Iden.
Michigan could still legalize online poker and sports betting by the end of 2018 if @BrandtIden has anything to say about it. And he does. https://t.co/9nzSGZtvty

— LegalUSPokerSites (@legal_poker) November 19, 2018
Latest Statement of Confidence
Iden's Lawful Internet Gaming Act, known in legislative circles as H.4926, is the bill to watch. And it has been since it was first introduced in September 2017.
Its trajectory has been slow but focused, and the bill's passage through the House in June 2018 showed significant support for internet gaming with a 68-40 vote. Since then, Iden has been working with members of the Senate to find the same cooperation there, though there was some time spent away from pursuing that goal for Iden's mid-term election campaign, which resulted in a third term for Iden.
Not long after that election, Iden resumed his H.4926 mission and expressed confidence that the bill would pass during the lame-duck session of the state legislature. "I certainly hope that it gets to the governor's desk before the end of the year, and I expect it will," he said.
Just last week, Iden reiterated that conviction, telling Online Poker Report, "We're close to the finish line."
Good to see @BrandtIden today at #futureofsportsbetting conference. Strong advocate for #iGaming and believes that Michigan will enact a law very soon.

— John A Pappas (@yanni_dc) November 15, 2018
Few Days Remain
The first week of December puts the end of the year and legislative session in sight. And the holiday session is a light one with only six official days remaining on the calendar and three more days as a tentative session if needed.
–December 4, 5, 6

–December 11, 12, 13

–December 18, 19, 20 ("tentative")
During that limited timeframe, there are several issues that might take precedence over internet poker and casino games. According to multiple sources and summed up by MLive, there are key environmental issues, auto insurance changes, and a minimum wage debate to resolve before the end of the session.
Last Days for Kowall
Technically, Iden is not in charge of the bill's progression at this point. He passed it through the House, and a member of the State Senate must do the rest.
It helps that Senator Mike Kowall is that person. He was the first lawmaker in Michigan to seriously take up the issue of internet poker and gambling, putting forth a bill in 2016. That Lawful Internet Gaming Act became the basis for Iden's bill.
Kowall is a respected person with seniority in the Senate, and he is serving his last weeks in office due to term limits. Considering Kowall has been working to legalize online gaming for several years, it makes sense that he would like to pass the Lawful Internet Gaming Act before leaving his position. And Iden is supportive in that he wants his work on the issue to be completed as well without having to start over completely with a new bill in 2019.
"Senator Kowall is still Floor Leader in the Senate for the remainder of the lame duck," Iden told OPR. "Even though he's not coming back to the legislature because of term limits, he's still very supported in the Senate. He's still an advocate for the bill, and I'll work with him to get it to the finish line."
Keeping Hope Alive
The determination of Iden and Kowall are encouraging for online poker supporters. The respect for Kowall, especially in his last days in office, could work in his favor, and Iden's influence may help as well.
On the other hand, the very limited time remaining in the session is concerning. In addition, the absence of sports betting in the bill may prompt some lawmakers to delay their support in the hopes of seeing a more comprehensive gambling expansion bill in 2019.
Iden is staying positive, though. "We're close to the finish line," he said. "It's a top priority of mine to see it come through to the end."
@CurtisHertelJr Thank you for supporting online #poker. Hopefully 2018 can be the year we get a bill passed. #HB4926 #mileg #MILameDuck #Michigan

— Jacklyn (@cardswinlose) December 3, 2018
Related Articles