GPI Announces Award Categories and Voting Info
By
January 10th, 2020 | Last updated on March 14th, 2021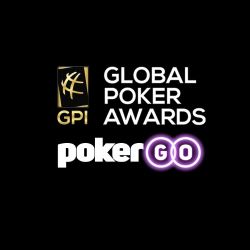 The Second Annual Global Poker Awards are scheduled for March 6, 2020.
This was announced a little more than one month ago as a way to honor the poker players, events, reporting and industry contributions from 2019. This follows the first official Global Poker Awards that took place in April 2019 with respect to 2018.
The 2020 ceremony is set to take place on March 6 at the PokerGO Studio at ARIA on the Las Vegas Strip, the same location as last year's ceremony. It will be live-streamed on PokerGO.
Just this week, the Global Poker Index (GPI) revealed more information about the upcoming festivities.
25 trophies? We're going to need a bigger table! Players Choice, TWO People's Choice Awards, fans involved in each voting category? It's going to be an epic #GlobalPokerAwards https://t.co/4cN16Fhjp5

— Eric Danis (@EricDanisPoker) January 9, 2020
Voting Process Revised
Last year, the voting process to determine many of the Global Poker Awards winners was not very transparent. There was one award winner chosen by the public and two determined by GPI rankings, but most of the winners were selected by a jury. And there was no information provided about that jury.
For this new edition, the voting process was revamped. Per the announcement, "Gone are the days of nomination panel members voting in each and every category and a small jury panel determining the winners; the new process will seek more expert voters in each individual voting category."
Voting Process Detailed
The process will be as follows:
Step 1: Voting Panels

–Every category will have its own voting panel.

–GPI team will vet voters in each category.

–Members will be announced in the days following the ceremony.

Step 2: Preliminary Lists

–GPI team will develop lists of candidates in every category.

–Voting panel members will contribute to the development of those lists.

–GPI team will vet the lists.

Step 3: Preliminary Voting

–Voting panel members will select five candidates from the preliminary lists for the official ballot.

–Members are prohibited from voting for themselves but can select two of five candidates with or for whom they work.

Step 4: Official Ballots

–The total number of ballots submitted will be divided by five to determine the number of necessary votes for the final ballot.

–Candidates receiving the magic number or more of votes is placed on the final official ballot.

–A minimum of eight candidates must be on the ballot in each category.

Step 5: Final Voting

–Voting ballots will be sent to respective voting panel members with enough time allotted to research the list of candidates.

–Voters will select three candidates in each category and rank them in first, second, and third.

–First-place votes equal five points, second-place votes equal three points, third-place votes award one point.

–Fans will be allowed to vote in each eligible voting category, with points being awarded to the choice with the most votes (five), second-most votes (three), and third-most votes (one).

–Panel members cannot place a candidate in first place with or for whom they work.

Step 6: Nominees & Results

–GPI team will tabulate all scores.

–Final four in each category will be revealed to the public in January.

–Winners will be announced on the night of the awards ceremony.

–Scores will be revealed in the days following the ceremony.
The @gpi GLOBAL POKER AWARDS have announced their new and improved voting system. It's elaborate and forensic. It retains a jury aspect, it adds an expert in each category layer and it incorporates a public voice so I assume those snubbed will say it's rigged.

I certainly will. https://t.co/KwyhNj3huU

— 🃏 David Lappin 🃏 (@dklappin) January 8, 2020
Categories for 25 Awards Trophies
Two awards are already determined per the GPI rankings in 2019. Interestingly, these two players won the exact same awards last year. Alex Foxen is the 2019 GPI Player of the Year, and Kristen Bicknell is the 2019 Female Player of the Year.
The new Poker ICON Award will replace the Lifetime Achievement Award, which was awarded to Doyle Brunson last year. In addition, the GPI Award of Merit will replace the Jury Prize, which went to Drew Amato last year. This year, the award winner will be selected by the GPI team, a person or organization to be celebrated for their contributions to poker in 2019.
The Tournament Performance Award of last year will be the Final Table Performance Award. Last year, that award went to Justin Bonomo for the Super High Roller Bowl IV.
The GPI Breakout Player of the Year will return but will be limited to players who have never been on the GPI Top 500 Player of the Year list until 2019. Last year's winner was Ali Imsirovic.
Returning in their original form to the honors will be:
–Streamer of the Year (Lex Veldhuis last year)

–Vlogger of the Year (Andrew Neeme last year)

–Podcast of the Year (Chip Race Poker Podcast last year)

–Event of the Year (WSOP Main Event last year)

–Industry Person of the Year (Angelica Hael of WPT last year)

–Charitable Initiative of the Year (Robbie Strazynski's Run Well last year)

–Tournament Director of the Year (Paul Campbell of ARIA last year)

–Mid-Major/Circuit Event of the Year (RunGood Poker Series last year)

–Journalist of the Year (Sarah Herring last year)

–Broadcaster of the Year (Maria Ho last year)

–Poker Personality of the Year (Brad Owen last year)

–PocketFives Legacy Award (Chris Moorman last year)
New awards on the list this year will be:
–The Hendon Mob (THM) Award for someone who did something exception on the THM database

–Player's Choice for Toughest Opponent

–People's Choice for Hand of the Year

–Twitter Personality of the Year

–Video Media Content of the Year

–Written Media Content of the Year

–Photo Media Content of the Year
🌐♣️🏆 Dear Poker Media, Industry and Fans: Poker Media Content of the Year will have 3 Awards this year: Written, Photo, Video.
📩 Please send your 2019 top picks or your own best work to awards@mediarex.com or DM us with a link + category. Thank you! #GlobalPokerAwards pic.twitter.com/ubHAIUTfDr

— Global Poker Index (@gpi) January 10, 2020
Related Articles