Global Glance: Putin Issues Crackdown, Sweden Opens Window
By
August 4th, 2018 | Last updated on August 4th, 2018
Home
»
Poker News
»
Global Glance: Putin Issues Crackdown, Sweden Opens Window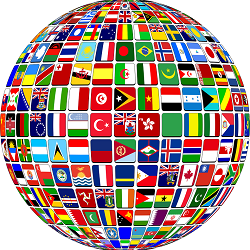 The weekly Global Glance looks at the online poker scene around the world. What happens with online poker and gambling beyond America's borders can and often does impact the state of online poker in the United States.
The majority of the global gambling news from the past week involves cracking down on internet poker and casino game operators, with strict laws and bans in effect to restrict markets. Russia was the largest country to take that step recently, but others like the UK, Italy, and Norway made moves to fight back against unlicensed companies as well. On the other side of things, Sweden opened its window for license applications and find 22 companies interested in the first few days.
Putin Signs Gaming Crackdown Law
There is plenty of news these days about Russian President Vladimir Putin, but this bit of information pertains to the gambling laws of the Russian Federation. Putin signed a new law into effect to create stricter repercussions for land-based casinos and online poker and gambling operators that don't comply with the letter of the law.
Casinos and online operators are required to be licensed and operate only within special gambling zones established for offering various types of betting to Russian citizens. Casinos that violate that law will now face prison time of as much as two years behind bars and/or fines up to 500,000 rubles (which is roughly equivalent to $8,000). Groups of people can see double those sentences and fines, and they are even more severe for organized crime syndicates.
Putin signs gambling law #InTheSpotlightFGN #Russia #Gambling #Legislation https://t.co/unOrIwMv41

— Focus Gaming News (@FocusGamingNews) July 31, 2018
Ireland May Consider Gambling Ad Ban
On the heels of Italy's broad and harsh gambling advertising ban, Irish President Michael Higgins is eyeing a ban of his own. His wishes for a ban relate specifically to the advertising of sports betting but could extend to all gaming promotions for land-based casinos and online gambling operations.
Higgins is demanding new regulations to protect players who may be vulnerable to addictions and to create a market that boasts of gaming integrity. It is unclear if lawmakers are prepared to take action and how broad the scope of the legislation may be.
Irish President demands gaming ads ban #InTheSpotlightFGN #Ireland #Gambling #Regulation https://t.co/ehGgo4Okfz

— Focus Gaming News (@FocusGamingNews) July 30, 2018
Critics of Italy Ban Get Vocal
Speaking of the Italian advertising ban on all forms of gambling, two large organizations banded together recently to express their concern.
The European Gaming and Betting Association (EGBA) and the Italian Online Gaming Association (LOGiCO) wrote a joint letter to Italian parliamentarians to request that they overturn the ban implemented by Deputy Prime Minister Luigi Di Maio. The concerns listed in the letter include two major points. First, they claim that advertising directs consumers to licensed sites that are regulated and protected by the state, but the lack of direction could lead consumers to unlicensed operators that often operate outside of industry standards. Second, they assert the effectiveness of current responsible advertising measures but would be willing to discuss ways to further clamp down on illegal advertising and increase current standards.
Considering how strongly Di Maio feels about his Dignity Decree of which the ban is a part, it seems unlikely that he will be willing to concede any portion of it, especially seeing the recent compliance from Google and Facebook to enforce his ban.
EGBA e LOGiCO Lega Operatori di Gioco su Canale Online hanno inviato ai Parlamentari italiani chiamati a dibattere sul divieto di pubblicità sui giochi e scommesse con vincite in denaro, disposizione prevista dall'art. 9 del #DecretoDignità. https://t.co/7BltDrkfXZ @Primaonline

— EGBA (@EUgambling) July 31, 2018
Norway Persuades Apple to Comply
As for Norway, its government has been pursuing as much compliance as possible in its attempts to lock unlicensed online gambling operators from its market. Though the law is facing criticism from the European Gaming and Betting Association (EGBA) in an Oslo court over it, the Norwegian Gaming Authority (NGA) has been moving along with its crackdown.
And the NGA found that Apple is prepared to comply. It has agreed to remove all applications pegged as relating to unlicensed gambling operators from its App Store. This is in line with typical Apple rules, as compliance with national laws is standard.
Apple takes down apps per Norway's request #InTheSpotlightFGN #Norway #Gambling #Regulation https://t.co/6nokO2yQYJ

— Focus Gaming News (@FocusGamingNews) August 3, 2018
UKGC Issues Tougher Ad Regulations
Same story, different regulator. This time, it's the UK Gambling Commission (UKGC) that is tightening its penalties for violating advertising laws related to gambling. They will go into effect on October 31, 2018.
The new regulations make it easier for the UKGC to take action against businesses that violate the law by making gambling look glamorous or appealing to children. They will also be able to hold third-party affiliates responsible for their advertising.
As for the UKGC, it vowed to work on a faster process to handle customer complaints within eight weeks.
News: Gambling Commission takes tougher stance on advertising breaches https://t.co/dw3oiCmrsM

— Gambling Insider Mag (@G_Insider) August 1, 2018
Sweden Accepts Online Gaming Applications
When the licensing window opened for online gambling operators to submit applications for the new Swedish regulated market, it reported 22 companies submitted their license paperwork right away. The country's gaming regulator, Lotteriinspektionen, accepted the documents and will begin its investigations into all of the companies.
The market is set to open with licensed regulators in January 2019, but many more applications are expected. While operators like former monopoly Svenska Spel and international operator Betsson were among the first to apply, others like Kindred are expected to follow. Lotteriinspektionen expects as many as 70 applications before the process concludes.
Sweden takes 22 licence applications on launch day https://t.co/GD9JnlbNy4 pic.twitter.com/PXoMUdtKx1

— iGaming Business (@iGamingBusiness) August 2, 2018
Related Articles