Galfond Provides Detailed Update of Run It Once Poker
By
April 2nd, 2019 | Last updated on April 2nd, 2019
Home
»
Poker News
»
Galfond Provides Detailed Update of Run It Once Poker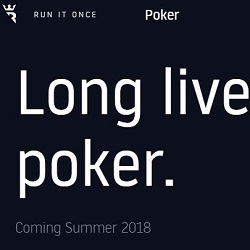 Before Run It Once Poker launched in early February 2019, it had been a long time since a poker site had been so highly anticipated and welcomed.
Part of the positive response before and after launch came from the man behind the site. Phil Galfond is well-respected in the poker community, and he had been open and transparent for several years as he built the site from the ground up. Players felt that they had a stake in Run It Once, as they watched it emerge, provided input as requested, and looked so forward to a new online poker option.
Galfond made no pie-in-the-sky promises, acknowledging that the launch would bring glitches and bugs that would have to be fixed as the weeks progressed. Players were under no illusions that they would magically be transported to the perfect poker site, but this somehow made it all the more enticing.
While Galfond has been providing updates via social media for the past two months, he put many of his thoughts into his latest blog post to give a comprehensive and transparent update to current and potential players, fans, and friends.
Running a poker site is hard. Who knew?! https://t.co/9uAgyyY6xH

— Phil Galfond (@PhilGalfond) April 1, 2019
Where the Players At?
There are players on Run It Once Poker. Galfond said he averages 100 cash players at a time, with peaks of 200 or more during high traffic hours. He compares it to a site like PokerStars in the relatively small New Jersey market. He had hopes for more players at higher stakes, but it is important to keep in mind that Galfond, himself, is a high-stakes poker pro.
However, the site is still in beta, and Run It Once has only cash games, no MTTs or SNGs yet. He knows that more players will join when traffic increases, and that will enable the eventual introduction of those other poker options, but players hesitate to join if their preferred games are not running.
With that said, Run It Once is not yet breaking even financially on a daily basis yet. While Galfond hopes for profit at some point, he is more focused on sustainable growth that continues to carry the site from his dreams into reality.
"So," he wrote, "to sum up my feelings on how traffic has been: I'm pleased, optimistic, terrified, stressed, and focused!"
Games and Software Seem Solid
From his perspective, Galfond feels that the unique qualities of Run It Once, such as Splash the Pot and the avatars, not to mention the customized software, are a hit with players. And from personal feedback he has received, as well as what he can tell from watching live streamers, players are happy with the games as mad available.
As far as the software, players seem to enjoy it with the exception of bugs and glitches, and most players understand that those things happen in beta. Galfond anticipated many of the issues, and the natural course of making improvements may be frustrating for all but not unexpected. And another update is on the schedule, so that may fix a number of issues.
On a very positive note, Galfond is pleased with the success of promotions thus far, especially the streamR program, which gave players of all levels and skill sets to stream Run It Once and earn rakeback. Not only have three players reached the level of 100% rakeback, there have been 284 streamR applications and ones running already tend to be of high quality.
Other promotions, like Super Splash, have been successful in bringing more players to the tables, and he hopes to run those features at more stakes.
€200PLO #SuperSplash starts tonight at 19:00 CET. Expecting a nice player pool and some good action!

If you record today's #SuperSplash session and send it in, I'll review it in a @RunItOnce video & give you some general strategy feedback personally. pic.twitter.com/9KHKzG42Up

— Phil Galfond (@PhilGalfond) March 31, 2019
Who is Ghil Phalfond?
Galfond gives special kudos to a Discord member named Ghil Phalfond, someone Galfond calls extremely generous and a top supporter of Run It Once Poker. The mystery player has been streaming on Discord and is using that platform to promote Run It Once.
In addition, Phalfond has given away more than €10K of his own money so far and plans to do more giveaways going forward.
It seems unlikely that the public will ever be able to figure out who Phalfond is.
Our Discord hero, Ghil Phalfond, is hosting another contest and giving away €2,000! This contest is focused on sharing Run It Once Poker with your friends. The top 10 referrers will get €50 to €500, and 12 random participants will win €50!https://t.co/VHfvT2dceO

— Run It Once Poker (@RunItOncePoker) March 25, 2019
Customers in Contact
Galfond reports that the past two months have seen 3,568 emails to the customer support team, with response time averaging just over one hour. However, half of the emails were handled within eight minutes and 75% within 30 minutes.
He also reports that of the 2,816 withdrawals requested from online poker accounts thus far, the average approval time is just under 10 hours. And more deposit and withdrawal options are in the process of being added, but approvals from regulators are pending.
Going forward, Galfond notes that they are looking to offer resizeable tables, positive changes to Splash the Pot, more customization options, and an overall site update that he's hoping to push through in the coming week.
"I'm very excited to improve our platform for you in the coming weeks and months," Galfond wrote. "Right now, we're working toward more consistency and traffic so that those of you who are waiting for those things before jumping into the action can finally make that jump."
Related Articles