Florida Gambling Changes Could Include More Poker
By
July 20th, 2018 | Last updated on July 29th, 2018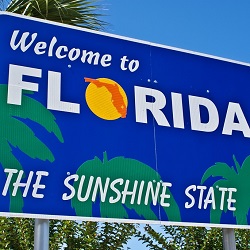 Live poker is already prevalent in Florida. The Seminole Tribe of Florida has a compact with the state, and several of its casinos offer sizeable poker rooms that have become hubs for cash game and tournament players over the past decade.
Many racetracks in the state also offer poker rooms, some of which have also drawn an impressive number of players. And jai alai frontons are the latest establishments to be given legislative approval for their own poker rooms. Jail alai is a form of handball, a professional sport that is immensely popular in Cuba and Spain, as well as in some parts of the United States. Since pari-mutuel betting is allowed on jail alai games, and Florida law extends poker options to all pari-mutuel gaming facilities, poker rooms have been popping up.
Due to the jai alai provision and other technicalities in Florida's poker laws, more establishments are taking the chance on poker and opening new rooms.
Before Miami had the Marlins, Panthers and Heat… they had Jai Alai!

Here's our short: https://t.co/MxWqiKrD6C pic.twitter.com/y6qsTUdv0p

— ESPN Films 30 for 30 (@30for30) August 5, 2016
As long as legislators don't stop it, poker will continue to grow by leaps and bounds in the Sunshine State.
Pertinent Laws
In Title XLVI (Crimes) of the Florida statutes, Chapter 849 addresses gambling, under which Section 086 authorizes cardrooms.
"It is the intent of the Legislature to provide additional entertainment choices for the residents of and visitors to the state, promote tourism in the state, and provide additional state revenues through the authorization of the playing of certain games in the state at facilities known as cardrooms which are to be located at licensed pari-mutuel facilities. To ensure the public confidence in the integrity of authorized cardroom operations, this act is designed to strictly regulate the facilities, persons, and procedures related to cardroom operations.
"Furthermore, the Legislature finds that authorized games herein defined are considered to be pari-mutuel style games and not casino gaming because the participants play against each other instead of against the house."
A cardroom, per the statute, is defined as a "facility where authorized games are played for money or anything of value" and "do not constitute casino gaming operations."
As far as authorized games, it means "a game or series of games of poker or dominoes which are played in a nonbanking manner."
Jai Alai Poker Rooms
A handful of jai alai-associated poker rooms have opened in the past several years. The most well-known are Kings Court in Florida City, Magic City Casino in Miami, and Calder Casino in Miami Gardens.
Another one is in its early stages in Miami. A casino operator named West Flagler Associates, which runs Magic City, recently obtained its permit to operate a jai alai and poker operation, which is going to be built on a lot with the hopes of opening in the next few years. The permit revealed that they will offer jai alai from May through November each year, though the poker room will be open all year.
A Trendy Miami Neighborhood Is Getting … Jai Alai? https://t.co/LhCxU7AfoF

— David Adelstein (@DavidAdelstein1) July 12, 2018
There may be legal battles in the company's future, however, as neighboring businesses are not pleased, and anti-gambling groups are standing in opposition. According to WLRN, an advocacy group called No Casinos is studying potential legal challenges to stop the project. And some of the non-profit organizations currently in one of the nearby buildings are seeking new locations.
West Flagler actually applied for the state permit seven years ago, and it was only recently approved after years of court battles. The current permit was issued by the Florida Department of Business and Professional Regulation, but the company must still obtain approvals from the city and county to move forward, and applications will be submitted in the coming year or so.
Further Gambling Expansion
There have been multiple attempts to garner support in the state legislature for non-Native American casinos and other forms of gambling expansion in the state. Currently, the Seminoles control the ability of Florida to expand full-fledged casinos per their current compact. And the power of the Seminoles in the state is substantial.
In order to change current law, there must be a constitutional amendment backed by the voters of Florida. There is one such opportunity on the ballot for the November 6, 2018 election.
The Casino Gambling Initiative, if approved, would give voters the exclusive right to authorize casinos going forward, casinos being comprised of card games, slot machines, and other casino-style games. All ballot measures in the future would then require a citizen-initiated process by which a number of signatures of registered voters must be obtained for ballot consideration.
Currently, however, the Seminoles reserve the exclusive right to offer blackjack, craps, and roulette in Florida, which would present a problem that would have to be addressed. The agreement with the Seminoles was signed by Governor Rick Scott in 2015 and is effective for 20 years. While this may end up in a legal fight, poker rooms are not an exclusive right of the tribe and would not be an issue.
If Amendment 3 passes in November by 60% or more of the popular vote, a new day may begin for casinos in Florida. This will also drastically increase the opportunity for poker rooms throughout the state.
Regardless of your position on casino gambling, we can all agree #Florida voters, NOT Tallahassee politicians and gambling lobbyists, should make these important decisions. Amendment 3 will do just that! LIKE if you're voting #YesOn3 in November! #VotersinCharge #sayfie #FlaPol pic.twitter.com/SFu0xJlNAD

— VotersInCharge (@VotersInCharge) July 20, 2018
By extension, this could open the state of Florida to possibilities of online poker. Online gaming in general may be questionable due to the Seminoles' hold on some of the games that many online casinos would want to offer, but online poker is widely played across the state and separated from other casino games. Whether on a statewide or citywide level, internet poker may be in the hands of Florida voters sooner than anticipated.
Related Articles