Farrell Wins WPT500 and Trudeau Tops WPTDeepStacks in June
By
July 9th, 2019 | Last updated on July 9th, 2019
Home
»
Poker News
»
Farrell Wins WPT500 and Trudeau Tops WPTDeepStacks in June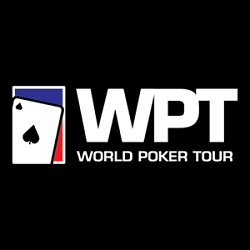 Amidst the action happening at the Rio in Las Vegas, where the World Series of Poker was playing out to much fanfare, the World Poker Tour was following its own schedule.
On the Las Vegas Strip at Aria, the WPT hosted it's a Zynga Poker WPT500 event. Celebrating its sixth year, the tournament offered a $500 buy-in and numerous starting days, several of which featured turbo structures.
And down in Florida, the WPTDeepStacks tour kicked off its latest season with a $1K buy-in event at the Seminole Hard Rock Tampa. The tournament offered a $500K guarantee on its prize pool.
Both events played out and declared their champions in June.
Zynga Poker WPT500 Las Vegas
This event kicked off at Aria on June 21 with many starting days and played down into the money with each one. The final 12.5% of players each day made at least $900 each, and the top 5% bagged chips to head into Day 2. Those starting flights played as follows:
–Day 1A:  205 players, 26 paid, 11 survived

—-Chip leader:  Sung Joo Hyun (690,000 chips)

–Day 1B:  239 players, 30 paid, 12 survived

—-Chip leader:  Marco Bognanni (842,000 chips)

–Day 1C:  113 players, 15 paid, 6 survived

—-Chip leader:  Zakhar Galper (615,000 chips)

–Day 1D:  113 players, 15 paid, 6 survived

—-Chip leader:  Sheldon Gross (540,000 chips)

–Day 1E:  485 players, 61 paid, 25 survived

—-Chip leader:  Sammy Boujmala (688,000 chips)

–Day 1F:  226 players, 29 paid, 12 survived

—-Chip leader:  Min Ji (1,023,000 chips)

–Day 1G:  198 players, 25 paid, 10 survived

—-Chip leader:  Robert Rothstein (577,000 chips)

–Day 1H:  353 players, 45 paid, 18 survived

—-Chip leader:  Ben Farrell (793,000 chips)
The total prize pool ended up being $966,000.
Day 2 saw all returning players vying for final table seats, and Ben Farrell took the chip lead for those final nine.
Sung Joo Hyun didn't take long to capture the chip lead, but Nikita Luther was aggressive and took it soon after. But Farrell eliminated the eighth-place finisher, while Hyun ousted the seventh-place finisher and Farrell was back to oust the sixth and fifth finishers. Hyun plowed ahead, but it was Luther who ousted Min Ji in fourth place.
The three finalists were nearly even in stacks for some time, with all three exchanging the chip lead. But Farrell got aggressive and took a significant lead, chipping away at Hyun, though the latter doubled up his short stacks several times to stay in action. Luther finally ousted Hyun in third place.
Luther took 21.1 million into heads-up play against the 17,525,000 of Farrell, but the latter found a huge double-up opportunity and left Luther with just 5,375,000 chips. Luther lost ground from there and put her K-Q in against the A-5 of Farrell, and an ace hit the flop. Farrell captured his first WPT title.
1st place:  Ben Farrell – $155,000

2nd place:  Nikita Luther – $109,300

3rd place:  Sung Joo Hyun – $75,000

4th place:  Min Ji – $55,000

5th place:  Trey Morris – $40,000

6th place:  Eduards Kudrjavcevs – $30,000

7th place:  Jakub Wojtas – $22,000

8th place:  Ritesh Shah – $17,000

9th place:  Jim Pennella – $14,000
Check out all the action from the @zyngapoker #WPT500 final table that resulted in Ben Farrell winning the title and $155,00 first-place prize at @ARIAPoker! pic.twitter.com/5dXfG9Y139

— World Poker Tour (@WPT) June 28, 2019
WPTDeepStacks Tampa
For those unable or unwilling to travel to Vegas for poker action in June, Florida was a good place to be. The Seminole hosted the WPTDeepStacks tournament, the first one of Season VI, with three starting days on June 13, 14, and 15.
Day 1A brought in 155 entries with 28 surviving to bag their chips at the end of the night. Ken O'Donnell led the pack with 376K. Day 1B brought in 185 more entries, which resulted in 62 players surviving with Dan Chalifour holding 533K and the lead. Day 1C added 319 entries, out of which 59 made it through with chips, Kevin Greene holding the most with a bag of 376K.
The totals for the tournament were:
Entries:  659

Prize pool:  $639,230

Paid players:  83

Min-cash:  $1,559

Winner payout:  $120,842 plus $3K prize package for WPTDeepStacks Championship
Day 2 brought 119 players back to the tables, and the money bubble burst not long after the day began. Players then busted at a fairly quick pace until Blaise Ingoglia exited in 10th place for $9,792 at the hands of Ryan Anderkin. Play ended with Dan Chalifour in the lead and Jeff Trudeau not far behind.
The #WPTDSTampa final table is underway at @SHRTPoker! Follow the live updates to see who wins the first event of WPT Season XVIII and the $120,842 first-place prize. https://t.co/CGLzM0hGt4 pic.twitter.com/3tT5W49qH1

— WPTDS (@WPTDeepStacks) June 17, 2019
The final table started with short-stacked Peter Walsworth doubling through Chalifour and Mark Scacewater doing the same through Trudeau. Walsworth then ousted the ninth-place finisher before Wendy Vo doubled through Walsworth and then through Scacewater. Saj Illikal busted the eighth-place finisher before Walsworth exited in seventh. Vo doubled through Chalifour, who doubled through Scacewater, who left in sixth place soon after. Chalifour did exit in fifth. Vo doubled through Fabian Foster and then ousted Illikal, Foster eventually busted Vo in third place.
Foster took 13,025,000 chips into heads-up against the 6,725,000 of Trudeau, but the latter quickly doubled through Foster and then climbed into the lead. The two then exchanged double-ups several times. Ultimately, Trudeau prevailed with pocket jacks over A-8.
1st place:  Jeff Trudeau – $120,842

2nd place:  Fabian Foster – $82,627

3rd place:  Wendy Vo – $53,259

4th place:  Saj Illikal – $38,765

5th place:  Dan Chalifour – $29,712

6th place:  Mark Scacewater – $23,776

7th place:  Peter Walsworth – $19,704

8th place:  Ryan Anderkin – $15,689

9th place:  Alex Kimpel – $11,783
Thanks again to all the players and @SHRTPoker staff for a great #WPTDSTampa event! Relive the final table won by @Jeff_Trudeau to kick off Season XVIII of the World Poker Tour. pic.twitter.com/lv96fdb3W7

— WPTDS (@WPTDeepStacks) June 19, 2019
Related Articles