Eriquezzo Wins Second WSOP Global Championship
By
August 11th, 2019 | Last updated on August 11th, 2019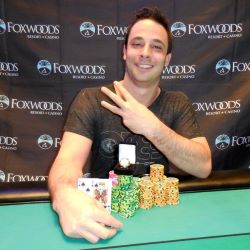 The World Series of Poker hosts its WSOP Circuit tour throughout the year. Each season begins after the WSOP finishes up in Las Vegas and runs through to the start of the next summer series.
And at the end of each WSOP Circuit season, there is a Global Poker Championship, one event that gives WSOP-C Main Event ring winners and casino champions the chance to compete for a final table to cap off the previous season.
This year, the 2019 Global Poker Championship was the culmination of the 2018-2019 season that ended in May, but it wasn't held until the next WSOP Circuit began. The current season kicked off in mid-July at Choctaw Durant in Oklahoma and then headed to Harrah's Cherokee in North Carolina. And amidst that series of tournaments, the Global Poker Championship took place.
Who Could Play?
The WSOP Global Poker Championship is unique because it rewards winners of WSOP Circuit rings with a chance to win a WSOP gold bracelet. In addition, the prize pool offers a guaranteed $1 million.
Every WSOP Circuit Main Event winner – both on the national and international Circuit – throughout the 2018-2019 season and every winner of the stops' Casino Champion leaderboard were awarded a free seat to the Global Poker Championship. The top 50 players on the full season's leaderboard were also invited to play at no charge. All of the aforementioned players were also given travel expenses and free hotel accommodations at Harrah's Cherokee so they could participate.
There were be more players, though.
Any player who won a WSOP Circuit gold ring at any event during the 2018-2019 or finished 50th to 100th on the season leaderboard had the opportunity to play, though they had to pay $10K as a buy-in. There was no rake to play, however.
Action in Cherokee
The tournament got underway on Tuesday, August 6.
When registration was complete, the event showed two more players than the previous year. These were the final numbers:
Players:  129

Prize pool:  $1.04 million

Players paid:  20

Minimum payout:  $14,545

Winner payout:  $279,431
As usually happens, the first day saw more than half of the players hit the rail, and only 53 bagged chips at the end of the night. Joshua Turner was the day's chip leader with 649K, though he was significantly ahead of everyone else. Second in chips was Steven Song with 374,500.
On Day 2, play moved forward until the money neared, at which time Roland Israelashvili was eliminated on that money bubble in 21st place. Will Berry then became the first player to cash in the event, ousted at the hands of Ryan Eriquezzo. Steven Song ended up out in 10th place, and that put the final nine at one single table.
Action continued for quite awhile before Josh Reichard was ousted by Eriquezzo in ninth place, followed by Jarod Minghini, and then Eriquezzo stepped up again to bust Jordan Piva. Play stopped for the night with six players remaining and Paulius Vaitekunas in the lead with 2.25 million chips. Eriquezzo was second holding 1.9 million, followed by Joshua Turner, Maurice Hawkins, Eric Salazar, and Adam Cedric on the short stack.
Final Day FTW
It didn't take long for everything to change on the final day, August 8. Salazar doubled through Eriquezzo and quickly climbed into second place on the leaderboard. Hawkins fell but then doubled through Cedric, and Salazar sent Cedric home in sixth place.
Eriquezzo doubled through Vaitiekunas, and Hawkins took the latter to task with pocket kings. That left Vaitiekunas out in fifth place. Hawkins also ousted Turner in fourth place
With Salazar leading the final three, Hawkins lost ground. Eriquezzo then took A-J to Hawkins' A-8 on an ace-high board, and Hawkins departed in third place.
Eriquezzo took 4 million chips into battle against Salazar and his 3.7 million, and Eriquezzo ran away with his lead. But Salazar fought hard and doubled through, only to see Eriquezzo double back. That led to the two putting it all on the line on a J-7-3-2 board with three diamonds. Salazar moved all-in with A-6 and one diamond, but Eriquezzo snap-called with K-10, both diamonds, for the win.
1st place:  Ryan Eriquezzo (USA) – $279,421

2nd place:  Eric Salazar (USA) – $172,431

3rd place:  Maurice Hawkins (USA) – $119,555

4th place:  Joshua Turner (USA) – $84,961

5th place:  Paulius Vaitiekunas (Lithuania) – $62,023

6th place:  Adam Cedric (France) – $46,546

7th place:  Jordan Piva (USA) – $35,939

8th place:  Jarod Minghini (USA) – $28,572
Eriquezzo Takes Second Championship
The young poker pro has been playing US tournaments for more than a decade, with his first win at a Foxwoods series in late 2008. He won several events at Foxwoods through the years. He also won a Borgata Poker Open event in 2011 and another in 2013.
Eriquezzo's first WSOP Circuit win came in 2010 at the New Orleans stop, where he won a $340 NLHE event. Two years later, he won the WSOP Circuit Atlantic City Main Event for more than $191K, and that garnered him a seat into the National Championship that year. He won that for $416,051.
In 2015, Eriquezzo won a WSOP Circuit ring at Foxwoods, but it was in 2019 that he won the WSOP-C Atlantic City Main Event again, that time for more than $124K. It was that victory that put him into the 2019 Global Championship, which he won this week.
In total, Eriquezzo has won more than $1.8 million in live poker tournaments.
Related Articles