Delaware Online Poker Still Rising in 2019
By
November 15th, 2019 | Last updated on October 16th, 2020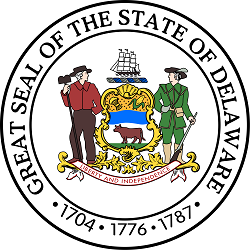 Delaware internet gaming remains a small market, especially in comparison to New Jersey. And it will likely be a drop in the bucket compared to Pennsylvania when those numbers start to add up. But Delaware revenue from online poker and casino games continues to increase.
The 2019 numbers show that even a seemingly insignificant market can grow and contribute solid numbers to the state's coffers.
Small but Mighty
The monthly net revenue for Delaware internet gaming is solidly in the six-figure range. With only a few hundred new registrations each month, the market continues to attract a steady stream of new players to the online sites connected to the three linked racinos.
As reported by the Delaware Lottery, the net proceeds from internet gaming breaks down the amount played, amount won, and net revenue from Delaware Park, Dover Downs, and Harrington Raceway. The numbers further break down by table games online, video lottery, and poker rake and fees.
The reporting makes it very easy to look at the monthly and yearly numbers, which are available since the games went online in November 2013.
All numbers are public via the Delaware Lottery website.
When we last checked in, results from the first half of 2019 were available and showed significant growth. Online poker was up 17%, and online gaming overall was up 53%.
According to the @DELottery, online poker AND all of igaming is on the rise in Delaware. We break down the revenue numbers for the first half of 2019: https://t.co/gOON09KAhe pic.twitter.com/iOOpdnb0PH

— Legal US Poker (@legal_poker) August 19, 2019
Let's look at the third quarter 2019.
Delaware Online Poker Revenue Q3
The third quarter of online poker rake and fees indicates that the growth continues for this sector of Delaware's internet gaming industry.
–2019 Q3 poker:  $74,549.64

–2018 Q3 poker:  $70,544.87

–Year-on-year movement:  5.7% increase
To look back at the three quarters of 2019 thus far, the numbers tell a bit of a different story:
–2019 Q3 poker:  $74,549,64

–2019 Q2 poker:  $68,251.39

–2019 Q1 poker:  $73,588.39
It is unclear why the second quarter took a dip, but the third quarter righted the ship and put the year back on track for overall growth.
Delaware Total iGaming Revenue Q3
As for the year-on-year increase for all of online gaming – internet table games, video lottery, and online poker – the trend follows online poker but in a more significant way.
–2019 Q3 total internet gaming:  $963,704.75

–2018 Q3 total internet gaming:  $807,756.24

Year-on-year movement:  19.3% increase
Similarly to poker, total internet gaming in the second quarter of 2019 did take a slight downturn but by a much smaller percentage.
–2019 Q3 total igaming:  $963,704.75

–2019 Q2 total igaming:  $834,094.57

–2019 Q1 total igaming:  $842,977.74
The dip in the second quarter was barely noteworthy.
Delaware iGaming Registrations Q3
This is an entirely different story. New player registrations do not coincide with revenue fluctuations. This movement in 2019 is interesting:
–2019 Q3 registrations:  1,288

–2019 Q2 registrations:  1,044

–2019 Q1 registrations:  1,538
There is little correlation between the decrease in new player registrations as the year has progressed with revenue increases, at least from the base numbers.
Largest Year to Date
Looking at the annual internet gaming revenue in Delaware since its first full year in 2014, the number to beat is the $2.9 million from 2016.
–2018 internet gaming:  $2,491,129

–2017 internet gaming:  $2,391,942

–2016 internet gaming:  $2,906,855

–2015 internet gaming:  $1,798,840

–2014 internet gaming:  $2,091,317
Delaware is on track to beat it. The total of the first three quarters of the year is $2,640,777.06, but if October revenue is added in, the 2019 revenue total is at $2,929,452.24. There are two more months left to tally, but 2019 is already the most successful year for this Delaware industry thus far.
Related Articles