Delaware Lottery Shows iGaming Drop but iPoker Rise
By
August 20th, 2020 | Last updated on August 20th, 2020
Home
»
Poker News
»
Delaware Lottery Shows iGaming Drop but iPoker Rise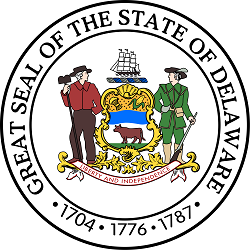 The Delaware online gambling market is an interesting entity. While not much in an era of a pandemic is predictable, Delaware stands on its own, generally defying the trends of New Jersey and Pennsylvania online gambling.
When internet poker in New Jersey and Pennsylvania drops, it rises in the mini-market of Delaware, with its singular site and a much lower population. And when online casino games soar in those larger states, that sector drops in Delaware.
The July revenue numbers released by the Delaware Lottery this week present a situation that may not paint a clear picture until the year is over.
Online Poker Rises Against the Tide in July
As mentioned, online poker grew from June to July in Delaware, while it dropped nearly 8% in nearby Pennsylvania. The trajectory of the ipoker sector in 2020 has been interesting to watch in Delaware.
–July 2020 online poker rake/fees:  $62,603.99 (8.4% month-on-month increase)

–June 2020:  $57,742.58 (38.6% decrease)

–May 2020:  $93,973.39 (11.8% increase)

–April 2020:  $84,033.67 (45.7% increase)

–March 2020:  $57,689.50 (86.9% increase)

–February 2020:  $30,870.96 (1.3% decrease)

–January 2020:  $31,279.77
January and February were pre-coronavirus months. No land-based establishments had closed. But online poker revenue showed solid signs year-on-year: up 40% in January and nearly 22% in February. The positive trend was already duly noted.
Then, everything changed in mid-March. When the three racinos – Delaware Park, Dover Downs, and Harrington Downs – closed, as did every other one across America, online poker revenue began to soar. April and May showed record highs. Other states with online poker showed similar trends.
However, in June, ipoker revenue dropped, though this happened in New Jersey and Delaware, too. But in July, New Jersey rose due to the WSOP 2020 Online, while Pennsylvania dropped…but Delaware revenue increased.
Year-on-year growth is exceptional, but as mentioned, this is an exceptional year. July 2020's revenue was 120.6% higher than July 2019. That follows the pattern of the last several months: 141% for June, 329% for May, 276% for April, and nearly 124% for March.
Internet Gaming Sector Down for Second Month
This wasn't altogether unexpected. As gamblers left their homes in July, whether for live racinos or vacations, fewer of them logged on to play casino games online. While poker grew, video lottery games and online table games dropped.
Even so, the growth from the previous year is notable.

–January 2020 iGaming net:  $387,865.46 (up 38.7% from 2019)

–February 2020:  $324,957.62 (up 18.3% from 2019)

–March 2020:  $514,959.34 (up 78.3% from 2019)

–April 2020:  $856,181.94 (up 225.3% from 2019)

–May 2020:  $1,134,900.04 (up 261.8% from 2019)

–June 2020:  $964,606.96 (up 275% from 2019)

–July 2020:  $705,532.70 (up 144.4% from 2019)
New Registrations Down in July
Since hitting the peak in April, new registrations have decreased steadily in the months that followed. July was no exception, down 24.1% from June. There was still a substantial year-on-year increase, though.
–January 2020 registrations:  468 (down 19% from 2019)

–February 2020:  431 (down 9.8% from 2019)

–March 2020:  930 (up 92.9% from 2019)

–April 2020:  1,410 (up 288.4% from 2019)

–May 2020:  993 (up 186.2% from 2019)

–June 2020:  881 (up 163.8% from 2019)

–July 2020:  668 (up 40% from 2019)
The "little market that could" continues to roll on. If it can keep even a portion of the momentum it garnered during the first half of 2020, it will be a prime example of a proper online gaming market.
Would you prefer to play from the comfort of your own home? Online games are available through Delaware Park, Dover Downs and Harrington! Learn more about iGaming here: https://t.co/2mST3Ciohc pic.twitter.com/4E6FVEbTou

— The Delaware Lottery (@DELottery) August 20, 2020
Related Articles