Delaware Online Poker and Gaming Up Again in May
By
June 16th, 2020 | Last updated on October 16th, 2020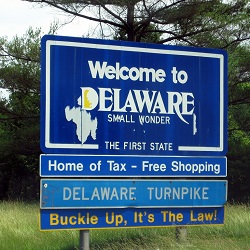 The Delaware gambling market is small as a whole, but its internet gaming sector is even smaller. Even so, it is an impressive sector and showed significant growth during the coronavirus pandemic.
One might think that isn't a tough thing to do. When live gambling is not an option for months, online gambling options are going to do better. Sure. One would be correct.
However, just days ago, New Jersey released its May internet gaming revenue numbers, and while that sector increased overall from April to May, online poker did not. It actually fell significantly in May.
Delaware, on the other hand, grew steadily into May without batting an eye.
The little state on the eastern coast of the United States doesn't always get a lot of attention, but Delaware is showing that it can make the most of internet poker and casino games, as well as online lottery games. The "little market that could" keeps impressing, more so than ever now on a monthly basis as its racinos remained closed.
As we continue to take proper precautions during these challenging times, we encourage you to join the Delaware casino's iGaming community by downloading our apps and registering today! pic.twitter.com/SQ7PeA8t5q

— The Delaware Lottery (@DELottery) May 21, 2020
Online Poker Grows…Again
Amidst other online gambling options, Delaware players maintained their interest in poker. In fact, poker revenue grew in May, the second full month of the Covid-related lockdown.
–January 2020 rake/fees:  $31,279.77 (up 40% from $22,335.51 in 2019)

–February 2020 rake/fees:  $30,870.96 (up 21.8% from $25,348.17 in 2019)

–March 2020 rake/fees:  $57,689.50 (up 123.7% from $25,904.71 in 2019)

–April 2020 rake/fees:  $84,033.67 (up 276% from $22,357.46 in 2019)

–May 2020 rake/fees:  $93,973.39 (up 329% from $21,884.87 in 2019)
On a monthly basis, the growth followed a pattern. February to March grew 86.9% due to the shutdowns of land-based gambling in mid-March. April revenue rose 45.7%, as it reflected an entire month of no other gambling. May grew 11.8% on its own merits, as the same exact options were available in April and May.
Internet Gaming Sector Tops $1.1M
Total internet gaming rose substantially in Delaware in May, putting the sector over the $1.1 million mark and showing more of its potential. This number includes the aforementioned poker figure, as well as revenue from online table games and video lottery games.
–January 2020 iGaming net:  $387,865.46 (up 38.7% from $279,541.09 in 2019)

–February 2020 iGaming net:  $324,957.62 (up 18.3% from $274,692.11 in 2019)

–March 2020 iGaming net:  $514,959.34 (up 78.3% from $288,744.54 in 2019)

–April 2020 iGaming net:  $856,181.94 (up 225.3% from $263,182.75 in 2019)

–May 2020 iGaming net:  $1,134,900.04 (up 261.8% from $313,648.40 in 2019)
The monthly growth is significant here, too. February to March showed 58.5% growth, topped by a 66.3% rise in April. The boost from April to May of 32.5% wasn't as significant on its face, but considering the available gambling options did not change from April to May, that growth was particularly notable.
New Registrations Fall
New customer registrations actually dipped quite a bit in May.
–January 2020 registrations:  468 (down 19% from 578 in 2019)

–February 2020 registrations:  431 (down 9.8% from 478 in 2019)

–March 2020 registrations:  930 (up 92.9% from 482 in 2019)

–April 2020 registrations:  1,410 (up 288.4% from 363 in 2019)

–May 2020 registrations:  993 (up 186.2% from 267 in 2019)
Obviously, the number of new registrations remains leaps and bounds ahead of 2019 numbers. However, new players jumped 115.8% from February to March and then 51.6% to April, but then shrunk 42% from April to May.
This could signify that the growth of the sector came predominantly from returning and consistent players. Nearly 1,000 new registrations are nothing to sneeze at, though.
Delaware igaming revenue hits new high in May https://t.co/hDNaIRVhyy pic.twitter.com/pKqSGvVjt4

— iGB (@iGamingBusiness) June 16, 2020
Related Articles