DDoS Attack and Overload on GGPoker Mar WSOP 2020 Kickoff
By
July 21st, 2020 | Last updated on July 21st, 2020
Home
»
Poker News
»
DDoS Attack and Overload on GGPoker Mar WSOP 2020 Kickoff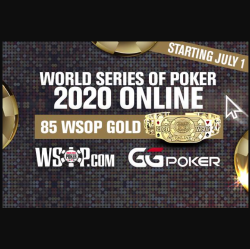 Putting the World Series of Poker online as a replacement for the summer series in Las Vegas was destined to be a bit complicated. The coronavirus pandemic has handily complicated everything.
Thus, the WSOP 2020 Online produced a schedule that put 31 of the 85 tournaments on the US-facing WSOP.com website and the other 54 events on the GGPoker network of sites. GGPoker and Natural 8 are the most popular of those sites and offer online poker service to many players outside of the United States.
The WSOP.com tournaments kicked off on July 1 and run one event per day throughout the month. The GGPoker tournaments kicked off on Sunday, July 19. The plan was to kick off the non-US series with three events that day.
Two of them didn't run. One did and declared a champion from Japan.
Confusion and Frustration
Players around the globe were excited to be able to compete for a real WSOP gold bracelet from their homes. They didn't have to travel to Las Vegas, adhere to casino rules, or even wear pants.
The first tournament on the GGPoker schedule was Event 32 of the series but the first on GG Network sites. It was a $100 buy-in No Limit Hold'em event called the Opener. Starting flights had already taken place in preceding days, and survivors gathered on Sunday to play Day 2 and all the way to a winner.
Play was to start at 2:00pm ET, but it was pushed out 30 minutes. In fact, due to what they thought was a "temporary load issue," GG paused many tournaments. The event did get underway finally but only very briefly. GGPoker first noted that a "critical bug" required them to pause the tournament and reschedule it for 2:30pm ET on Sunday, July 26.
We are currently planning comprehensive compensation for the discomfort and inconvenience today.

Please check back on our feeds for updates, as well as in app, and/or client messages.

We apologize again, and promise to make this right for all our players.

— GGPoker – HOME OF WSOP 2020 ONLINE BRACELET SERIES (@GGPokerOfficial) July 19, 2020
Meanwhile, Event 33, which was a $1,111 buy-in NLHE event to raise money for a Covid-19-related charity, also stopped.
GGPoker then announced that it would give T$100 to each of the 3,684 players still in Event 32. And for the charity event, GGPoker said it would double the amount collected for charity at that point, which was $177,378.
The bug was caused by an overwhelming number of players joining The Opener and other side events. The tournament servers were unable to resume due to high loads. We will increase more capacity (we just doubled it) to make sure future events run smoothly

— GGPoker – HOME OF WSOP 2020 ONLINE BRACELET SERIES (@GGPokerOfficial) July 19, 2020
Confirmation of DDoS Attack and Loading Issues
After the people behind the scenes at GGPoker had time to properly examine what happened, they realized it was a "distributed denial of service" attack. Someone aimed the cyberattack directly at GGPoker and disrupted service.
They confirmed to PokerNews that there were two separate incidents plus a DDoS attack.
The first incident caused severe lags in table loading, tournament registration, and even cash game issues. GG attributed that to a server delay. GG called it a "service bottleneck" due to the large influx of players at one time.
The second incident was a "server-client protocol mismatch" that disconnected some clients. It happened when GG staff tried to increase late registration for events affected by the first incident.
Both of those incidents were resolved temporarily, and all issues will be properly remedied with "comprehensive fixes" set for July 24. This will cause downtime, but it should not interfere with the WSOP event scheduled that day.
Later that night, GGPoker experienced the DDoS attack. It penetrated the DDoS protections due to a previous server update that disrupted that shield. GG told PokerNews that the site not only fixed that shield but added a second one.
GGPoker tweeted a link to its status page for anyone wanting more information.
PLAYERS:

Full Incident Report regarding events which occurred on July, 19/20 (click and scroll down to see report). https://t.co/hZ1GKNYGIk

— GGPoker – HOME OF WSOP 2020 ONLINE BRACELET SERIES (@GGPokerOfficial) July 20, 2020
Let's update those tournaments and provide the results of the one that did play to completion.
All information comes from PokerNews and WSOP live updates pages.
—PokerNews WSOP 2020 Online landing page
—WSOP 2020 Online updates page
GG Event 32: $100 NLHE Opener (final day) with $2M GTD
When Day 2 started on Sunday, July 19, seven of the opening flights had already played, and the eighth was playing out at that moment. Almost 3,500 players made it into Day 2, but that number didn't account for those still coming in from Flight H.
What they knew at that point was that the tournament had recorded more than 29,000 entries, which put the prize pool well past the $2 million guarantee. And more than 3,000 players would finish in the money.
The information on PokerNews was the most comprehensive but may not be the final numbers.
Buy-in: $100

Total entries (not confirmed): 29,306

Prize pool (not confirmed): $2,571,216

Players starting Day 2: 4,594

Players remaining: 3,690
To be continued next Sunday…
Apologize for the issues today on @GGPokerOfficial I totally feel your pain. Nothing more aggravating than software issues!

Be sure to follow @GGPokerOfficial for the compensation plan for those of you who were affected.

Really brutal. Sorry everyone! https://t.co/PQpIZvoeQQ pic.twitter.com/Zmtt58my0X

— Daniel Negreanu (@RealKidPoker) July 19, 2020
GG Event 33: $1,111 NLHE for Covid Relief
This tournament got underway with quite a large number of people in action. These numbers are not confirmed as final, as there may be some open registration next Sunday when the tournament plays again. But this is where it stood when it stopped.
Buy-in: $1,111 ($111 directly to Caesars Cares for Covid relief)

Total entries (not confirmed): 1,598

Prize pool (not confirmed): $1,775,378

Players remaining: 1,418
GG Event 34: $525 NLHE Bounty 6-Handed Super Turbo
This event actually got underway as scheduled and played out quickly, as happens with a super turbo structure. In less than 3.5 hours, the tournament was over, and the winner from Japan captured an inaugural bracelet.
Buy-in: $525

Total entries: 2,214

Prize pool: $1,107,000

Paid players: 314

Minimum payout: $567

Winner:  Shoma "pp_syon" Ishikawa (Japan) $117,650

2nd place:  Diego Ostrovich (Argentina) $86,972

3rd place:  Gary Johnson (Canada) $51,801

4th place:  Daniel Strelitz (Canada) $50,431

5th place:  Yulian Bogdanov (Bulgaria) $34,677

6th place:  Tom Delaine (Malta) $20,225

7th place:  Ilya Anatsky (Belarus) $20,343

8th place:  Mulgyeol Kim (China) $15,030

9th place:  Dimitar Yosifov (Bulgaria) $12,102
Take a bow, Shoma! pic.twitter.com/aCJQXz7w3E

— GGPoker – HOME OF WSOP 2020 ONLINE BRACELET SERIES (@GGPokerOfficial) July 19, 2020
Busy Week Ahead
Starting today, July 20, GGPoker should be ready to go with all of these events on the schedule:
Event 34 on July 19 / 16:00 ET: $525 NLHE Super Turbo Bounty 6-Handed

Event 35 on July 21 / 14:00 ET: $5K PLO Championship

Event 36 on July 22 / 14:00 ET: $1,500 NLHE Fifty Stack

Event 37 on July 23 / 14:00 ET: $1,050 PLO Bounty

Event 38 on July 25 / 8:00 ET: $600 NLHE Monster Stack 6-Handed (Asia time zone)

Event 39 on July 26 / 8:00 ET: $1,500 NLHE (Asia time zone)

Event 40 July 26 / 14:00 ET: $2,500 PLO

Event 41 on July 26 / 14:30 ET: $400 NLHE Colossus (2nd of 3 days, 1 reentry/flight, $3M GTD)

Event 42 on July 26 / 14:00 ET: $400 PLOSSUS (2nd day of 3 days, 1 reentry/flight, $1M GTD)

Event 32 on July 19 / 14:30 ET: $100 NLHE Opener

Event 33 on July 19 / 14:00 ET: $1,111 NLHE Covid Relief by Caesars Cares
Related Articles