Congressman Still Seeks US Online Poker Legalization
By
June 27th, 2018 | Last updated on October 19th, 2018
Home
»
Poker News
»
Congressman Still Seeks US Online Poker Legalization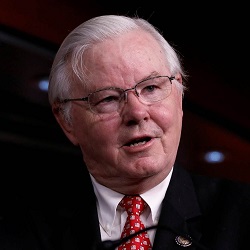 Is Rep. Joe Barton ready tackle online poker again?
Could the United States Congress consider legalizing online poker?
Yes. It could happen.
The topic was one discussed quite frequently during the poker boom, but there were also several attempts to legalize online poker at the federal level after Black Friday. The sudden seizure of the largest poker sites in the world, the indictment of their executives, and the subsequent troubles for poker players – especially in America – prompted the introduction of bills to legalize the games online.
Obviously, those attempts failed. And since individual states began to legalize online poker and casino games within their borders per the 2011 Wire Act decision from the Department of Justice, the point seemed mostly moot. Federal legislation no longer seemed like a priority, as any efforts on the Congressional level by pro-gaming lobbying groups were aimed at stopping casino mogul Sheldon Adelson and his Coalition to Stop Internet Gambling from pushing members of Congress to pass the Restoration of America's Wire Act (RAWA).
The poker industry has been relegated to playing defense in the past several years.
That may be changing.
Whaddya Know, Joe?
It came to light this week that Representative Joe Barton of Texas is still seeking ways to legalize internet poker, expanding it from individual state endeavors to a federal regulatory system.
A longtime online poker advocate, Barton's name popped up in a Roll Call article last week about the possibility of federal legislation regarding doping and medicating in the world of horse racing. And it was brought to the poker community's attention by Online Poker Report.
The article focused on a bipartisan proposal to create a national regulator called the Horseracing Anti-Doping and Medication Control Authority to monitor medications used on racehorses. The popular House bill has 125 co-sponsors from both major political parties, it was thought to be moving forward until a contentious hearing in the Digital Commerce and Consumer Protection Subcommittee last week. One of the main issues at hand is the necessity of a federal body to regulate something that has been traditionally relegated to the states.
At the end of the article, it mentioned Barton, who was not only supportive of the bill but also saw it as a means by which to legalize online sports betting and poker. It noted that Barton has a "draft proposal aimed at encouraging expansion of internet poker."
Barton's comment about attaching online poker legalization as an amendment to another gambling-related bill? "I am looking at it."
Barton Not Likely Bluffing
US Representative Joe Barton of Texas is no stranger to online poker advocates. He has been pushing for legal online poker in America for years, starting with his first attempt after Black Friday in 2011.
Joe Barton headed to Vegas with new @PPApoker online poker bill in tow / @WSOP'olitics: What's different this time? http://t.co/uGcoIcj

— Pokerati (@Pokerati) June 22, 2011
That first bill was the Online Poker Act of 2011 (HR.2366) which was introduced in June of that year. He then traveled to Las Vegas during the World Series of Poker days later to promote the bill and perform the "Shuffle up and deal" duties for an opening day of the Main Event. His bill started with 11 co-sponsors, and the bipartisan group included now-former Representative Barney Frank, who himself had pushed for legal online poker on several occasions.
That bill failed to garner enough momentum for passage in Congress, so Barton tried again two years later. His Internet Poker Freedom Act of 2013 (H.R.2666) was based on a federal district court case that set the precedent that poker was a game of skill. It had an opt-out function for states like Utah that wanted no part of online poker, and it required strict licensing.
Again, Barton failed to find enough support but tried once again in 2015. That summer, he introduced the Internet Poker Freedom Act just days after US Senator Lindsey Graham pushed the Restoration of America's Wire Act (RAWA) in the Senate to outlaw online gaming. Barton's HR.2888 promoted the idea of protecting customers from unlicensed operators instead of a prohibition – like RAWA – that would not be effective.
Lost in this crazy Rep. Joe Barton story is that he was the darling of the poker community. He sponsored several bills to legalize Internet poker. I interviewed him at 2015 @WSOP He's pictured here with actor James Woods & Dennis Phillips https://t.co/WAmmNiKx5J pic.twitter.com/1xaiPsSyTH

— Howard Stutz (@howardstutz) November 23, 2017
Neither bill did well that year.
Barton went silent for several years, making last week's mention of an internet poker bill that much more surprising. However, if Barton mentioned such a bill to the press, he is likely serious about it. It has been something he's wanted to do for years.
Just Getting Started
While it may seem late in the year per the Congressional calendar to introduce a bill, all of his attempts have been in or near June. And while this is mere speculation, he could have been spurred to draft it this year after the US Supreme Court overturned PASPA, allowing sports betting to spread across the country. With the flood gates now opening for sports betting, Barton may anticipate a Congressional proposal of some sort to legalize online sports betting or merely secure states' rights to offer betting on sports as they choose.
In fact, there was to be a hearing in the House of Representatives in mid-June to discuss sports betting, but it was abruptly cancelled not long after it was scheduled. Barton could see this as an opportunity to discuss online gambling in general, though there is currently no rescheduled hearing date available yet.
The trajectory of Barton's internet poker bill is unclear, as is his intentions and the wording of the proposal itself. What is clear is that if Barton has learned from past mistakes, he may have a solid plan for internet poker in 2018.
Related Articles