California Poker Room Fined by Feds
By
November 21st, 2017 | Last updated on July 29th, 2018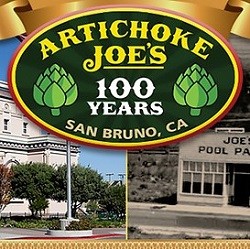 California cardroom faces $8M fine, possible closure
California is a haven for cardrooms. Currently, the California Gambling Control Commission (CGCC) shows 88 active cardrooms throughout the state with 1,997 total tables in operation. This is in addition to the tribal gambling operations in California, which currently total 62 casinos. While state legislators have yet to find agreement between all of the gambling entities with regard to opening an online poker market, there are many brick-and-mortar establishments from which to choose.
With those kinds of numbers, it is not shocking that some have violated the state's gambling laws from time to time. However, when federal agencies get involved and terms like loan sharking and money laundering are on the list of charges, more people pay attention and wonder if there should be more controls on the licensing of operators in California.
Artichoke Joe's
Cardrooms in the Golden State range in size from places offering one or two poker tables to the largest with 270 tables, which is Commerce Casino in the Los Angeles area. Only a handful of other cardrooms boast of more than 100 tables – Hawaiian Gardens (225), Hollywood Park (120), and Bicycle Casino (185). The majority of them have ten or less, which gives Artichoke Joe's Casino in San Bruno an advantage with 51 tables in its establishment. It is also one of the oldest in the business, as the family-owned business opened as a pool parlor in 1916 and celebrated its 100th anniversary last year.
This week, the cardroom experienced another event, this not a celebratory one. The United States Financial Crimes Enforcement Network (FinCEN) issued an $8 million fine to Artichoke Joe's for "willfully violating" anti-money laundering laws like the Bank Secrecy Act. According to FinCEN Acting Director Jamal El-Hindi, "For years, Artichoke Joe's turned a blind eye to loan sharking, suspicious transfers of high-value gaming chips, and flagrant criminal activity that occurred in plain sight."
FinCEN's investigation uncovered instances dating back to 2009 in which loan sharks provided casino chips to customers in plain sight of employees and on the casino floor. In addition, casino management failed to implement and maintain an effective anti-money laundering program and a program to facilitate the reporting of criminal activity in the club via suspicious activity reports. Due to these faults, its Bank Secrecy Act filings had not been accurate and required independent testing of procedures had not been performed as required by law.
Civil Penalty
The size of the fine may seem excessive to a casual observer, but FinCEN called it "appropriate." The organization has the ability to impose a $25,000 penalty for each willful violation of anti-money laundering requirements, and violations piled up for each day that the violation continued.
"FinCEN reviewed financial statements provided by AJC's (Artichoke Joe's Casino) and considered AJC's financial condition and ability to pay. FinCEN considered the size and sophistication of AJC, one of the larger clubs operating in California, generally with few customers from outside the state." But further, the severity and duration of the violations of the Bank Secrecy Act over an eight-year period, most specifically the awareness of the illegal activities in the cardroom and the intentional unwillingness to report them.
Thus, the penalty of $8 million was issued on November 17 with a 30-day deadline.
As for the cardroom, President Dennis Sammut told Gambling Compliance that management is "still evaluating the civil assessment and next steps."
Big Decisions
This is not the first issue Artichoke Joe's Casino had with federal authorities, as a 2011 raid produced similar charges of possible loan sharking taking place on the premises, as well as racketeering charges. Knowing that FinCEN was likely monitoring the facility in the years since that time makes the allegations against the cardroom's ownership even more egregious.
Artichoke Joes Casino in San Bruno fined $8 million by FinCEN for money laundering. Below, I made a video of the gambling hall/card club closing in 2011. Will it effect my EZ Baccarat card counting there? Great 6/12 limit poker too. https://t.co/LzZ8pkByMs https://t.co/hPDEe9Hatu

— Moviemakerjjcasino (@Casino_Examiner) November 20, 2017
Meanwhile, California is considering the revocation of Artichoke Joe's gaming license. Two days before the official FinCEN report was released, the state's attorney general and others issued a document that included a summary of the case and the recent charges, and questioned the suitability of the cardroom continuing to hold a license. Causes for revocation included in the official CGCC document included failure to disclose and providing false or misleading information, and the state requested a hearing to decide Artichoke Joe's fate.
It is unclear when the hearing might be and whether it will precede the mid-December deadline for Artichoke Joe's to pay its federal penalty. The cardroom has yet to issue an official statement to the press, as it is likely awaiting news of the hearing wherein the fate of its gambling license will be decided.
According to FinCEN's El-Hindi, this incident should serve as a warning to others operating gambling facilities. "Casinos, card clubs, and others in the gaming industry should consider their risk of exploitation by criminal elements and understand that they will be held accountable if they disregard anti-money laundering and illicit finance laws. The significant action highlights the need for all entities, including those in the gaming industry, to build a robust culture of compliance into their policies and procedures to ensure they are not facilitating illicit activities."
Related Articles