Brian Rast Wins WSOP $10k 2-7 Single Draw – Brunson in 6th
By
June 13th, 2018 | Last updated on July 29th, 2018
Home
»
Poker News
»
Brian Rast Wins WSOP $10k 2-7 Single Draw – Brunson in 6th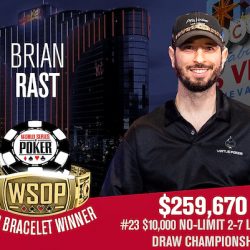 Brian Rast Wins $10k NL 2-7 Championship
Day 3 of the $10k NL 2-7 Lowball Championship resumed on Tuesday with 11 players looking to take down the title, but the only player that anyone really cared about was 10-time WSOP bracelet winner Doyle Brunson.
Brunson late registered the event on Monday and promptly announced this would be his last event at the World Series of Poker and of his poker career. Afterward, he proceeded to move into the chip lead and was one of the top stacks when play reached the money.
Both Brunsons Make the Final Table
When action resumed on Tuesday, Brunson was sixth in chips and in solid contention for the bracelet. Other players also making Day 3 included Doyle's son Todd Brunson along with John Hennigan, Dario Sammartino, Brian Rast, Ray Dehkarghan and chip leader Mike Wattel.
Play quickly reached the final table as Farzad Bonyadi became the final table bubble boy. He was all-in and drawing to a 9-8 against an 8-7 draw for James Alexander. Bonyadi caught a 4 to make his nine, but Alexander caught a 6 to make his eight.
John Hennigan was the first player to fall at the final table. He lost most of his chips to Brian Rast when he was unable to outdraw Rast's 9-7. A hand later, he put the rest of his chips in with a 10-8 draw and Rast isolated with a pat 10-9. Hennigan pulled a queen on the draw and was out in 7th.
Doyle Brunson Eliminated in 6th
Doyle fought well at this final table but was down to just seven big blinds with six players left. He put those chips at risk holding 8-6-3-2 and drawing one. James Alexander made the call with 10-9-6-4 and also drew one. Doyle caught a king but Alexander caught a deuce to make his 10-9 and eliminate Brunson.
If this is indeed the end of the career of "The Godfather of Poker," it is a fitting end with him making a final table in his best game. Doyle "Texas Dolly" Brunson finished the event in sixth place, earning $43,963.
? Doyle Brunson tips his hat for the last time — out in 6th place from his final #WSOP event…. https://t.co/Bai5kl7Ud5 via @PokerNews pic.twitter.com/FmuBdU9KbH

— The Poker Wire ♦️ (@thePokerWire) June 13, 2018
Soon after Brunson's elimination, Shawn Sheikhan hit the rail in 5th place. Both he and Dario Sammartino drew one and after the draw, Sammartino shoved. Sheikhan called with a K-8, hoping Sammartino was bluffing. Sammartino showed 10-9-4-3-2 and Sheiky hit the rail in fifth.
James Alexander had been running on a good amount of luck from around the bubble to the final table but that luck finally run out with a fourth-place finish. In his final hand, he shoved over the top of a pre-draw raise by Brian Rast and Rast made the call with a pat 10-8-6-4-2. Alexander drew two holding 6-3-2. He drew 6-A and hit the rail in fourth place.
A while later, Dario Sammartino fell in third place. He was drawing to a nine against a pat jack from Rast. Sammartino ended up making a pair of threes and that was the end of his tournament.
Brian Rast Wins Fourth Career WSOP Bracelet
Brian Rast faced Mike Wattel heads-up for the bracelet. Rast was looking for his fourth bracelet while Wattel was shooting for his third. Rast had a 3.75 to 1 chip lead at the start of heads up play and seemed ready to walk to an easy win.
Wattel had other plans and put up quite the fight to stave off elimination. He came close to pulling back to even but never could get over the hump. Finally, Rast moved back to more than a 2:1 chip lead before the final hand.
Wattel three-bet shoved for 1.27 million and Rast made the call. Both players patted and Wattel announced that he had a ten. It wasn't enough as Rast showed 9-8-7-6-2 for the winning hand and the victory.
Brian Rast is this event's winner, taking home his fourth career WSOP bracelet and $259,670.
Related Articles