Beshear Campaigns on Gambling in Kentucky
By
September 21st, 2019 | Last updated on September 21st, 2019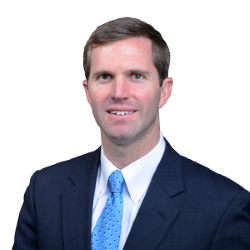 There have been whispers of online poker in Kentucky since last year. Now, it is part of a campaign promise by Attorney General Andy Beshear as he vies for the governorship the upcoming election this November.
Gambling expansion is far from the issue upon which the governor's race will hinge, but Beshear is focusing on the issue of gambling as a much-needed source of revenue. He has been hoping that a growth industry like casinos and gambling could solve the state's increasingly concerning pension funding problem.
Beshear's support for online poker and casinos in Kentucky didn't spur the legislature to take decisive action in 2019 as he had hoped, but he will have more influence as the governor instead of his current position as an attorney general.
Democratic #kygov candidate Andy Beshear calls for expanded gambling/sports betting to fund the state's pension systems https://t.co/5eem3IZUp3

Expanded gambling has had trouble gaining traction in the Ky Legislature for years

— Ryland Barton (@RylandKY) September 12, 2019
Should Beshear win the November election, Kentucky's chances of legalizing online poker would expand significantly for the 2020 year.
Short-Lived Efforts in 2019
At the suggestion of Attorney General Beshear in late 2018, lawmakers were prepared to put a gambling bill on the docket for 2019.
A bipartisan group of Kentucky legislators drafted HB.175, "an act related to wagering and making an appropriation therefor." The 15 members of the legislature introduced it on February 5, 2019.
The bill proposed changes to current laws in order to permit the regulation of online poker, sports wagering at racetracks, and daily fantasy sports. Another bill was also introduced – HB.190 – to build and operate casinos in the state and provide for limited casino gaming at current racetracks. There were also several sports betting-related bills moving around the legislature.
HB.175 went directly to the House Licensing, Occupations, and Admin Regs Committee. On February 20, it passed without a single negative vote, and it went to the House floor for consideration.
However, it didn't get to the House until March 5 due some changes to the bill. And the legislative session ended later that month.
A supermajority of votes would have been necessary to pass HB.175, and it was not there. The bill died.
Kentucky State Representative Adam Koenig, who was largely in charge of moving the bill, confirmed that the bill was dead for the year. But he was confident that 2020 would be better. "We will regroup and reload with a better plan to win the hearts and minds of the public next year," he said.
Beshear on a Mission
As the state's attorney general, Beshear faced some issues in 2018 that needed a revenue fix. The most prominent of those issues was the pension funding gap, the highest of all 50 states. Beshear wanted to find a revenue stream to address that gap without raising the taxes of Kentuckians.
Gambling was it.
Beshear sent a letter to all state legislators in late 2018 to that end. "The answer is simple," he wrote, "expanded gaming including casino, fantasy sports and sports gaming, as well as preparing for the eventual legalization of online poker."
Further, he requested that the General Assembly pass legislation to do it, and to dedicate all revenue to the Kentucky pension systems until they are full funded.
Some lawmakers did make the effort but failed. So, as Beshear decided to run for the governorship, he made expanded gambling central to his overall platform.
"Expanded gaming is a long overdue and common-sense way to make Kentucky more competitive and protect the hard-earned pensions of our teachers and first responders," Beshear said, per AP reporting.
Instead of looking out for our teachers and first responders, Matt Bevin tried to illegally cut their pensions. By expanding gaming and sports betting, we can create new revenue to ensure that we keep our promise and fully fund their pensions. https://t.co/BVjJctNZrf

— Andy Beshear (@AndyBeshearKY) September 17, 2019
His campaign also released a video showing his running mate, Jacqueline Coleman going across the state's border into Indiana to place a sports bet. In the video, she noted the numerous cars in the parking lot with Kentucky license plates, meaning that Kentuckians are spending their money in Indiana instead of at home.
Beshear has estimated that Kentucky could take in more than $500 million per year in revenue with an expanded gambling base. His proposal also includes responsible gambling measures to be increased to coincide with the increased gambling options.
Opponent Grasping at False Claims
His opponent, current Republican Governor Matt Bevin, opposes the plan but doesn't spend much time talking about an alternative plan for the pensions. Bevin merely called Beshear's gambling proposal a "sucker's bet," while he also touted his conservative, pro-life, and Christian background that he contends matches with the state itself.
Bevin was asked about gambling expansion in a July interview. According to the Courier-Journal, he made a wild claim. "Every night somewhere in America, somebody takes their life in a casino because they've wasted the last semblance of dignity and hope that they had." He went on to say that "families are ruined" by gambling without citing any evidence or instances.
In response to the claim, the American Gaming Association said it was "patently false."
The election will take place on November 5.
Expanded gaming is a common sense way to make Kentucky more competitive and protect the pensions of our teachers and first responders. While Matt Bevin is making up false claims, our neighboring states continue to steal our revenue. Let's get it done. https://t.co/99kHq6EqFm

— Andy Beshear (@AndyBeshearKY) September 12, 2019
Related Articles